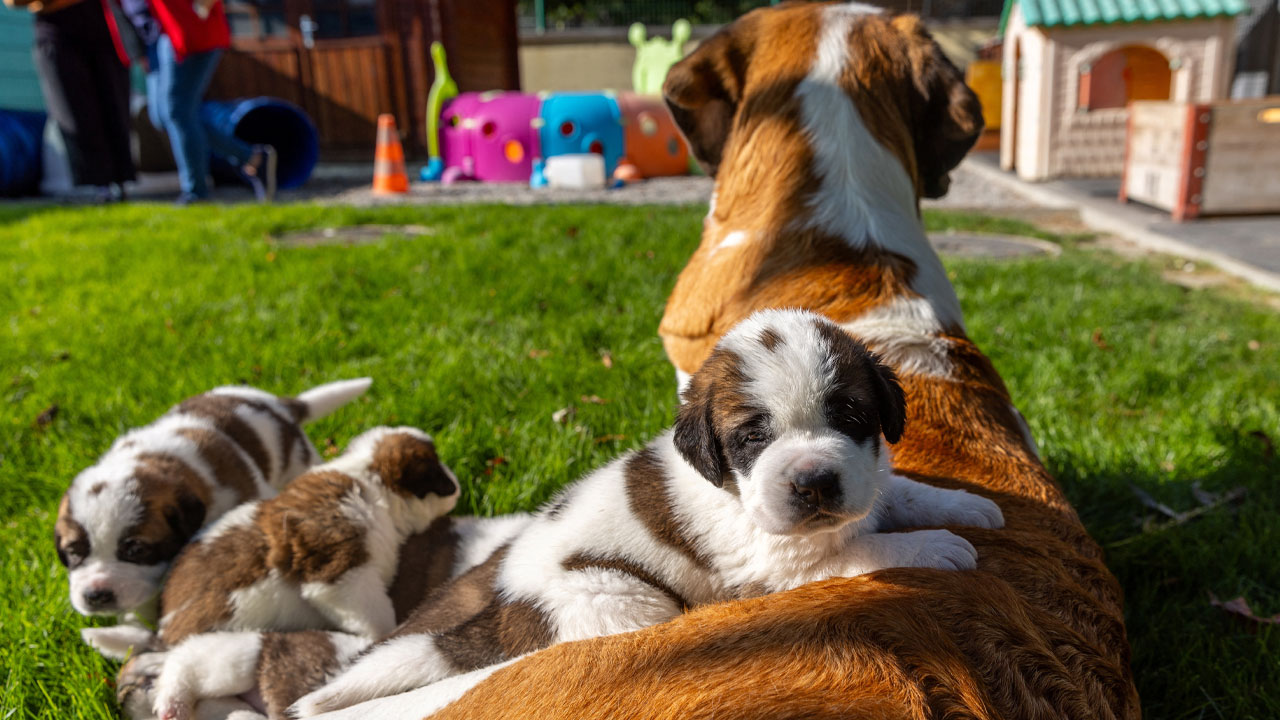 [Source: Reuters]
St. Bernard dogs, one of Switzerland's national symbols that were internationally renowned for helping in alpine rescues, are now saving people in other ways.
The Barry Foundation – a non-profit that took over breeding of the dog in 2005 from the world's oldest St. Bernard kennels high in the Swiss mountains – has helped the dogs transition to their new role as therapeutic and educational support dogs for vulnerable people.
"The St. Bernard today is a breed that works on the social front," Andrea Zollinger, spokesperson for the foundation, said during a visit of its kennels in the city of Martigny, near the borders of Italy and France.
Article continues after advertisement
"The dogs work in hospitals, in nursing homes with senior citizens. They help people undergoing therapy, meet with children and prisoners. They work wonders."
The dogs take part in some 600 engagements across Switzerland every year. They support the well-being of people with autism spectrum disorders and other special needs, and assist medical professionals in carrying out psychosomatic and psychosocial rehabilitation.
"They happily take part," Zollinger said. "They love it."
Visitors can also see the dogs at Barryland, a theme park that has a museum and facilities for the dogs.
On Aug. 28, seven puppies, five females and two males, were born to one of the Barry Foundation's dogs, Roxy.
The puppies are just beginning to explore their surroundings, jostling in the grass and getting their first taste of kibble.
They are descendants of Barry I, a St. Bernard credited with saving the lives of more than 40 people on the Great St. Bernard Pass in the early 19th century.
Like his predecessors, Barry I lived at a hospice founded by 11th-century monks to aid pilgrims and other travellers making the treacherous journey across the Alps.
Travellers' chronicles and stories from soldiers who had crossed the pass with Napoleon in 1800 helped forge the dogs' reputation as dutiful companions with an extraordinary capacity for rescue.
"They have a great sense of smell," said Anne Hölzer, in charge of training at Barry Foundation. "Given that they are tall and wide, the dogs were used to clear the snowy path for rescuers in the pass."
These days, alpine rescues tend to enlist the help of smaller dogs that can be more easily transported by helicopter compared to St. Bernards.
But Switzerland is no less attached to its favourite dog.
"It's a very strong symbol of Switzerland," Zollinger said. "I think many people are committed to maintaining this dog in good shape and according to the breed's standards."