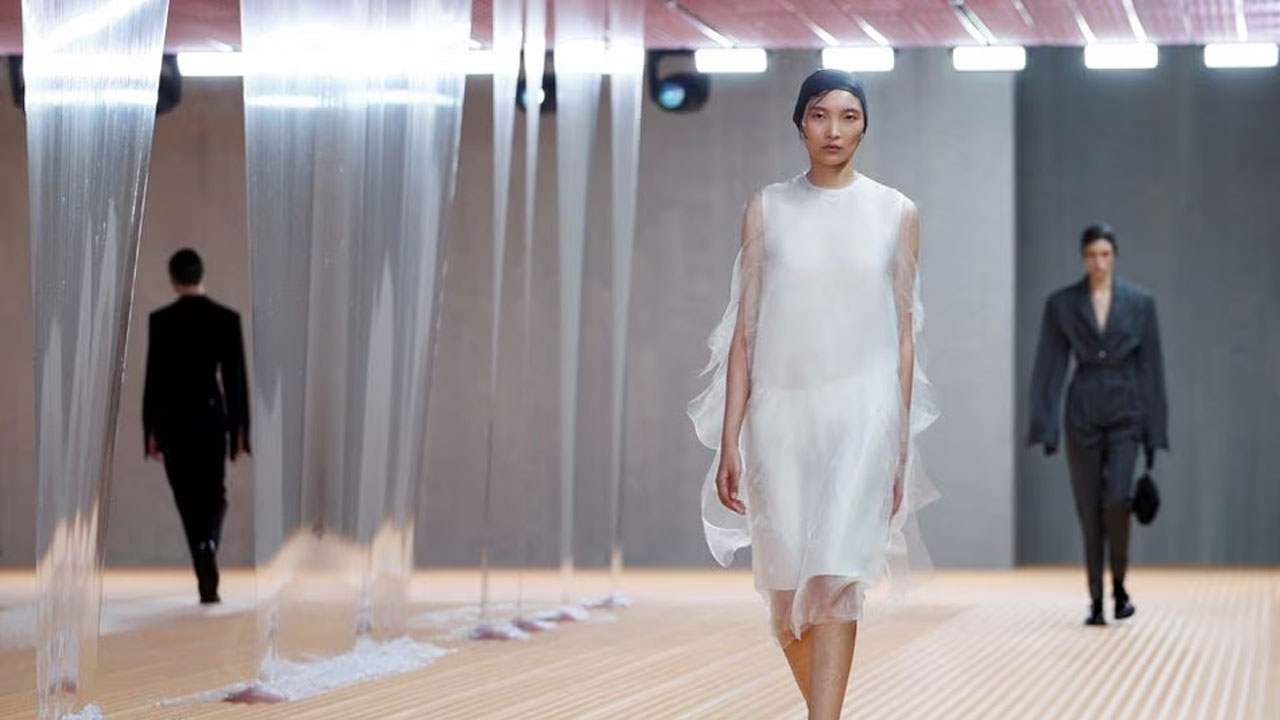 [Source: Reuters]
Models walked amid slime falling from the ceiling at Prada's catwalk show on Friday, as the Italian luxury label presented its latest womenswear collection at Milan Fashion Week.
Designers Miuccia Prada and Raf Simons opened the Spring/Summer 2024 show with an all-grey shirt and shorts look, worn with a patterned scarf on top.
The catwalk was split in half by clear slime pouring down in the middle, a similar feature to Prada's menswear show in June.
Article continues after advertisement
Models wore shirts and jumpsuits with exaggerated shoulders and extra long sleeves, high-waisted belted shorts and sheer skirts. Jackets were large and box-shaped.
Fringes dominated many looks – featuring on floral patterned shirts as well as hanging from belts as if forming skirts.
Dresses in pastel colours had loose, white sheer top layers.
There were also all-black leather looks, some with studded pattern motifs.
Footwear consisted of slip-on heels in bright colours, studded pumps as well as all black brogues.
Models also wore large headbands that resembled hats.
The label, part of the Hong Kong-listed Prada fashion group , drew many celebrities to its front row, including actors Scarlett Johansson, Emma Watson and Benedict Cumberbatch as well as South Korean boy band ENHYPEN among other famous names.
At the end, Prada and Simons were joined for their end-of-show bow by long-time design director Fabio Zambernardi, who is leaving the group, sources have said.