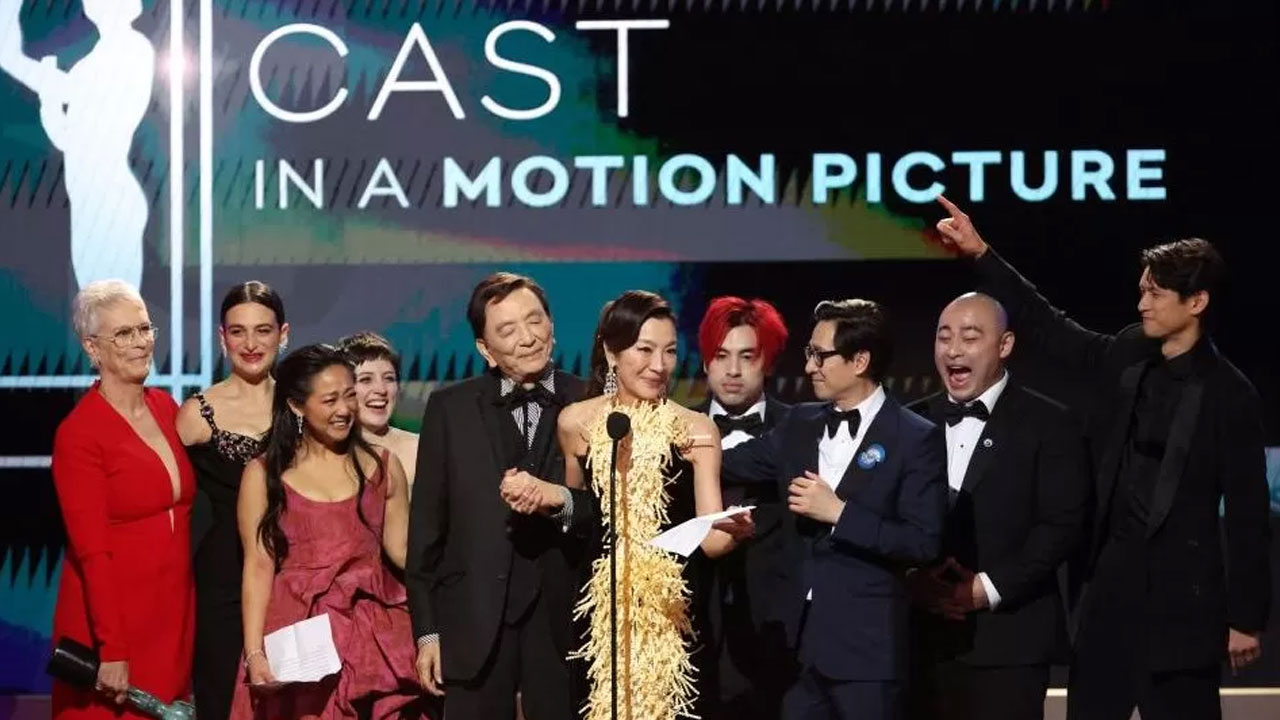 [Source: BBC]
Just after Everything Everywhere All At Once had swept the Screen Actors Guild Awards, 94-year-old James Hong recalled a time when Hollywood saw Asian actors as "not box office".
"But look at us now, huh!" quipped the star of almost 700 film and TV roles, to thunderous applause.
The largely Asian and Asian-American cast of the breakout sci-fi comedy – Hong included – has earned a long list of accolades already. Michelle Yeoh and Ke Huy Quan became the first Asians to win the SAG Awards for best female actor and best male supporting actor. They are now up for Hollywood's biggest prize – the Oscars. The film has 11 nominations, and four of those nominees are of Asian descent.
Article continues after advertisement
But Hollywood's Asian moment feels long overdue. It has certainly been building up since the Oscar success of Bong Joon-ho's darkly satirical Parasite and Lee Isaac Chung's haunting Minari. This year, the Indian action epic RRR has also made waves. But streaming platforms have long shown the way with runaway hits like Squid Game and Pachinko.
"Hollywood is finally catching up with the rest of the world," says Diana Othman, a Singaporean movie aficionado who watches more than 100 new films each year. She hailed Yeoh's nomination in what she called one of the "whitest" Oscar categories. If successful, Yeoh will become the first Asian to win the award for Best Actress.
But 60-year-old Yeoh, who has been in the business for four decades, is already a superstar, whether or not the Oscar voters agree.
"If I'm being honest, her winning is better for the Oscars than the Oscars are for her," says Filipino filmmaker Quark Henares, likening it to "the afterglow the Academy enjoyed after the Parasite win".