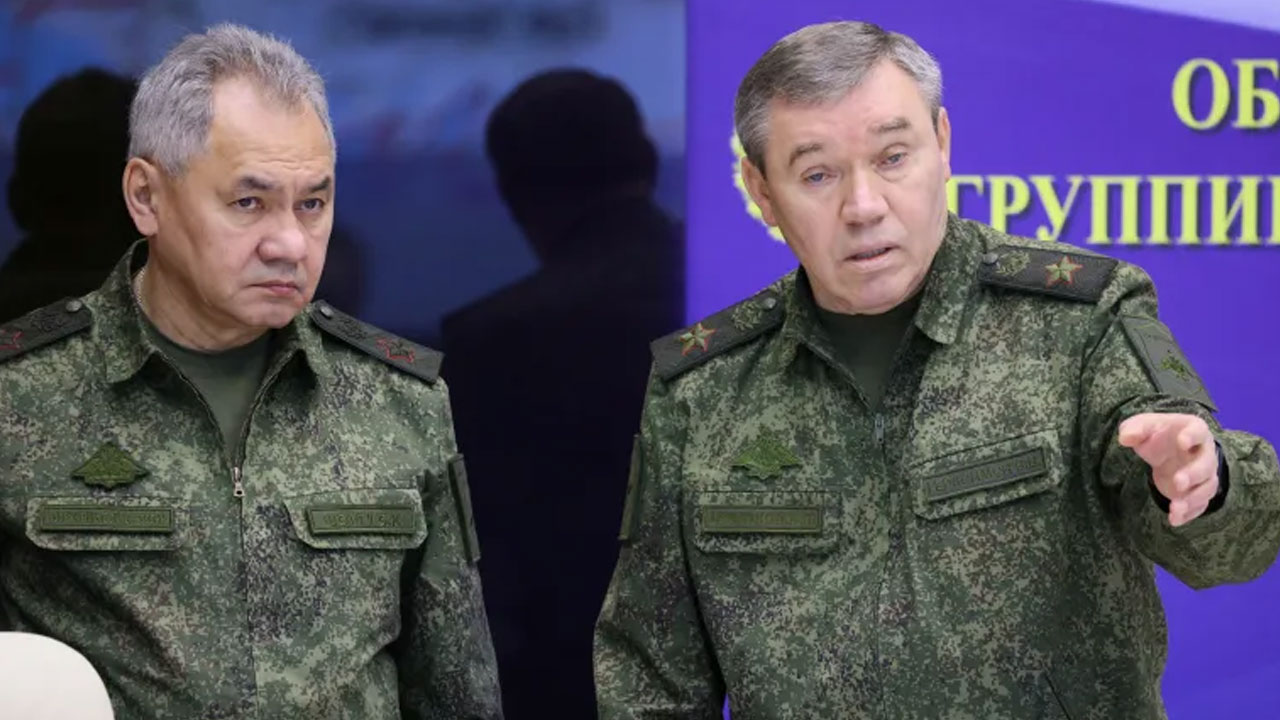 Defence Minister Sergei Shoigu, left, and Valery Gerasimov, now Russia's most senior general, visit the headquarters of the Russian armed forces involved in Ukraine. [Source: Aljazeera]
Russia's new top general has visited the front lines in Ukraine only once during Moscow's nearly year-long invasion – in May.
And according to some reports, Valery Gerasimov, the man now in charge of troubleshooting the dragging conflict, objected to the war before it began.
The 67-year-old chief of the General Staff and now Russia's most senior general has been at the helm of what the Kremlin dubs a "special military operation" in Ukraine since Wednesday, replacing Sergey Surovikin, who held the role for just three months and oversaw the massive shelling of energy infrastructure and civilian sites in Ukraine.
Article continues after advertisement
"Gerasimov didn't plan and categorically rejected [the war]," said Anatoly Lopata, who served as Ukraine's deputy defence minister and chief of the General Staff in the 1990s.
Gerasimov's alleged resistance contradicted the opinion of his boss, defence minister Sergei Shoigu, who was among a tiny circle of top officials who planned the invasion that caught most of the Kremlin by surprise.
But despite his objections, Gerasimov and the rest of Russia's top brass opposed to the war embraced it in the end.
"Gerasimov didn't quit, didn't shoot himself – so, he accepted the war," Pavel Luzin, a defence analyst with the Jamestown Foundation think-tank told Al Jazeera.
The military shake-up followed months of setbacks for Russian troops in Ukraine and comes amid a resumption of hostilities, as plummeting temperatures freeze the sludgy ground and make the movement of tanks and other armoured vehicles possible.
According to Nikolay Mitrokhin, a historian at Germany's Bremen University, the reshuffle signals Moscow's failure to organise a new offensive on Kyiv and northern Ukraine.
"It became finally clear that Russia failed its own plans to start a massive offensive in January," he told Al Jazeera.
Military and defence contractors could not provide enough equipment and top officials have been touring military plants and threatening their managers, he said.
And despite months-long attempts and heavy losses, Russian forces failed to take the eastern city of Bakhmut and switched to nearby Soledar, the salt-mining town with a pre-war population of 10,000 which they ultimately claimed to have captured late on Thursday.
The demoted general, Surovikin, struggled to manage the deployment of tens of thousands of newly mobilised and largely untrained Russian men.