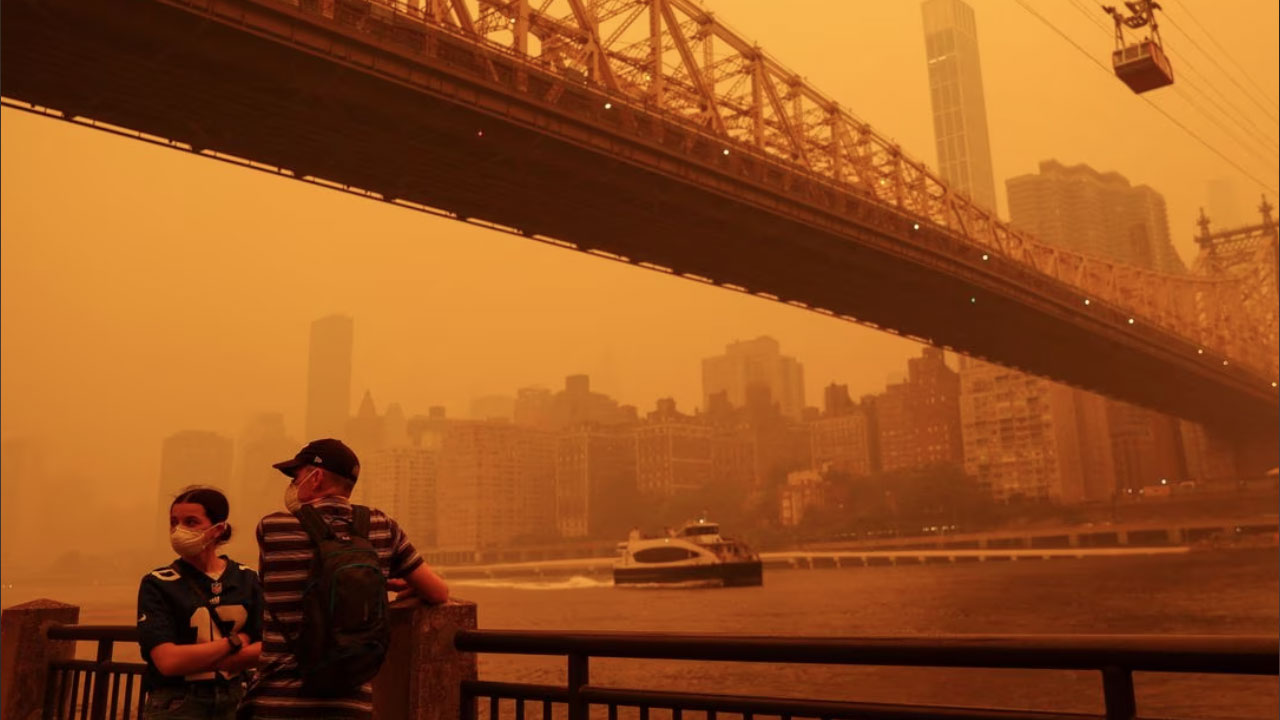 [Source: Reuters]
Schools across the U.S. East Coast cancelled outdoor activities, flights were halted and millions of Americans were urged to stay indoors as smoke from Canadian wildfires drifted south, blanketing cities in a thick yellowish haze.
The U.S. National Weather Service issued air quality alerts for virtually the entire Atlantic seaboard. Health officials in states from Vermont to South Carolina and as far west as Ohio and Kansas warned residents that spending time outdoors could cause health problems due to the number of fine particulates in the atmosphere.
New York's world-famous skyline, usually visible for miles, appeared to vanish underneath the otherworldly veil of smoke, which some residents said made them feel unwell.
Article continues after advertisement
The smoke and soot were especially tough on people toiling outdoors, such as Chris Ricciardi, owner of Neighbor's Envy Landscaping in Roxbury, New Jersey. He said he and his crew were cutting their working hours because of the unhealthy haze.
New York Governor Kathy Hochul called the situation an "emergency crisis," noting that the air pollution index for parts of her state was eight times above normal.
She said the foul air was likely to persist for days, and that "people need to prepare for this over the long haul."
Reduced visibility caused by the haze forced the Federal Aviation Administration to slow or halt some flights into New York City at LaGuardia International Airport and Newark Liberty International Airport.
Schools up and down the East Coast called off outdoor activities, including sports practices, field trips and recesses, to protect students.
In Bethesda, Maryland, a high school moved its graduation ceremony indoors, while a Brooklyn, New York, elementary school postponed its "Spring Fling" dance party. A school in Montclair, New Jersey, called off a fifth-grade trip to a Six Flags amusement park.
A Broadway matinee of "Prima Facie" was halted just 10 minutes into its performance after actress Jodie Comer experienced difficulty breathing due to poor air quality.
The performance was "started again from the top with understudy Dani Arlington going on for Ms Comer in the role of Tessa," a spokesperson for the production said in a statement.
Even Major League Baseball was impacted, as the New York Yankees and the Philadelphia Phillies both postponed home games scheduled for Wednesday.
In some areas, the Air Quality Index (AQI), which measures major pollutants including particulate matter produced by fires, was well above 400, according to Airnow, which sets 100 as "unhealthy" and 300 as "hazardous."
At 12 p.m. EDT (1600 GMT), Bethlehem, Pennsylvania, was experiencing the worst air quality in the country, with an AQI reading of 410. Among major cities, New York had the worst air quality reading in the world on Wednesday afternoon at 342, about double the reading for chronically polluted cities such as Dubai (168) and Delhi (164), according to IQAir.
The smoke was wafting over the U.S. northern border from Canada, where wildfire season got off to an unusually early and intense start due to persistent warm and dry conditions. Canada is on track for its worst-ever wildfire season.
The skies above New York and many other North American cities grew progressively hazier through Wednesday, with an eerie yellowish tinge filtering through the smoky canopy. The air smelled like burning wood.
Wildfire smoke has been linked with higher rates of heart attacks and strokes, increases in emergency room visits for asthma and other respiratory conditions, and eye irritation, itchy skin and rashes, among other problems.
A Home Depot in Manhattan sold out of air purifiers and masks as residents scrambled to protect themselves. New York Road Runners cancelled events intended to mark Global Running Day.
"This is not the day to train for a marathon or to do an outside event with your children," New York Mayor Eric Adams advised. "If you are older or have heart or breathing problems or are an older adult, you should remain inside."
City pedestrians donned face masks in numbers that recalled the worst days of the coronavirus pandemic.
Tyrone Sylvester, 66, playing chess outside in Manhattan's Union Square as he has on most days for 30 years, but wearing a mask, said he had never seen the city's air quality so bad. It reminded him of the orange skies cast by wildfires over much of California in 2020.
While wildfires are common in Canada's West, there are blazes across the country, especially in the eastern province of Quebec.
About 9.4 million acres (3.8 million hectares) have already burned – some 15 times the 10-year average – and more than 120,000 people have been forced from their homes.