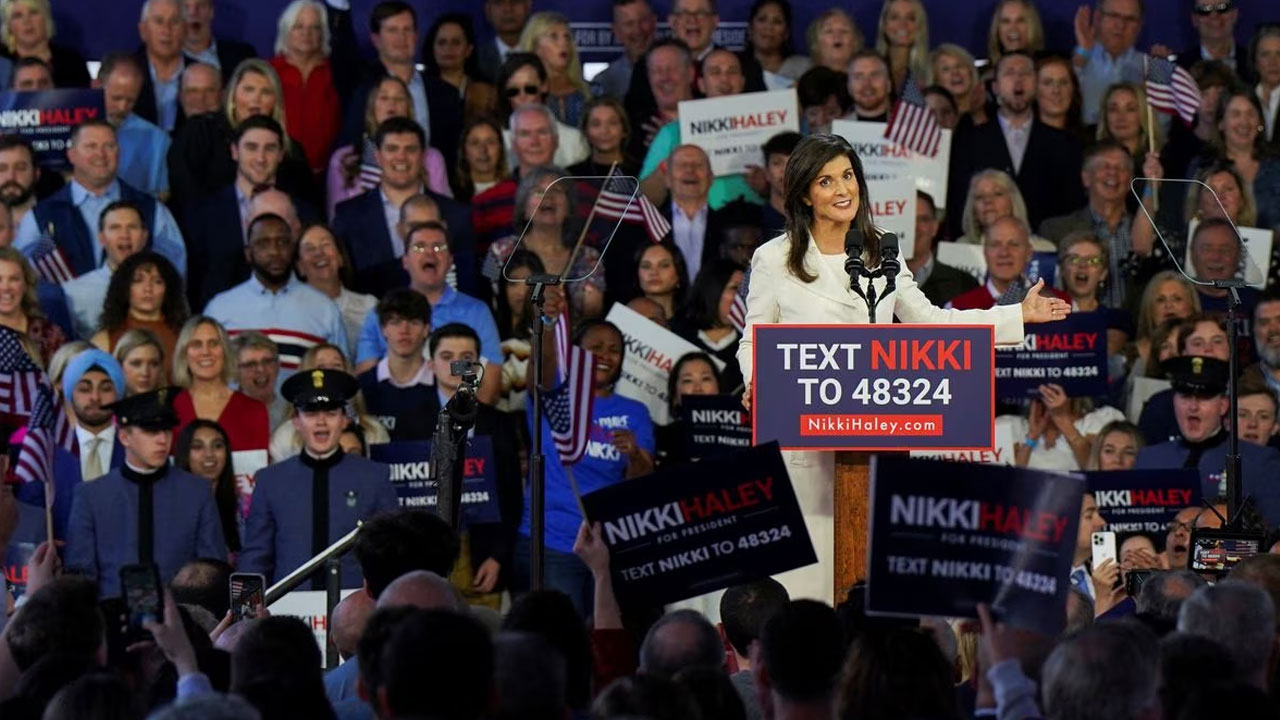 Former South Carolina Governor and former U.S. Ambassador to the U.N. Nikki Haley announces her run for the 2024 Republican presidential nomination at a campaign event in Charleston, South Carolina, U.S. February 15, 2023.
Former U.N. ambassador Nikki Haley called on Republicans to move on from "stale ideas" and "faded names," a thinly veiled swipe at her former boss Donald Trump, as she made her first stop on Wednesday in a campaign for the 2024 presidential nomination.
The 51-year-old former South Carolina governor is just the second Republican to seek the party's backing to challenge Democratic President Joe Biden, 80, who is expected to seek reelection next year.
The daughter of Indian immigrants hit on a long list of Republican concerns in her speech in Charleston, including border security, spending bills authorized by Democrats in Congress and the recent incursion into U.S. airspace of what U.S. security officials say was a Chinese spy balloon.
Article continues after advertisement
"We are more than ready for a new generation to lead us into the future," Haley told a crowd of several hundred supporters.
Haley only mentioned Trump, 76, once during her speech, as she sought to highlight her foreign policy experience as the former president's top U.N. envoy. She vowed tough action against U.S. adversaries such as Iran, North Korea and China.
But she will likely face a large field of competitors for the Republican nomination, with Florida Governor Ron DeSantis, former Vice President Mike Pence and her fellow South Carolinian U.S. Senator Tim Scott seen as potential rivals.
Biden, who has not formally launched his reelection bid, faces no major Democratic challenger.
Haley faces an uphill climb: a Reuters/Ipsos poll released on Tuesday found that just 4% of registered Republicans supported Haley.
Trump received support from 43% of registered Republicans in the poll conducted from Feb. 6-13, while 31% said they supported Florida Governor Ron DeSantis, who is expected to launch a campaign but has not yet done so.
But it is early in the 2024 cycle. With more than 20 months remaining until Americans cast ballots, Haley and her rivals have ample time to build their public profiles, raise money and tussle with each other to score political points.
The pugilistic Trump has so far responded only sparingly to the move by Haley, who served in his administration and previously said she would not run in 2024 if Trump did.
His campaign put out a statement on Wednesday containing no words from Trump himself but linking to press coverage that it said showed Haley as "weak on immigration" and having previously supported changes to the Social Security and Medicare programs.
One rally attendee, Carol Baker, 83, said she liked Trump's policies but thinks Haley will be able to implement them in a less contentious and more effective fashion.
"His (policies) were wonderful, but his personality got in the way," she said after Haley's remarks.