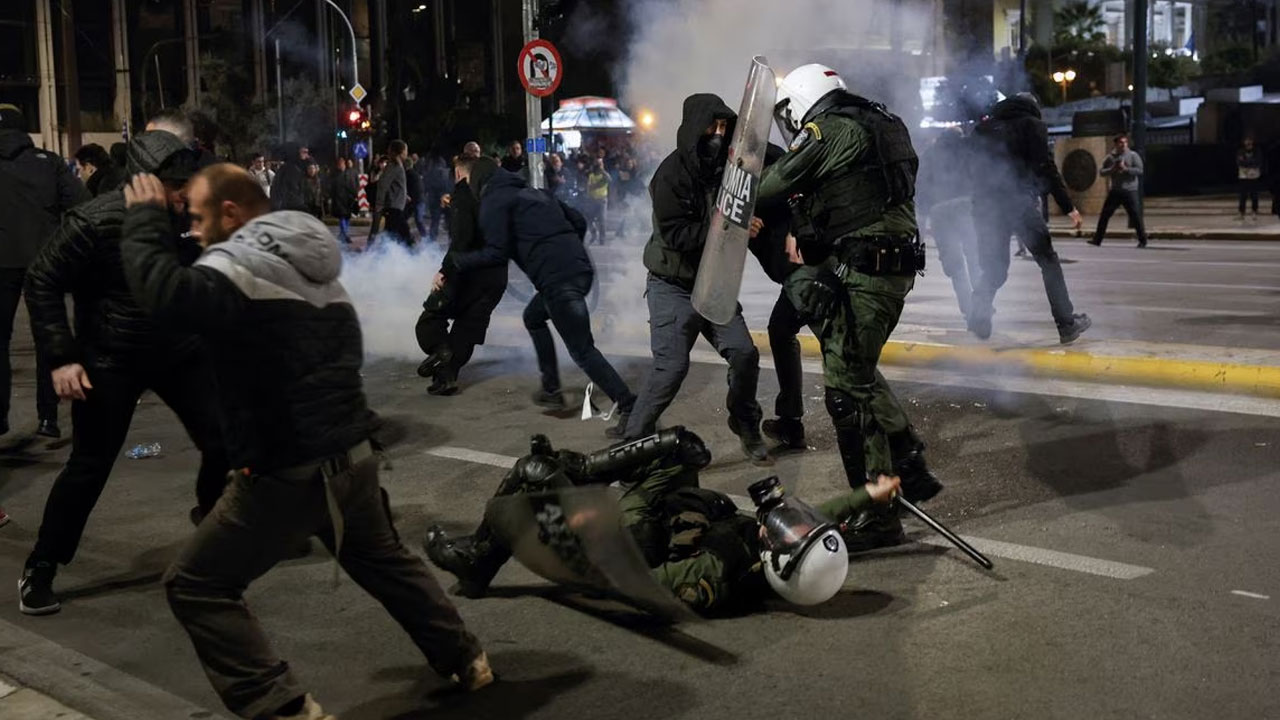 Protesters attack riot police officers as clashes take place during a demonstration in front of the parliament building following the collision of two trains, near the city of Larissa, in Athens, Greece, March 3, 2023. [Source: Reuters]
Families and friends, dressed in black, clung to each other, in tears, as the coffin of a 34-year-old mother killed in Greece's deadliest train crash was lifted up the stairs of a church.
The first known funeral after Tuesday night's accident, which killed at least 57, took place in the northern town of Katerini, as police said 52 bodies had so far been identified – almost all from DNA tests as the crash was so violent.
Carriages were thrown off the tracks, some of them crushed and engulfed in flames, when a passenger train and one carrying freight collided on the same track at high speed in central Greece.
Article continues after advertisement
There were more than 350 people on board the passenger train, many of them university students going back to the northern town of Thessaloniki from the capital Athens after a long holiday weekend.
Anger has grown across the country over the crash, which the government has attributed to human error but which unions say was inevitable due to lack of maintenance and faulty signalling.
After evening protests over the past two days, some 2,000 students took to the streets in Athens on Friday, blocking the road in front of parliament for a moment of silence.
Clashes broke out with some protesters who threw petrol bombs and set garbage bins on fire. Police responded with volleys of teargas.
Students also demonstrated in Larissa, the central city near where the crash took place.
Students held up black balloons. One placard read: "It was not an accident, it was murder." The word "Murderers" was painted in red on the street.
Outside the hospital in Larissa, where many of the victims were taken, the parents of a 22-year-old man waited in anguish for confirmation of what had happened to their son.
Not long before the crash, his son Denis had told him he would be late and would call. "I'm still waiting," Routsi said.
Denis had travelled to Athens to see friends. His mother, Mirela, showed reporters a picture on her mobile of her son beaming.
On Friday, 38 passengers were still being treated in hospital, seven of them in intensive care.
Railway workers who began a strike on Thursday extended their walkout by another 48 hours on Friday.
In schoolyards in Athens, students used their bags to write the words "Call me when you get there," a phrase that has become one of the protest slogans.
Protesters also wrote the slogan in candles outside parliament.
Larissa's 59-year-old station master was arrested and has admitted to some responsibility, his lawyer said, while stressing he was not the only one to blame.
The union said it wanted a clear timetable for the implementation of safety protocols.
Opposition politicians also started to voice criticism.
Before the crash, the government had said that an election would be held in the spring, with media citing April 9 as the most likely date. Political analysts say that plan might now be pushed back.