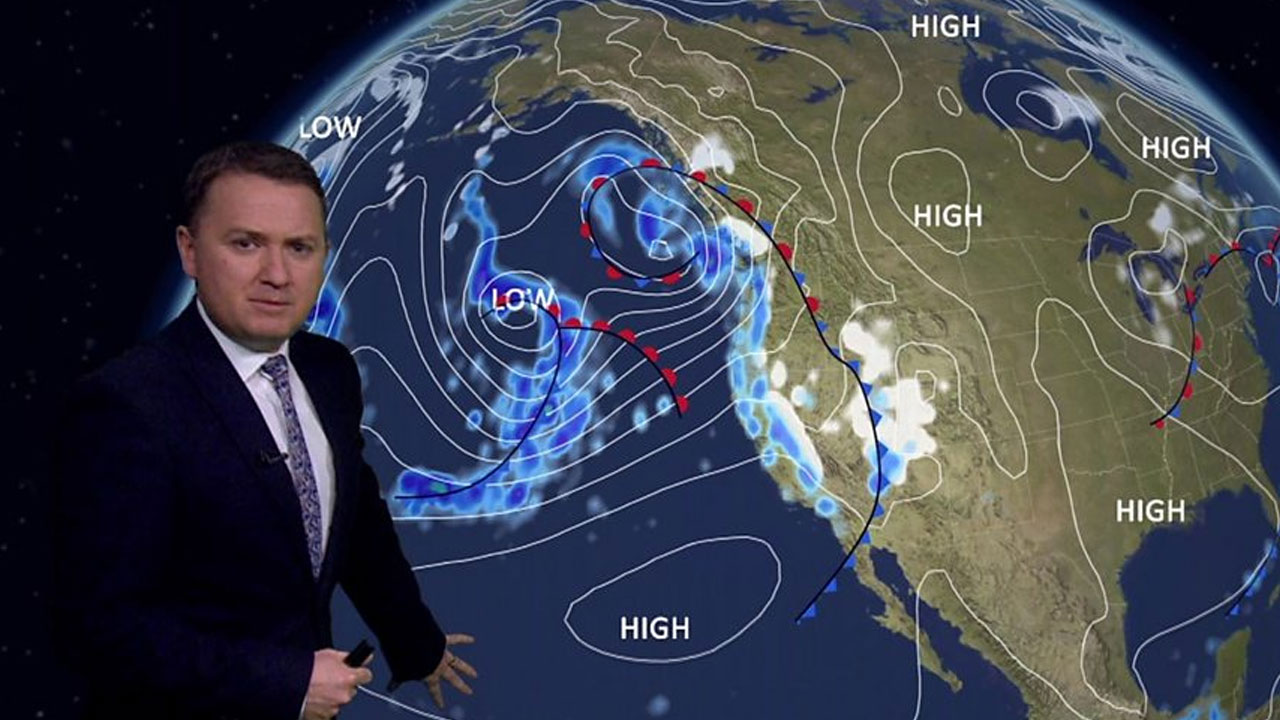 Forecaster Matt Taylor looks at the multiple storms heading for the west coast. [Source: BBC News]
Heavy rain and powerful winds are lashing coastal areas of northern California and forecasters have warned of the risk of flooding and landslides.
More severe weather is expected in the coming hours as a result of a powerful storm system known as a bomb cyclone.
At least two have died, including a toddler, and thousands are without power.
Article continues after advertisement
California has been under a state of emergency since Wednesday.
Much of the state has been hit by atmospheric rivers – an airborne current carrying dense moisture from the ocean – bringing heavy rain to low-lying areas, powerful winds to San Francisco and snow to the Sierra Nevadas.
The National Weather Service said California will continue to be impacted by atmospheric river conditions through Thursday, "with heavy to excessive rainfall, flooding with debris flows and landslides near recent burn scar areas, heavy mountain snow and high winds."
Evacuation orders and advisories were in place in parts of northern California, and local authorities have warned of threats to life and property, especially around San Francisco and Sacramento.
"Floods are inevitable," San Francisco Mayor London Breed said on Wednesday.
"It's coming down hard and it's not letting up any time soon," she said. "We want people to stay indoors, we want them to stay home."
Local media reported that a child, believed to be around two years old, died in Sonoma County north of San Francisco when a tree fell on his home.
A 19-year-old woman also died in a nearby county after her car slid on a flooded road and crashed into a light pole, according to reports.
Around 180,000 people in California were left without power as of Thursday morning due to the storm – many of whom concentrated in the state's northern coast.
Forecasters have warned the storm will form into a bomb cyclone, a type of explosive storm, and will likely be deadly. They added that wind gusts were expected to down trees and cause power outages.
Bars and restaurants were closed in San Francisco on Wednesday, as officials have cautioned against driving on the roads. Dozens of flights out of the state have also been cancelled.
Meanwhile, sandbags were distributed to residents to help curb the flooding.
"We're very worried about it," Deepak Srivastava told BBC's US partner CBS in San Francisco.
"(I) just spent all day putting sandbags in front of the garage at every entering point and we're just crossing our fingers and hoping we won't have more damage," he said.
In a weather advisory, the NWS forecaster for the region said the storm is expected to be "one of the most impactful systems on a widespread scale that this meteorologist has seen in a long while."
"This is truly a brutal system that we are looking at and needs to be taken seriously," he said.
Rivers along the coast are forecast to see widespread flooding due to tidal surges. The storm is expected to dump up to 6in (15cm) of rain in coastal areas, and gust up to 80mph (128km/h) in the coastal hills and mountains.
An evacuation order has been issued in Santa Cruz County, south of San Francisco, because of the "high probability" that some neighbourhoods will become inaccessible due to flooding.
Further south, in Santa Barbara County, officials also ordered residents living near burn scars from previous forest fires to leave the area. The order affects the affluent community of Montecito, home of the Duke and Duchess of Sussex, Harry and Meghan, and Oprah Winfrey.
Classes have been cancelled for Thursday in school districts throughout northern California, including for 8,000 pupils enrolled in south San Francisco public schools.
How to stay safe in a winter storm
In a statement declaring a state of emergency on Wednesday, Governor Gavin Newsom said his order would "allow the state to respond quickly as the storm develops and support local officials in their ongoing response".
The atmospheric river is expected to fall on ground that has already been saturated by rainfall.
The storm comes just a year after California recorded one of its driest years on record. On Saturday, San Francisco saw its second-wettest day in over 170 years.
More than 105 million people across the US are currently at risk of severe weather, according to the NWS.
Further east, some 30 million people are facing large storms that have already produced tornadoes in several states.