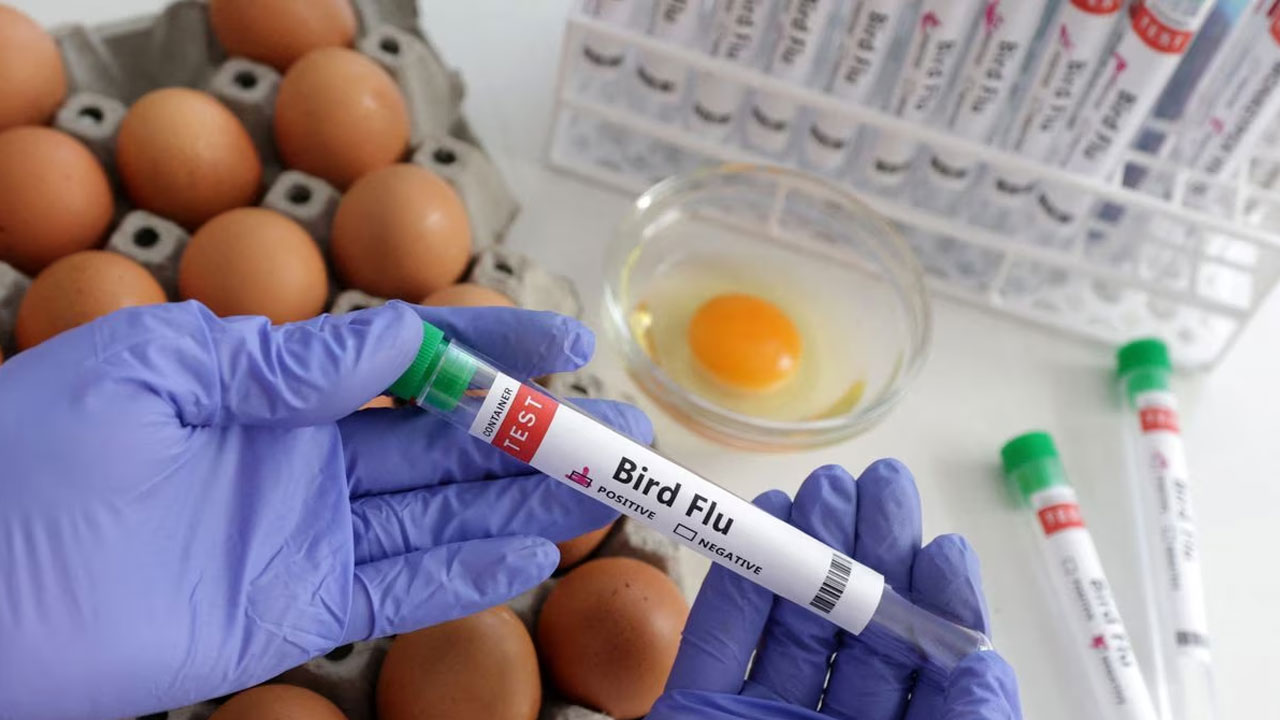 A person holds a test tube labelled "Bird Flu" next to eggs, in this picture illustration.
Avian flu has reached new corners of the globe and become endemic for the first time in some wild birds that transmit the virus to poultry, according to veterinarians and disease experts, who warn it is now a year-round problem.
Reuters spoke to more than 20 experts and farmers on four continents who said the prevalence of the virus in the wild signals that record outbreaks will not abate soon on poultry farms, ramping up threats to the world's food supply. They warned that farmers must view the disease as a serious risk all year, instead of focusing prevention efforts during spring migration seasons for wild birds.
Outbreaks of the virus have widened in North and South America, Europe, Asia and Africa, undefeated by summer heat or winter cold snaps, since a strain arrived in the United States in early 2022 that was genetically similar to cases in Europe and Asia.
Article continues after advertisement
On Wednesday, Argentina and Uruguay each declared national sanitary emergencies after officials confirmed the countries' first infections. Argentina found the virus in wild birds, while dead swans in Uruguay tested positive.
Egg prices set records after the disease last year wiped out tens of millions of laying hens, putting a staple source of cheap protein out of reach to some of the world's poorest at a time the global economy is reeling from high inflation.
Wild birds are primarily responsible for spreading the virus, according to experts. Waterfowl like ducks can carry the disease without dying and introduce it to poultry through contaminated feces, saliva and other means.
Farmers' best efforts to protect flocks are falling short.
In the United States, Rose Acre Farms, the country's second-largest egg producer, lost about 1.5 million hens at a Guthrie County, Iowa, production site last year, even though anyone who entered barns was required to shower first to remove any trace of the virus, Chief Executive Marcus Rust said.
A company farm in Weld County, Colorado, was infected twice within about six months, killing more than 3 million chickens, Rust said. He thinks wind blew the virus in from nearby fields where geese defecated.
"We got nailed," Rust said. "You just pull your hair out."
The United States, Britain, France and Japan are among countries that have suffered record losses of poultry over the past year, leaving some farmers feeling helpless.
"Avian flu is occurring even in a new poultry farm with modern equipment and no windows, so all we could do now is ask God to avoid an outbreak," said Shigeo Inaba, who raises chickens for meat in Ibaraki prefecture near Tokyo.
Poultry in the Northern Hemisphere were previously considered to be most at risk when wild birds are active during spring migration. Soaring levels of the virus in a broad range of waterfowl and other wild birds mean poultry now face high risks year round, experts said.
"It's a new war," said Bret Marsh, the state veterinarian in the U.S. state of Indiana. "It's basically a 12-month vigil."
In a sign the threat is expected to persist, Marsh is seeking funds from Indiana's lawmakers to hire an additional poultry veterinarian and poultry health-specialist. Indiana lost more than 200,000 turkeys and other birds over the past year, while total U.S. deaths top 58 million birds, according to U.S. government data, surpassing the previous 2015 record.
The virus is usually deadly to poultry, and entire flocks are culled when even one bird tests positive.
Vaccinations are not a simple solution: they may reduce but not eliminate the threat from the virus, making it harder to detect its presence among a flock. Still, Mexico and the EU are among those vaccinating or considering shots.