Sevens
Snyman applauds team mates for second win in Hamilton
January 26, 2019 12:01 pm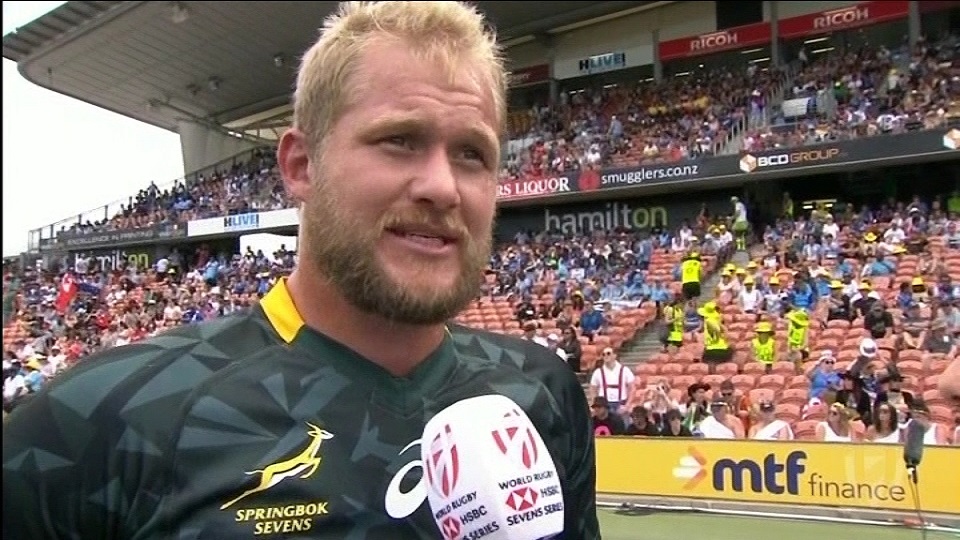 SOUTH AFRICA 7S CAPTAIN PHILIP SNYMAN
The South Africa 7s side overcame a 17-5 win over France in its second pool match of the Hamilton tournament.
Captain Philip Snyman says the French side came out strong and really gave them a hard time in the game.
RE:LIVE: Straight from the restart!

Kyle Brown goes up and wins it in the air to set up brilliantly athletic try from @Blitzboks at the #NZSevens #DHLRugby pic.twitter.com/Ex2ZyXJcs2

— World Rugby Sevens (@WorldRugby7s) January 25, 2019
He thanked his teammates for holding on until the last whistle.
"Yes I think it was a difficult one and the French came out hard to us and they keep the ball in hand and they difficult team to stop and I'm impressed with how the boys worked really hard towards the end even though the game was over to keep them away from scoring another try."
FT | 🇿🇦 17-5 🇫🇷| @Blitzboks#NZSevens pic.twitter.com/HaAOm6eyqB

— HSBC NZ Sevens (@NZ_Sevens) January 26, 2019
Meanwhile, the Fiji Airways men's 7s side will take on Argentina at 2.42pm in its second pool match and plays Australia in its last pool match at 6.52pm.
The Cup quarter-final begins at 10.36am tomorrow, Cup semifinal starts at 3.16pm and the final is scheduled for 7.10pm.
You can watch the entire tournament live on FBC TV.
| MATCH | TIME | TEAM 1 | SCORE | TEAM 2 | POOL |
| --- | --- | --- | --- | --- | --- |
| M1 | 9:00AM | Scotland | 26 - 21 | France | Pool C |
| M2 | 9:22AM | South AFrica | 29 - 10 | Kenya | Pool C |
| M3 | 9:44AM | England | 10 - 12 | Samoa | Pool D |
| M4 | 10:06AM | USA | 29 - 7 | Tonga | Pool B |
| M5 | 10:30AM | Australia | 17 - 12 | Argentina | Pool A |
| M6 | 10:52AM | Fiji | 54 - 7 | Wales | Pool A |
| M7 | 11:14AM | Spain | 12 - 12 | Canada | Pool D |
| M8 | 11:36AM | New Zealand | 52 - 0 | Japan | Pool D |
| M9 | 12:48PM | Scotland | 19 - 10 | Kenya | Pool C |
| M10 | 13:10PM | South Africa | 17 - 5 | France | Pool C |
| M11 | 13:32PM | England | 36 - 7 | Tonga | Pool B |
| M12 | 13:54PM | USA | 34 - 14 | Samoa | Pool B |
| M13 | 14:20PM | Australia | 26 - 5 | Wales | Pool A |
| M14 | 14:42PM | Fiji | 33 - 24 | Argentina | Pool A |
| M15 | 15:04PM | Spain | 22 - 19 | Japan | Pool D |
| M16 | 15:26PM | New Zealand | 42 - 10 | Canada | Pool D |
| M17 | 17:00PM | France | 15 - 19 | Kenya | Pool B |
| M18 | 17:22PM | South Africa | 26 - 7 | Scotland | Pool B |
| M19 | 17:44PM | Samoa | 28 - 12 | Tonga | Pool C |
| M20 | 18:06PM | USA | 19 - 7 | England | Pool C |
| M21 | 18:13PM | Argentina | 36 - 7 | Wales | Pool A |
| M22 | 18:52PM | Fiji | 26 - 19 | Australia | Pool A |
| M23 | 19:14PM | Canada | 26 - 0 | Japan | Pool D |
| M24 | 19:36PM | New Zealand | 17 - 0 | Spain | Pool D |