Sevens
Fiji thrashes Wales in its first pool match
January 26, 2019 12:55 pm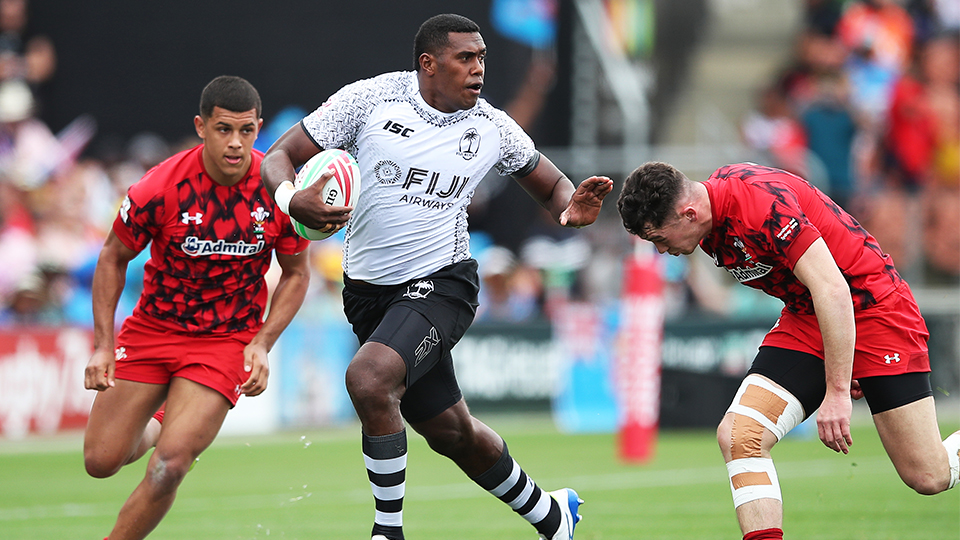 Fiji 7s captain Kalione Nasoko on attack against Wales. [Source: World Rugby]
The Fiji Airways men's 7s side made a cruising start thrashing Wales 54-7 in its opening match of the Hamilton tournament.
The Gareth Baber-coached side showed teamwork and displayed a Fijian style of rugby scoring tries after tries in the first half.
Waisea Nacuqu, Meli Derenalagi, and Sevuloni Mocenacagi scored a try each while Aminiasi Tuimaba scored a double, leading 33-0 at the breather.
Terio Tamani, Mesulame Kunavula and Alosio Naduva added a try each in the second spell to seal the victory.
Captain Kalione Nasoko thanked the supporters for turning out in numbers to cheer for them.
"You know it's always good that we got supporters especially when you see a lot of blue flags around here which boost our performance here especially our first game always be tough and thanked the boys for the work we did to be able to play well in our first game."
Despite the win, Josua Vakurunabili was yellow carded after a dangerous tackle.
In other matches played earlier today, Scotland beat France 26-21, South Africa defeated Kenya 29-10, Samoa upset England 12-10, and USA beat Tonga 29-10.
Fiji will then take on Argentina at 2.42pm and plays Australia in its last pool match at 6.52pm.
The Cup quarter-final begins at 10.36am tomorrow, semifinal starts at 3.16pm while the Cup final will at 7.10pm.
You can watch the entire tournament live on FBC TV.
24,000 fans expected for an epic day a the #NZSevens

— World Rugby Sevens (@WorldRugby7s) January 25, 2019
FT | 🇫🇯 54-7 🏴󠁧󠁢󠁷󠁬󠁳󠁿 | Well done @fijirugby on a massive win over @WelshRugbyUnion #NZSevens pic.twitter.com/Gh2F1PhONv

— HSBC NZ Sevens (@NZ_Sevens) January 25, 2019
It's going off here at the #NZSevens. @fijirugby fans showing up in force as always pic.twitter.com/OztDL46N6j

— World Rugby Sevens (@WorldRugby7s) January 26, 2019
| MATCH | TIME | TEAM 1 | SCORE | TEAM 2 | POOL |
| --- | --- | --- | --- | --- | --- |
| M1 | 9:00AM | Scotland | 26 - 21 | France | Pool C |
| M2 | 9:22AM | South AFrica | 29 - 10 | Kenya | Pool C |
| M3 | 9:44AM | England | 10 - 12 | Samoa | Pool D |
| M4 | 10:06AM | USA | 29 - 7 | Tonga | Pool B |
| M5 | 10:30AM | Australia | 17 - 12 | Argentina | Pool A |
| M6 | 10:52AM | Fiji | 54 - 7 | Wales | Pool A |
| M7 | 11:14AM | Spain | 12 - 12 | Canada | Pool D |
| M8 | 11:36AM | New Zealand | 52 - 0 | Japan | Pool D |
| M9 | 12:48PM | Scotland | 19 - 10 | Kenya | Pool C |
| M10 | 13:10PM | South Africa | 17 - 5 | France | Pool C |
| M11 | 13:32PM | England | 36 - 7 | Tonga | Pool B |
| M12 | 13:54PM | USA | 34 - 14 | Samoa | Pool B |
| M13 | 14:20PM | Australia | 26 - 5 | Wales | Pool A |
| M14 | 14:42PM | Fiji | 33 - 24 | Argentina | Pool A |
| M15 | 15:04PM | Spain | 22 - 19 | Japan | Pool D |
| M16 | 15:26PM | New Zealand | 42 - 10 | Canada | Pool D |
| M17 | 17:00PM | France | 15 - 19 | Kenya | Pool B |
| M18 | 17:22PM | South Africa | 26 - 7 | Scotland | Pool B |
| M19 | 17:44PM | Samoa | 28 - 12 | Tonga | Pool C |
| M20 | 18:06PM | USA | 19 - 7 | England | Pool C |
| M21 | 18:13PM | Argentina | 36 - 7 | Wales | Pool A |
| M22 | 18:52PM | Fiji | 26 - 19 | Australia | Pool A |
| M23 | 19:14PM | Canada | 26 - 0 | Japan | Pool D |
| M24 | 19:36PM | New Zealand | 17 - 0 | Spain | Pool D |