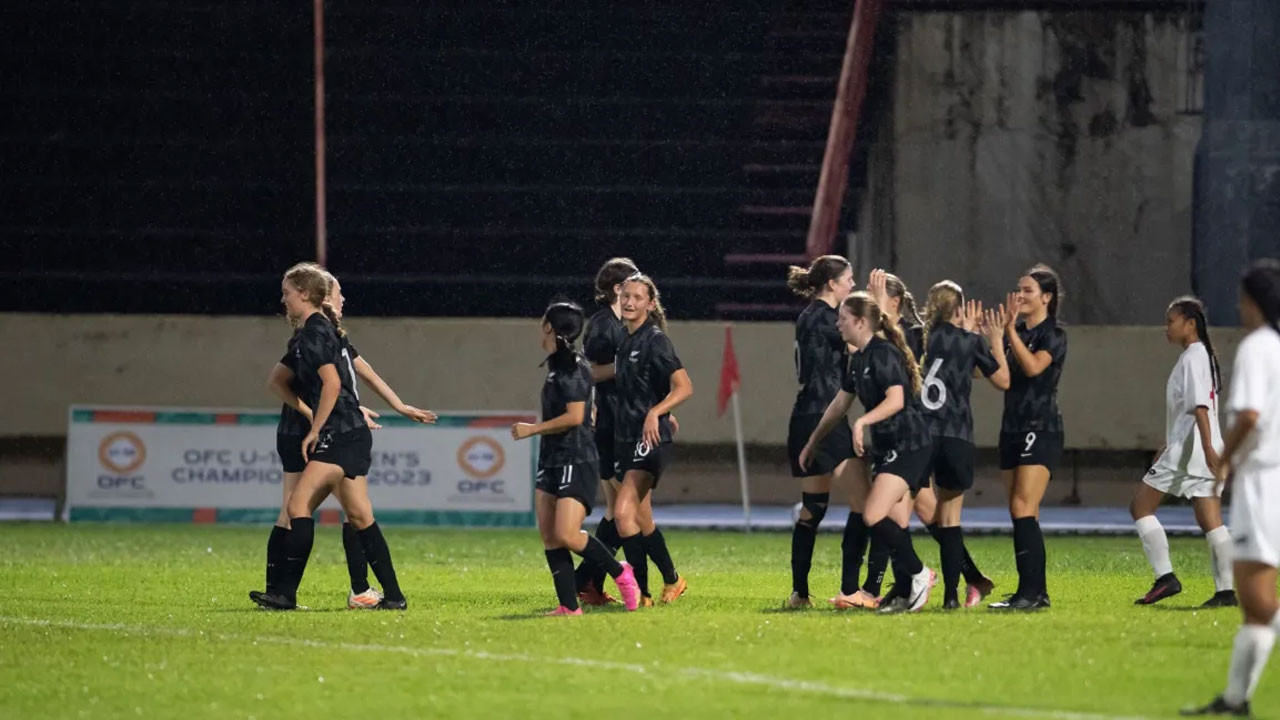 [Source: OFC Media via Christophe Fotozz]
New Zealand will play Fiji in the final of the OFC U-16 Women's Championship following a professional performance in their victory over Tonga in Papeete.
Leon Birnie's side were the dominant force against a physical and hardworking Tonga, eventually running out 7-0 winners to book their final spot against earlier semi-final winners Fiji.
The Kiwis started brightly – as they had done against Vanuatu – with Charli Dunn going close with a close range header following a cross from captain Pia Vlok.
Article continues after advertisement
Mackenzie Bryant took a chance with a right-footed effort that veered wide but it wouldn't take long before New Zealand did find the net. Putri Ardana created space for herself with a strong run down the right-hand channel and her low centre was converted from close range by Angela Pivac.
Vlok was against the supplier when her outstanding reverse pass put Ardana through but the No.11 dragged her attempt wide.
Tonga were impressive in their defensive resolve as they repelled waves of attack. Salome Holika was the pick of the bunch with a well-time block to keep out Katie Pugh.
Vlok went close with a low effort that was parried by goalkeeper Sofaia Finau before she turned supplier, lifting the ball over the top for Pugh to race onto and slot past Finau to double her side's lead.
That would prove one of Finau's last actions of the match, as after an awakward collision she was stretchered off, replaced by Ana Kafoa just before the break.
The half closed as it opened, with a great chance for Dunn but she hooked her effort over the bar from only a few yards out after Kafoa had spilled a free-kick from Vlok on the right-hand side.
Any hopes of a Tongan fightback were extinguished early in the second period. Katie Pugh was brought down in the area within minutes of the restart and Vlok confidently stroked the penalty home to make it 3-0 and put the Kiwis in complete control.
Two more followed within a minute of one another, both from substitutes. First Ela Jerez pounced on a dropped cross from Kafoa to scramble the ball home before fellow replacement Laura Bennett took advantage of indecision in the Tongan backline to poke her effort beneath the keeper's body.
Bennett added her second and New Zealand's sixth five minutes later, linking up beautifully with Pugh and curling into the far corner with aplomb.
Amber De Wit made an appearance from the bench and duly found herself on the scoresheet. Showing excellent touch, she brought down a looped ball from Hannah Saxon before finishing at the near post.
Ela Jerez came close to an eight with another curled effort but saw her attempt smack the top of the crossbar.
With the clock ticking towards the 90′ Isla Cleall-Harding rattled the cross bar with a fierce effort that somehow left the net untroubled.
New Zealand now look ahead to a final against Fiji on Wednesday, whilst Tonga will have a couple of days to prepare for their Play-off for 3rd place against Tahiti on the same day.