President Ratu Wiliame Katonivere
President Ratu Wiliame Katonivere has suspended Commissioner of Police Sitiveni Qiliho and the Commissioner of the Fiji Corrections Service Francis Kean on the advice of the Constitutional Offices Commission.
The constitutional officers were suspended effective immediately pending investigation and referral to and appointment of a tribunal.
The President has appointed Assistant Police Commissioner Juki Fong Chew as Acting Commissioner of Police whilst Assistant Commissioner Corporate of the Fiji Corrections Service, Salote Panapasa was appointed Acting Commissioner of Fiji Corrections Service.
Article continues after advertisement
With reference to the suspension of the Supervisor of Elections, the President on the advice of the COC appointed Ana Salaivalu Mataiciwa as Acting SOE.
Mataiciwa is currently Manager Legal at the Fijian Elections Office.
The advice was resolved in the COC meeting held yesterday and conveyed to the President by Prime Minister Sitiveni Rabuka as Chairperson.
The relevant officers have been notified of their appointments and suspensions respectively.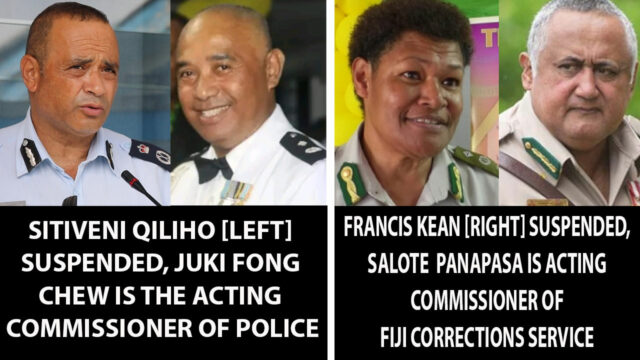 [Photos: Facebook]