[Source: Fiji Government/ Facebook]
The European Union has commended Prime Minister and Minister for Foreign Affairs Sitiveni Rabuka's leadership towards Fiji's national development and the Pacific's solidarity.
This was conveyed by the Ambassador and Head of Delegation of the European Union for the Pacific, Sujiro Seam, during his courtesy visit to the PM yesterday.
Seam reasserted the EU's commitment to enhance economic cooperation with Fiji.
Article continues after advertisement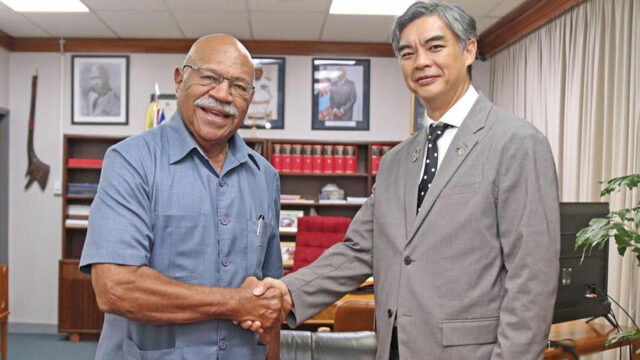 [Source: Fiji Government/ Facebook]
He says Fiji and the European Union are very strong defenders of democracy, human rights, and the rule of law, especially on the international stage.
The Ambassador also highlighted that the EU will continue to assist Fiji in the areas of maritime surveillance, humanitarian assistance, disaster response, and cyber-security.
Rabuka acknowledged the EU's commitment to further support Fiji through the provision of funding for climate adaptation and initiatives to build sustainable livelihoods in Fiji.
He says Fiji is grateful to the EU's support in the rebuilding efforts following the climate crisis and the COVID-19 pandemic, notably through the provision of humanitarian aid, emergency supplies, and technical assistance.