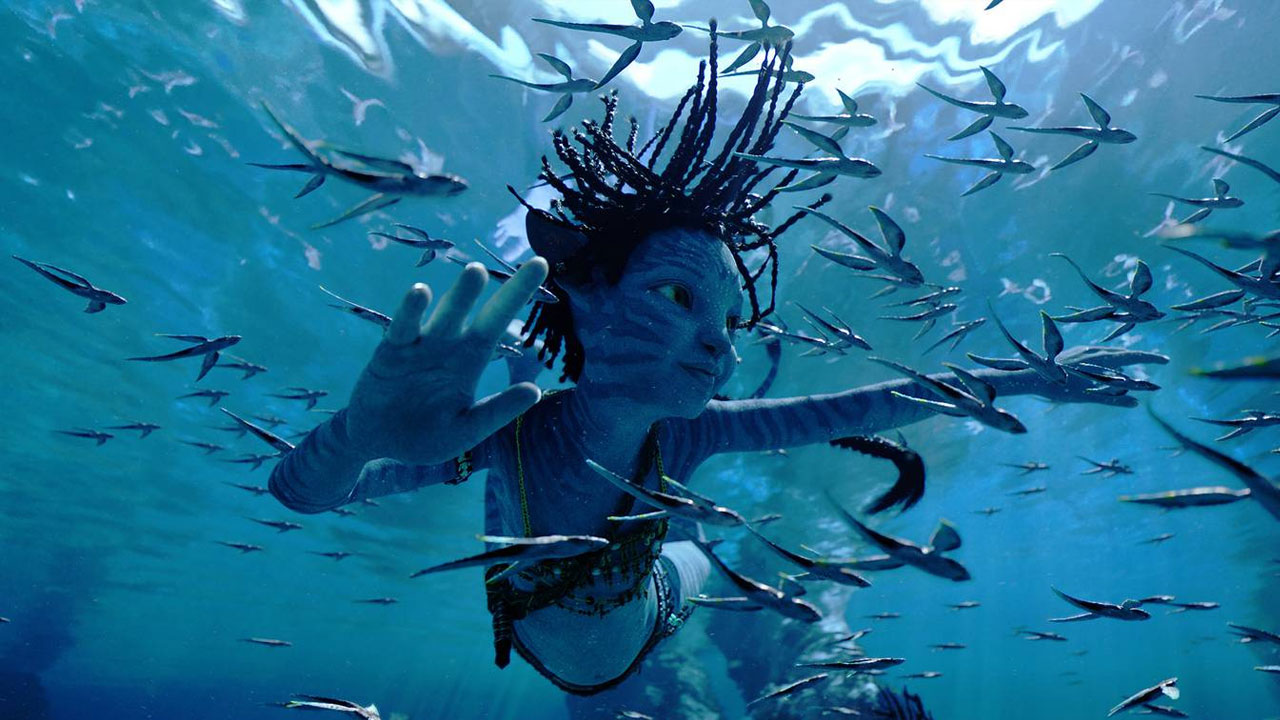 This image released by 20th Century Studios shows Trinity Bliss, as Tuk, in a scene from "Avatar: The Way of Water." [Source: NZ Herald]
James Cameron's Avatar sequel The Way of Water has hit another milestone, charging its way up the all-time box office list.
As of this weekend, Avatar: The Way of Water has earnt US$1.7 billion ($2.7b) at the global office, and is now the seventh highest grossing movie of all time, not adjusted for inflation. It knocked Jurassic World out of the spot.
Avatar: The Way of Water became the top cinema earner of 2022 last week when it surpassed Top Gun: Maverick and its US$1.44 ($2.2b) billion haul.
Article continues after advertisement
The James Cameron blockbuster now has only six movies ahead of it: Spider-Man: No Way Home (US$1.91b), Avengers: Infinity War (US$2.04b), Star Wars: The Force Awakens (US$2.06b), Titanic (US$2.20b), Avengers: Endgame (US$2.79b) and Avatar (US$2.92b).
Two of those top six – Avatar and Titanic – are also directed by Cameron.
In Australia, Avatar: The Way of Water raked in $8.28 million this past weekend for a running total of $66.71 million in the local market. The ticket sales so far puts it in position six globally. Spider-Man: No Way Home is currently fifth placed with a box office of $80.48 million.
In the North American market, which encompasses the US and Canada, it has ticked over US$516 million, and has proved to have remarkable staying power.
The movie underperformed against expectations in its first weekend, collecting US$435 million globally, against projections of between US$450 million to US$550 million. But Cameron movies have often benefited from a long tail.
The story takes place many years after the original film. Sully and Neytiri are now parents to a brood of children and when an old threat re-emerges, the family must seek refuge with Pandora's water clans.
Avatar: The Way of Water opened with the weight of commercial expectations. Its production budget was reportedly more than US$350 million while the marketing costs were scores of millions more.
Neither Cameron nor Disney has ever confirmed how much it cost to bring audiences back to Pandora, the fictional planet in Avatar and its sequel.
When asked about the budget by GQ, the director replied, "F***ing expensive".
Cameron has previously said an Avatar sequel would need to be the third or fourth highest-earning movie of all time to break even, which would put the mark at roughly US$2 billion.
Now that Avatar: The Way of Water is inching closer to that point, future instalments are looking like a no-brainer.
The Way of Water is the first of four planned sequels to the 2009 original movie. Filming has been completed for the third Avatar movie and started on the fourth.
But the sequels were only going to be greenlit if number two proved to be financially successful. For fans of the blue-hued characters, it's looking good.