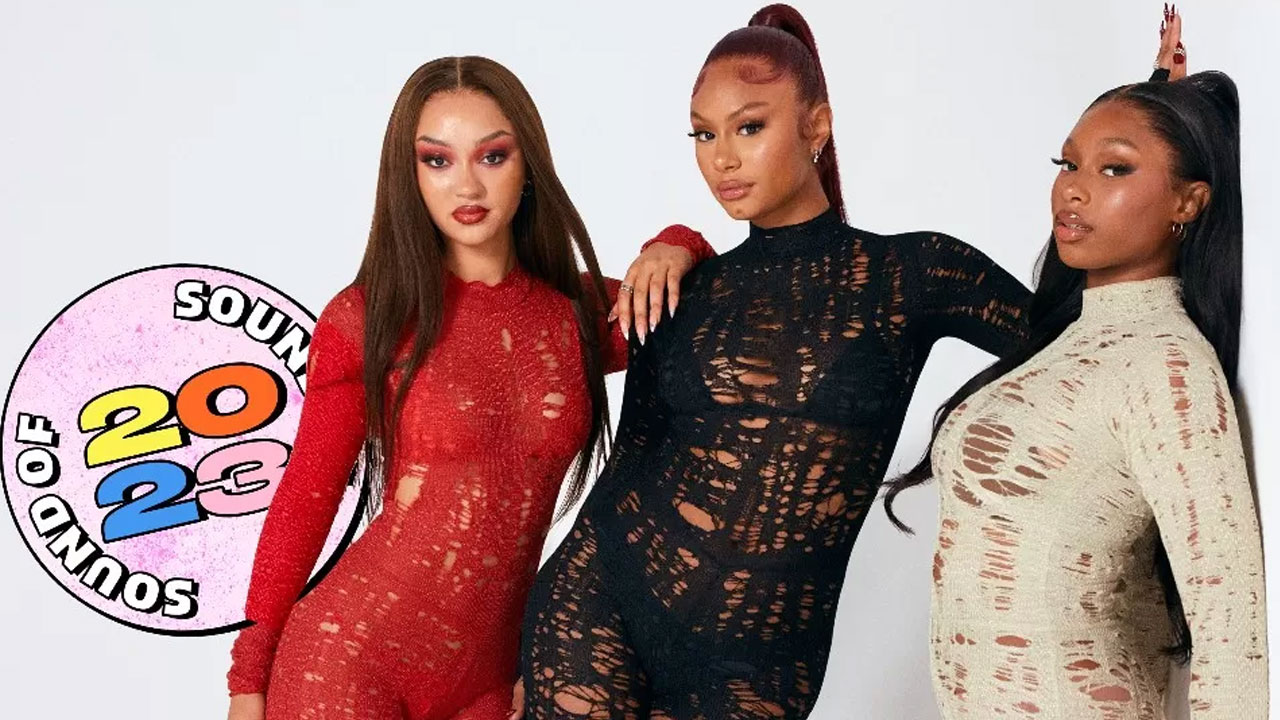 Flo are (left-right) Stella Quaresma, Jorja Douglas and Renée Downer. [Source: BBC Entertainment]
R&B trio Flo have won the BBC's Sound of 2023.
Previous winners of the annual list, which showcases the next big things in music, include Adele, Sam Smith and Pink Pantheress.
The UK girl group were told the news by Stormzy, who called the newcomers "a breath of fresh air" who had "killed it in every single department".
Article continues after advertisement
"That's insane, right?" said singer Renée Downer, who formed the group with Stella Quaresma and Jorja Douglas.
Flo, who are aged between 19 and 21, were formed in 2019 and signed to Island Records in 2020.
Their debut single, Cardboard Box, is layered with honeyed group harmonies and sassy one-liners, and was released last March.
"Never liked your momma, so I guess she's blocked / You may be crying, but boy, I'm not", they sing in the chorus.
The track's throwback R&B style earned comparisons with US girl bands like Destiny's Child, TLC and SWV; and they have picked up endorsements from Missy Elliot and Brandy, an unexpected turn of events that Douglas calls "the biggest honour".
"They're like the old school," she says. "Those people have really inspired us and influenced the music that we make."
In July, the trio released their debut EP, The Lead, which has been streamed more than 70 million times, leading to appearances on Jimmy Kimmel's US chat show and the BBC's Later… With Jools Holland.
Flo have arrived just in time to fill the girl band gap left by Little Mix, who played their farewell tour last year.
Like their predecessors, Flo say their message is "to be strong in yourself, to be confident".
"There is female empowerment – but everyone who listens should feel supported, inspired, independent," says Stella.
"We want them to feel the way music used to make us feel."
The Sound Of 2023 was voted for by more than 130 music industry experts, including representatives from Spotify, Apple Music, Glastonbury Festival, the BBC and former nominees including Dua Lipa, Stormzy, Sam Smith and Foals.
The list was open to new artists who had yet to achieve a top five album or more than two top 10 singles by 31 October 2022. Artists who had appeared on TV talent shows within the last three years were ineligible.
US soul trio Gabriels came fifth, followed by singer-songwriter Cat Burns and jungle musician Nia Archives.
Fred Again, a producer for Ed Sheeran and Stormzy who has broken out as a solo artist making emotionally-cathartic dance music, was the runner-up.
Like many girl bands before them, Flo were put together through a process of auditions, call-backs, writing camps and rehearsals.
Their manager cycled through several permutations of the line-up as he sought the perfect blend.
At one point, Jorja and Stella were singing with another girl while Renée was in an adjacent room, rehearsing with a competing trio.
But the singers who eventually became Flo had a secret – they already knew each other.
Renée and Stella had studied together at the Sylvia Young Theatre School, and hooked up with Jorja (a former winner of CBBC singing show Got What It Takes) on social media before auditions began.
"Chemistry-wise, it's always been there," says Stella.
"It's an amazing thing," adds Jorja. "We were already predisposed to each other, so when our manager was doing all these different pairings, we expressed to him, 'We have a connection', and that's how the band happened.
"We didn't have to spend loads of time having sleepovers or team-building and stuff like that. We could just jump straight in because it felt so natural."
"Although we had to work on the dancing," laughs Stella. "Me and Renée danced at school, but I wouldn't have called myself a dancer."
But it turns out learning choreography was easier than building stamina for their live shows. "We don't need to work out to dance any more, we need to work out to sing," says Stella.
"We've all got treadmills now," adds Renée.
"I can't quite run and sing yet," admits Jorja, "so I just do a nice little walk and go through our EP and sing all the songs."