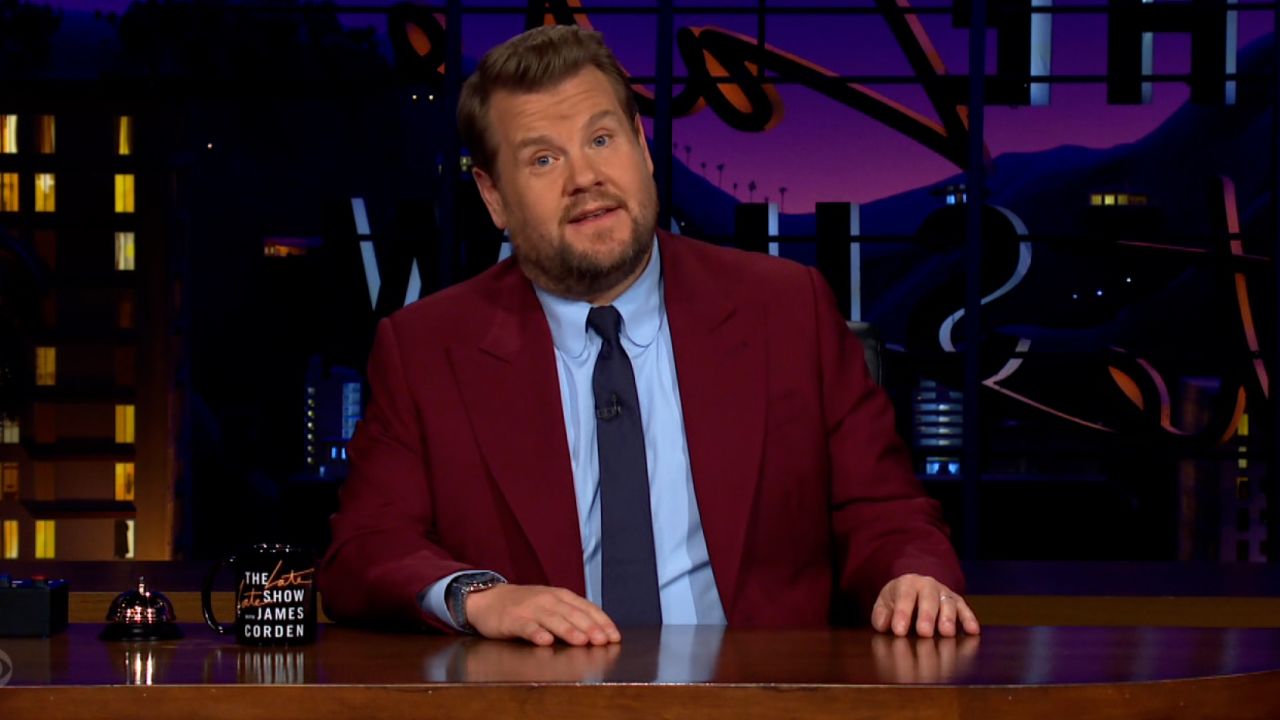 James Corden's CBS show is expected to be replaced with a comedy game show, "@midnight." [Source: CNN Entertainment]
The anchors of late-night TV remain in place with Jimmy Fallon, Stephen Colbert and Jimmy Kimmel, the last having recently signed a contract extension that will keep him behind the desk into 2026. Bill Maher and John Oliver also remain at HBO, albeit in weekly form.
But the offshoots and lead-out show that populated (and some would say overpopulated) the genre, what might be called "later-night TV," have been gradually swept from the playing field, casualties that serve as evidence of the decline of linear TV in the watch-when-you-want streaming age.
Reports that CBS will replace James Corden's "Late Late Show" with a revival of the game show "@midnight" follow the exits of Trevor Noah, Desus and Mero, Samantha Bee and Conan O'Brien. "Later," the NBC show that followed Seth Meyers, is also gone, after giving way to another title that featured a woman of colour, "A Little Late With Lilly Singh."
Article continues after advertisement
Those situations unfolded for various reasons, and the loss of opportunities for diverse talent has been an unfortunate side effect of this collective thinning of the herd. Still, the overarching dynamic is a retrenchment by TV networks, reflecting a late-night landscape that can no longer economically support the explosion of shows that came about as everyone seemingly wanted a sliver of that pie.
Nor has daytime TV been immune, with what might be called the children of Oprah, Drs. Phil and Oz, gave up their shows (the latter to pursue a failed Senate bid), following Ellen DeGeneres' decision to hang up her dancing shoes.
Even the three highest-profile hosts occupy a different world from the one that they inherited from Jay Leno and David Letterman, who in turn carried on the mantle from the comic forever associated with late-night stardom, Johnny Carson.
As Noah made clear when he announced his departure from "The Daily Show," hosting a late-night series every night no longer represented the Holy Grail of comedy, at least for him, that it was in Carson's heyday. That decision wrote NPR critic Eric Deggans, "could send the direst signals yet about the future of late-night TV."
In reporting on CBS' plans, Deadline noted that a driving factor is, not surprisingly, money, and the desire to fill the hour after Colbert with a less-expensive program.
The irony is that while late-night hosts have more ways to get their material out and voices heard, with viral clips disseminated via YouTube and social media, actually generating revenue off that content has become more challenging.
The proliferation of late-night shows was the product of a different time in the TV industry, when a percentage of the audience – mostly younger and male – could be coaxed to stay up a little later to sample another talent, especially those considered edgy, unique and more experimental, as Letterman and then O'Brien was during their later-night years.
The latest departures don't indicate that the lights are being completely turned off just yet. But like so much in terms of the way people once consumed TV, they're dimming. As for what the late-night market will look like by the time Kimmel's new contract expires, that's a crystal ball into which even Carson's Carnac the Magnificent couldn't clearly see.