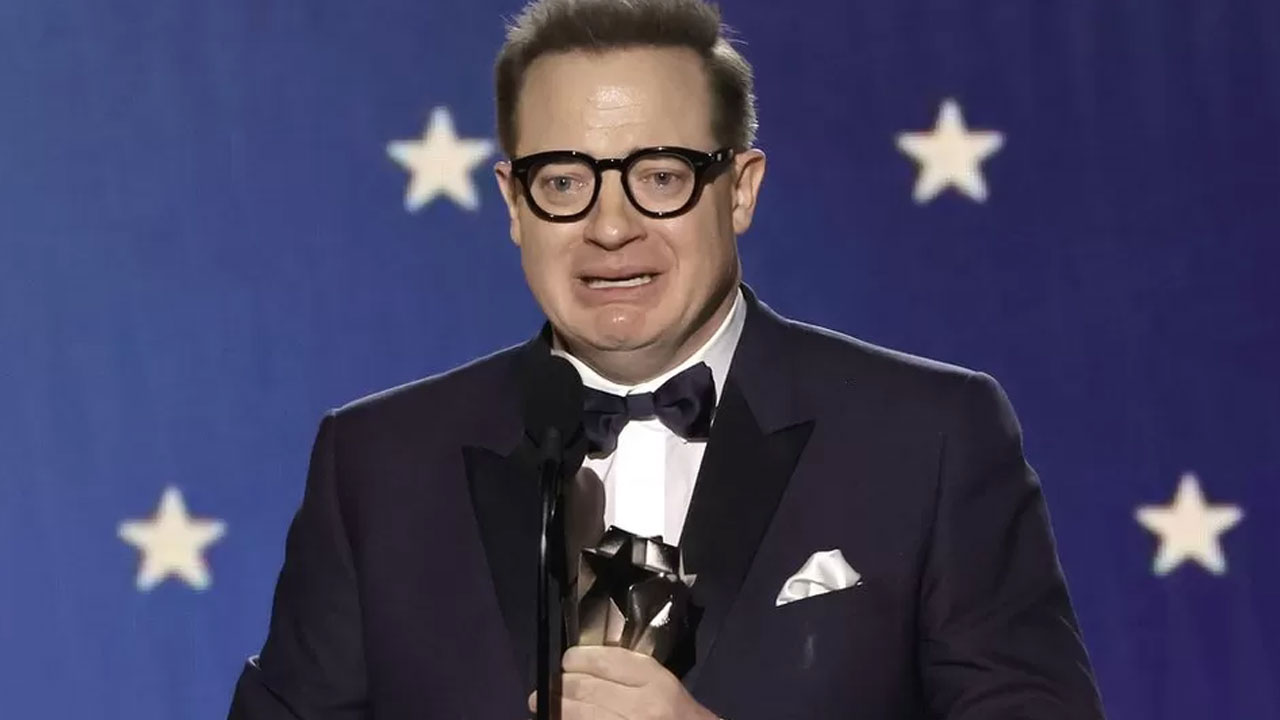 The Whale is Brendan Fraser's first lead role in a major film for 12 years. [Source: BBC Entertainment]
Comeback star Brendan Fraser gave an emotional acceptance speech as he picked up the best actor prize at the Critics Choice Awards for The Whale.
"I was in the wilderness. And I probably should have left a trail of breadcrumbs. But you found me," Fraser said to director Darren Aronofsky.
The Mummy actor has drawn praise for his portrayal of a depressed and morbidly obese man in the film.
Article continues after advertisement
Fraser is hotly tipped to get an Oscar nomination later this month.
"If you – like a guy like Charlie, who I played in this movie – in any way struggle with obesity, or you just feel like you're in a dark sea, I want you to know that if you too can have the strength to just get to your feet and go to the light, good things will happen," Fraser said to a standing ovation.
"This movie, The Whale, is about love. It's about redemption. It's about finding the light in a dark place.
Other Critics Choice winners included Cate Blanchett, who was named best actress for her role in Tar as fictional conductor and perfectionist Lydia Tar, and surreal sci-fi movie Everything Everywhere All at Once, which won several prizes including best picture.
Blanchett also gave an impassioned speech, describing her award as "extremely arbitrary considering how many extraordinary performances there have been by women not only in this room".
She added: "It's like, what is this patriarchal pyramid where someone stands up here?
"Why don't we just say there's a whole raft of female performances that are in concert and in dialogue with one another, and stop the televised horse race of it at all?
"Because can I tell you, every single woman – whether it's television, film, advertising, tampon commercials, whatever – you're all out there doing amazing work that is inspiring me continually.
Everything Everywhere All At Once was the night's biggest winner, picking up five prizes in total and building momentum ahead of the Oscars in March.
As well as best picture, its other wins included best-supporting actor – Ke Huy Quan – and best director (Daniel Kwan and Daniel Scheinert).
The film, a madcap sci-fi movie, stars Michelle Yeoh as a launderette worker who hops through the multiverse exploring different versions of herself.
Quan, who children of the 80s might recognise from Indiana Jones and The Temple of Doom and The Goonies, replicated his recent Golden Globe success at Sunday's Critics Choice.
Co-director Kwan told the audience: "Growing up, I did not think I was going to ever become anything.
"I had no idea I had something to offer the world and I just need to thank the people who turned me into the man I am now and turned me into the director I am today, my mother.
"She [is] maybe the first Asian-American immigrant mother to ever tell their son to go to film school."