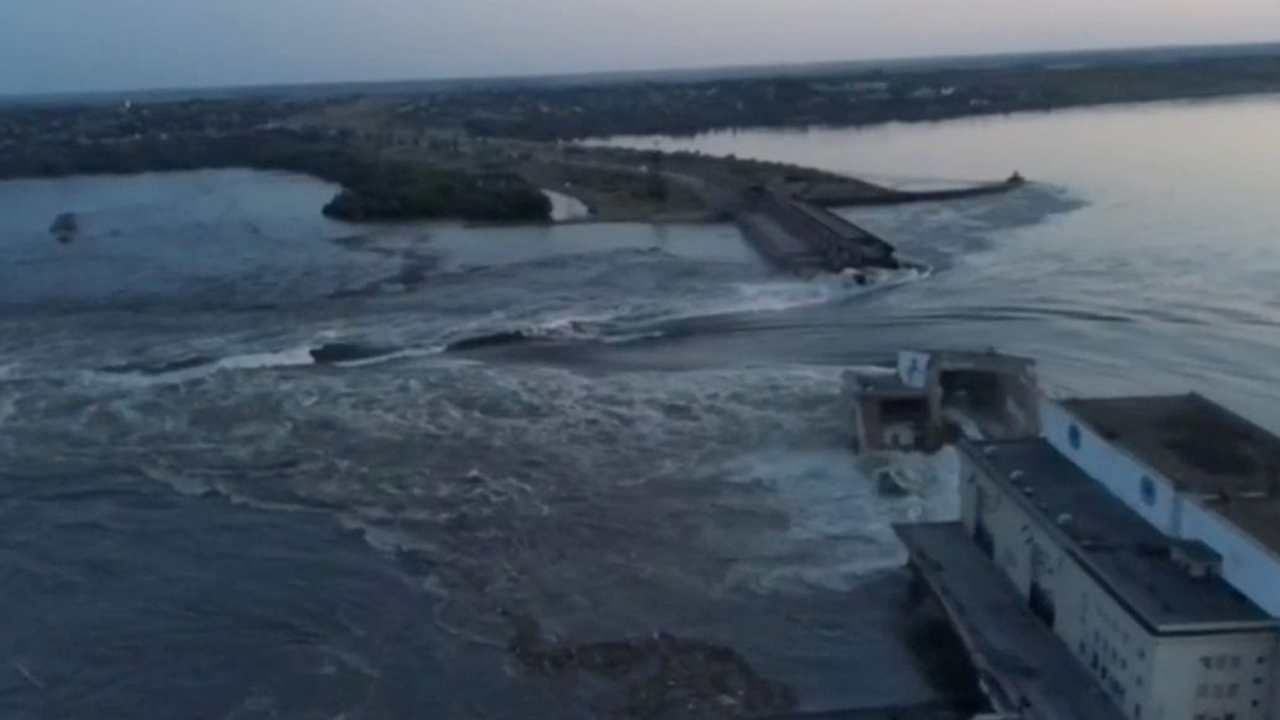 [Source: Reuters]
A torrent of water burst through a massive dam on the Dnipro River that separates Russian and Ukrainian forces in southern Ukraine on Tuesday, flooding a swathe of the war zone, forcing villagers to flee and prompting finger-pointing from both sides.
Ukraine said Russia had committed a deliberate war crime in blowing up the Soviet-era Nova Kakhovka dam, which powered a hydroelectric station. The Kremlin blamed Ukraine, saying it was trying to distract from the launch of a major counteroffensive Moscow says is faltering.
Some Russian-installed officials said the dam had collapsed on its own, while Washington said it was uncertain who was responsible. But Deputy U.S. Ambassador to the United Nations Robert Wood told reporters it would not make sense for Ukraine to destroy the dam.
Article continues after advertisement
Neither side offered immediate public evidence of who was to blame. The Geneva Conventions ban targeting dams in war because of the danger to civilians.
Ukrainian President Volodymyr Zelenskiy said in a video address that his prosecutors had already approached the International Criminal Court about the dam incident. Earlier, he claimed on Telegram that Russian forces blew up the power plant from inside.
Buses, trains and private vehicles were marshalled to carry people to safety while some people waded in knee-deep water, having pets and luggage.
"Residents are sitting on the roofs of their homes waiting to be rescued… This is a Russian crime against people, nature and life itself," Oleksiy Kuleba, a senior official on Zelenskiy's staff, said on Telegram.
Ukrainian officials reported well over 1,000 people rescued from Kherson city along with residents evacuated from flooded towns and villages.
A Russian-installed official said some 22,000 people in the Kherson region were at risk, the RIA news agency said. Zelenskiy wrote on Telegram that 80 settlements were in the flood zone.
"More and more water is coming every hour. It's very dirty," Yevheniya, a woman in Nova Kakhovka on the Russian-controlled bank of the Dnipro, said by telephone.
It was not immediately clear if anyone died but U.S. spokesman John Kirby said it had probably caused "many deaths".
"Our local school and stadium downtown were flooded," Lidia Zubova, 67, told Reuters as she waited for a train out of Ukrainian-controlled Kherson city after abandoning her inundated village of Antonivka. "The road was completely flooded, our bus got stuck."
Ukrainian police released a video of an officer carrying an elderly woman to safety and others rescuing dogs in villages being evacuated as the waters rose. Interior Minister Ihor Klymenko accused Russia of shelling areas where people were being evacuated and said two police officers were wounded.
The flooding caused waters to rise by 3.5 meters (11-1/2 feet), Ukrainian official Kuleba said. Flooding would crest on Wednesday then levels would start to fall within three to four days, Ihor Syrota, head of Ukraine's hydroelectric power authority, told the U.S-funded radio station Donbas Realii.
Residents in Russian-controlled Nova Kakhovka told Reuters that some had decided to stay despite being ordered out.
"They say they are ready to shoot without warning," said one man, Hlib, describing encounters with Russian troops.
The Kazkova Dibrova Zoo on the Russian-held riverbank was completely flooded and all 300 animals were dead, a representative said via the zoo's Facebook account.
The dam supplies water to a wide area of southern Ukrainian farmland, including the Russian-occupied Crimean peninsula, as well as cooling the Russian-held Zaporizhzhia nuclear plant.
The vast reservoir behind the dam is one of the main geographic features of southern Ukraine, 240 km (150 miles) long and up to 23 km (14 miles) wide.
POISED FOR COUNTEROFFENSIVE
The dam's destruction threatened a new humanitarian disaster in the centre of the war zone and transformed the front lines just as Ukraine prepares a long-awaited counteroffensive to drive Russian troops from its territory.
Russian Defence Minister Sergei Shoigu said his forces had thwarted the first three days of the offensive in battles that had left more than 3,700 Ukrainian soldiers dead or wounded.
Ukraine dismissed the Russian statements as lies but gave no details on the attacks.
Russia has controlled the dam since early in its 15-month-old invasion, although Ukrainian forces recaptured the Dnipro's northern bank last year. Both sides had long accused the other of plotting to destroy the dam.
"Russian terrorists. The destruction of the Kakhovka hydroelectric power plant dam only confirms for the whole world that they must be expelled from every corner of Ukrainian land," Zelenskiy wrote on the Telegram messaging app.
NATO Secretary-General Jens Stoltenberg called the dam's destruction "an outrageous act, which demonstrates once again the brutality of Russia's war in Ukraine".
U.N. Secretary-General Antonio Guterres said the United Nations had no independent information on how the dam was breached, describing it as "another devastating consequence" of Russia's invasion.
The U.N. Security Council was meeting to discuss the dam at the request of both Russia and Ukraine.
Russia cast it as an "act of sabotage carried out by Ukraine", according to the request seen by Reuters.
Kremlin spokesman Dmitry Peskov also blamed "deliberate sabotage by the Ukrainian side".
Earlier, Russian-installed officials had given conflicting accounts. Some said Ukrainian missiles hit the dam overnight, others said it collapsed due to earlier damage.
The U.N. nuclear watchdog said the Zaporizhzhia power plant, upriver on the reservoir's Russian-occupied bank, should have enough water to cool its reactors for "some months" from a separate pond, even as the vast reservoir drains out.
(This story has been corrected to fix the name and title to Oleksiy Kuleba, a senior official on Zelenskiy's staff, not Foreign Minister Dmytro Kuleba, in paragraph 7 and remove the reference of foreign minister title to Kuleba in paragraph 14)