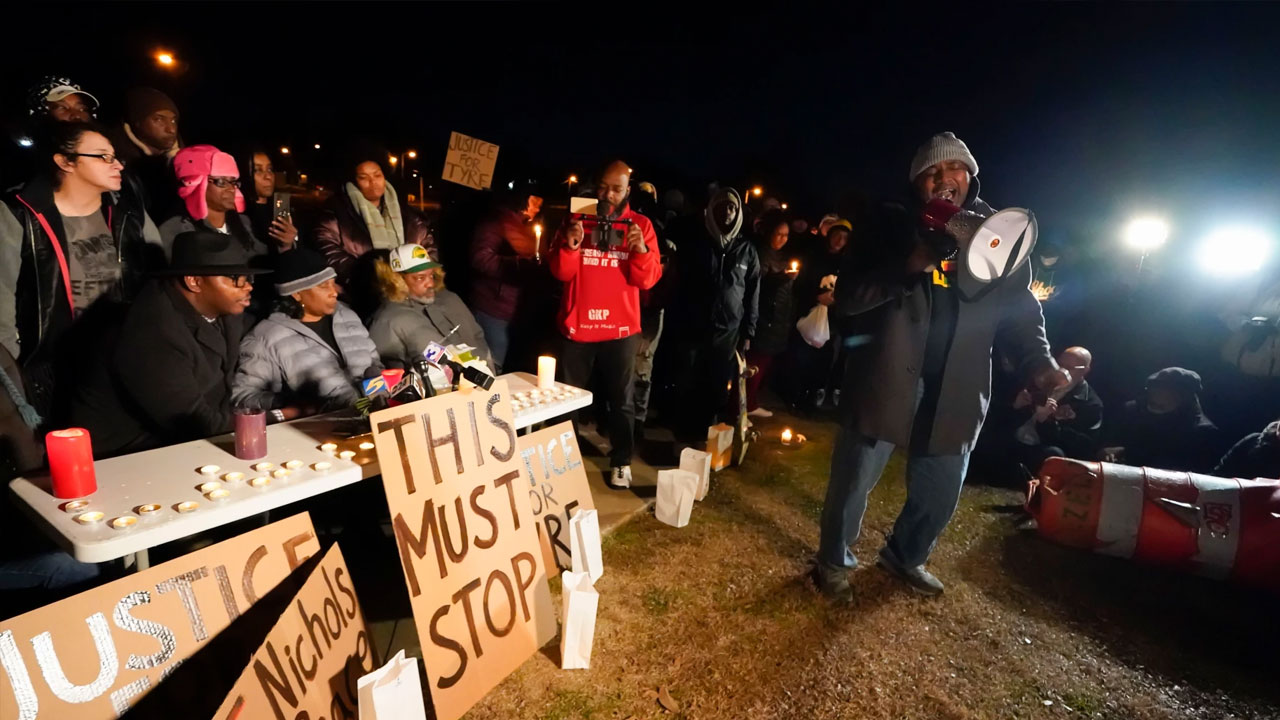 [Source: Aljazeera]
The city of Memphis has released a shocking video of the violent encounter between Tyre Nichols, a 29-year-old Black man, and the five police officers charged with murder in his beating death earlier this month in the United States.
The footage from police body-worn and dashboard cameras was posted on Friday evening on the city's Vimeo site, a day after the officers were charged with second-degree murder, assault, kidnapping, official misconduct and oppression.
The footage shows the officers, all Black, beating the FedEx worker for three minutes in an assault that the Nichols family's legal team likened to the infamous 1991 police beating of Los Angeles motorist Rodney King.
Article continues after advertisement
One video clip shows officers dragging Nichols from the driver's seat of his car as he yells, "Damn, I didn't do anything … I am just trying to go home", and force him to the ground as they order him to lay on his stomach, then squirt him in the face with pepper spray.
Nichols calmly replied soon after being wrestled to the pavement, "OK, I'm on the ground". Then, as the officers continue to yell, Nichols says, "Man, I am on the ground."
An officer yells, "Put your hands behind your back before I break your [expletive]." Moments later, an officer yells, "[Expletive], put your hands behind your back before I break them".
The camera is briefly obscured and then Nichols can be seen running as an officer fires a Taser at him. The officers then start chasing Nichols.
A separate video shows a subsequent struggle after officers catch up with Nichols again and are beating him. Two officers are seen holding him down as a third one kicks him, and a fourth delivers blows with what appears to be a rod before another punches Nichols.
After the beating, officers milled about for several minutes while Nichols lay propped up against the car, then slumped onto the street.
He succumbed to his injuries and died three days later while hospitalized.
The five officers were dismissed from the police department last Saturday following their January 7 confrontation.
Al Jazeera's Gabriel Elizondo, reporting from Memphis, said the video footage was more than one hour long and was in four separate clips.
Elizondo said the public reaction is likely to be one of anger, and protesters who had gathered in a park in Memphis before the video was released were already angry and calling for justice.
The White House said it had held a conference call with mayors from several cities to brief them on federal preparations for the anticipated release of the footage and asked the mayors to remain in regular contact in the coming days.
US police departments also took to social media following the release of the footage to condemn "police brutality".