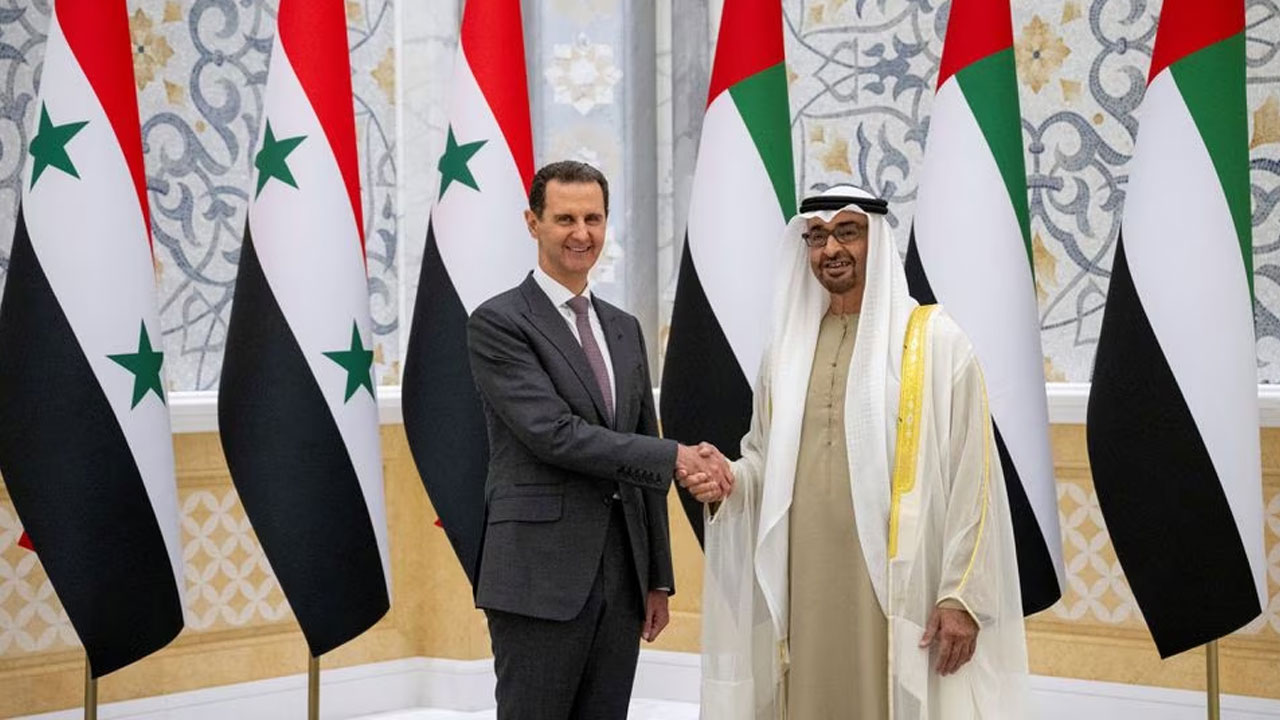 [Source: Reuters]
Syrian President Bashar al Assad arrived in the United Arab Emirates (UAE) on Sunday for an official visit, accompanied by his wife Asma al Assad, at a time when more Arab states have signalled openness to easing the isolation of Damascus.
The visit was marked with more ceremony than his previous trip to the UAE last year, which had been his first to an Arab state since the Syrian civil war began in 2011, when Gulf states including the UAE backed rebels fighting to overthrow Assad.
State media said he was met by President Sheikh Mohammed bin Zayed al-Nahyan on arrival in Abu Dhabi on Sunday and received a canon salute as his convoy entered the royal palace. Assad's plane was greeted by Emirati fighter jets.
Article continues after advertisement
"We held constructive talks aimed at developing relations between our two countries," Sheikh Mohammed later said in a Twitter post. "Our discussions also explored ways of enhancing cooperation to accelerate stability and progress in Syria and the region."
The Syrian presidency said Asma al Assad, on her first known official visit abroad with Assad since 2011, would meet with Sheikha Fatima bint Mubarak who is the Emirati president's mother and regarded in the UAE as the "Mother of the Nation".
The UAE, a U.S. ally, has led a shift in the Middle East towards reviving ties with Assad, who held talks in Oman last month on his first foreign trip since the devastating earthquake hit Syria and Turkey, and visited Russia earlier this month.
Saudi Arabia, Qatar and, to a lesser extent the UAE, once backed rebels against Assad. But Abu Dhabi has rebuilt ties with Damascus in recent years despite U.S. objections as it looks to counter the influence of Iran, which along with Russia, helped Assad turn the tide against his opponents.
Regional powerhouse Saudi Arabia, which recently reached an agreement with rival Iran to restore bilateral ties, has opened the door for possible dialogue with Damascus especially on humanitarian issues, saying Arab consensus was building that isolating Syria was not working.
Qatar, like Washington, has voiced opposition to any moves towards rehabilitating or normalising ties with Assad, citing his government's brutality during the conflict and the need to see progress towards a political solution.
Hundreds of thousands of people have died in the Syria conflict, which spiralled out of an uprising against Assad, drew in numerous foreign powers, and splintered the country.