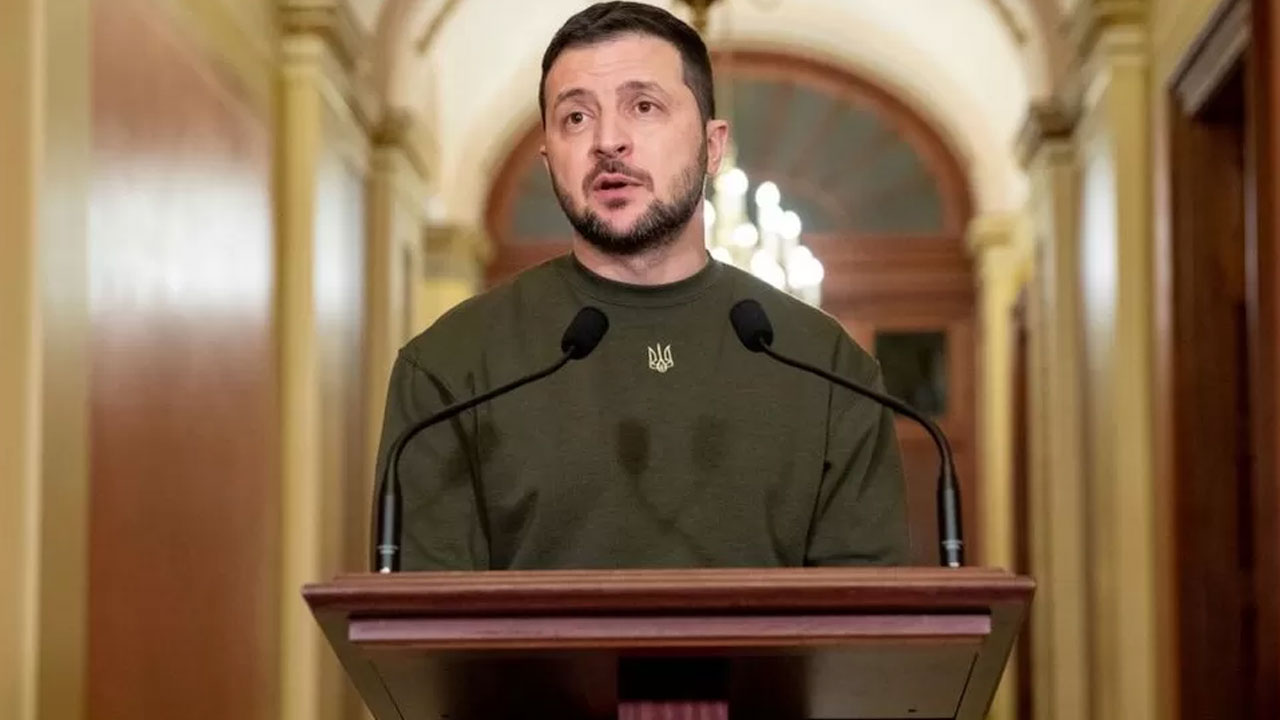 [Source: BBC]
Ukraine's president says Russia is planning a protracted campaign of drone attacks in a bid to demoralise Ukraine.
Volodymyr Zelensky said he had received intelligence reports suggesting that Moscow would launch the attacks using Iranian-made Shahed drones.
It comes after Ukraine carried out a strike that it said killed hundreds of Russian troops in the Donbas region.
Article continues after advertisement
In a rare admission of battlefield losses, Russia said the attack killed 63 of its troops.
Speaking from Kyiv in his nightly address, Mr Zelensky said Russia planned to "exhaust" Ukraine with a prolonged wave of drone attacks.
"We must ensure – and we will do everything for this – that this goal of terrorists fails like all the others," he said. "Now is the time when everyone involved in the protection of the sky should be especially attentive."
Russian drone strikes on Ukraine appear to have increased in recent days, with Moscow launching attacks on cities and power stations across the country over the past three nights.
Mr Zelensky said Ukrainian air defences had already shot down over 80 Iranian-made drones in the opening days of 2023.
Russia has been targeting Ukraine's energy infrastructure for several months, destroying power stations and plunging millions into darkness during the country's freezing winter.
Elsewhere, Ukraine has confirmed it carried out a strike in the occupied region of Donetsk, which it earlier claimed killed 400 Russian troops.
Russian officials contested the figure, saying only 63 troops were killed. Neither claim has been verified, and access to the site is restricted.
The Ukrainian attack on New Year's Day hit a building in the city of Makiivka, where Russian forces were stationed.
It is extremely rare for Moscow to confirm any battlefield casualties.
But this was such a deadly attack, says the BBC's Russia editor Steve Rosenberg, that staying silent probably wasn't an option.
It is the highest number of deaths acknowledged by Moscow in a single incident since the war began ten months ago.
In a statement on Monday, Russia's defence ministry said Ukrainian forces fired six rockets using the US-made Himars rocket system at a building housing Russian troops. Two of them were shot down, it added.
Igor Girkin, a pro-Russian commentator, earlier said that hundreds had been killed and wounded, although the exact number was unknown because of the large number still missing.
The building itself was "almost completely destroyed", he said.
He added that the victims were mainly mobilised troops – that is, recent conscripts, rather than those who chose to fight. He also said ammunition was stored in the same building as the soldiers, making the damage worse.
"Almost all of the military equipment was also destroyed, which stood right next to the building without any disguise whatsoever," he wrote on Telegram.
Girkin is a well-known military blogger, who led Russian-backed separatists when they occupied of large parts of eastern Ukraine in 2014. He was recently found guilty of murder for his part in the shooting down of flight MH17.
Despite his hawkish stance, he regularly criticises the Russian military leadership and their tactics.
According to the Ukrainian military's earlier statement, 300 were wounded in addition to the estimated 400 killed. Ukraine's army claims, almost daily, to have killed dozens, sometimes hundreds, of soldiers in attacks.
A later statement from the Ukrainian military's general staff said "up to 10 units of enemy military equipment" were "destroyed and damaged" in the strikes, and that "the losses of personnel of the occupiers are being specified".
Ukraine has not confirmed the strikes were carried out with Himars missiles, maintaining a long-held strategy of not releasing specific details about its attacks.