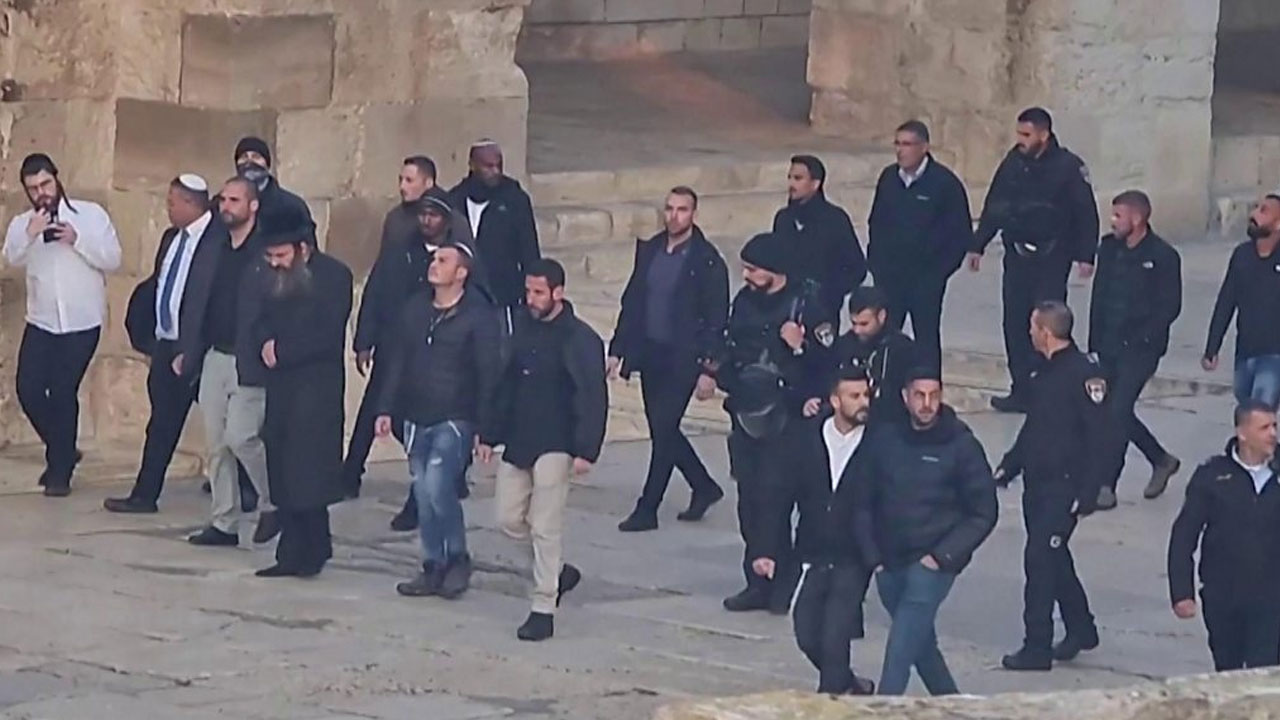 [Source: BBC News]
Palestinians have condemned a visit to a contested holy site in Jerusalem by a far-right Israeli minister as an "unprecedented provocation".
National Security Minister Itamar Ben-Gvir, who has called for a harder line towards the Palestinians, walked around the site surrounded by police.
Competing claims to the compound bitterly divide Israel and the Palestinians.
Article continues after advertisement
Tensions have risen with the advent of Israel's new nationalistic government.
Mr Ben-Gvir's visit was his first public act since the government, led by Prime Minister Benjamin Netanyahu, was sworn in five days ago.
The hilltop site is the most sacred place in Judaism and the third holiest in Islam. It is known to Jews as the Temple Mount, site of two Biblical temples, and to Muslims as Haram al-Sharif, the site of Muhammad's ascent to Heaven. The entire compound is considered to be al-Aqsa Mosque by Muslims.
Jews and other non-Muslims are allowed to go to the compound but not pray, though Palestinians see visits by Jews as attempts to change the delicate status quo.
Mr Ben-Gvir, leader of the Otzma Yehudit (Jewish Power) party, has long said that he wants to bring about a change to the rules to allow Jewish worship at the site. There is no indication that Mr Ben-Gvir prayed during Tuesday's visit.
"The Temple Mount is open to everyone," he tweeted, accompanied by a photograph of him surrounded by a security cordon with the golden Dome of the Rock in the background.
Ahead of November's election, Mr Ben-Gvir said that he would demand that Benjamin Netanyahu introduce "equal rights for Jews" there.
However, Mr Netanyahu has sought to reassure Israel's allies that he will not allow any changes. A clause in his coalition deals states that the status quo "with regard to the holy places" will be left intact.
Mr Ben-Gvir was given the go-ahead for his first visit since becoming a minister after consulting Mr Netanyahu and security officials.
Following the 15-minute walkaround, the Palestinian foreign ministry denounced what it described as "the storming of al-Aqsa mosque by the extremist minister Ben-Gvir and views it as an unprecedented provocation and a dangerous escalation of the conflict".
Palestinian Prime Minister Muhammad Shtayyeh called for "thwarting the raids that aimed at turning the al-Aqsa Mosque into a Jewish temple", saying Mr Ben-Gvir's visit was "a violation of all norms, values, international agreements and laws, and Israel's pledges to the American president".
A spokesman for the Palestinian militant Islamist group, Hamas, which governs the Gaza Strip, called it a "crime" and vowed the site "will remain Palestinian, Arab, Islamic", AFP news agency reported.
Jordan, one of a small cluster of Arab countries to formally recognise Israel, summoned Israel's ambassador in protest.
In his tweet, Mr Ben-Gvir sent a message of defiance to Hamas, declaring: "No Israeli government that I'm a member of is going to bow to a despicable and murderous terror organisation… and if Hamas thinks that I'll be deterred by its threats, it needs to accept that times have changed and that there's a government in Jerusalem."
Tensions between Israel and Palestinians which escalated into violence at the site in May 2021 saw Hamas fire rockets towards Jerusalem, triggering an 11-day conflict with Israel.
A visit to the site in 2000 by Israeli right-winger Ariel Sharon, then opposition leader, infuriated Palestinians. The violence which followed escalated into the second Palestinian uprising, or intifada.
The Temple Mount/Haram al-Sharif is the most sensitive site in the Israeli-Palestinian conflict. Situated in East Jerusalem, it was captured by Israel from Jordan in the 1967 Middle East war. Under a delicate set of arrangements, Jordan was allowed to continue its historical role as custodian of the site, while Israel assumed control of security and access.
Muslim prayer continued to be the only form of worship allowed there, although a bar on Jewish visits was lifted. Palestinians argue that in recent years, steps have been taken that undermine the status quo, with Orthodox Jewish visitors often seen praying quietly without being stopped by Israeli police.
The number of visits by Jews has swelled in the past few years, something Palestinians claim is part of a surreptitious attempt to take over the site.