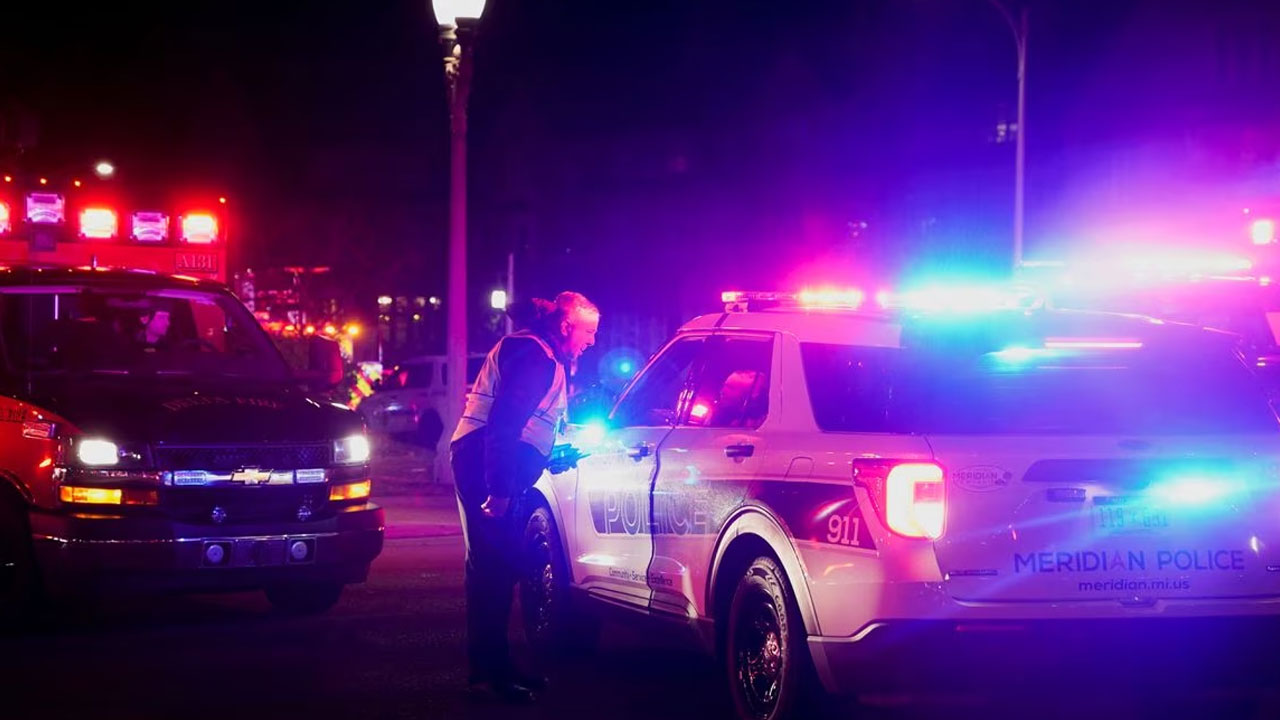 Emergency personnel respond to a shooting at Michigan State University in East Lansing, Michigan, U.S.
Authorities on Tuesday said they have "no idea why" a 43-year-old gunman killed three Michigan State University students and wounded five in the latest U.S. mass shooting, but said he had a history of mental health problems before the shooting spree that ended with him turning the gun on himself.
The gunman, identified as Anthony Dwayne McRae of Lansing, Michigan, shot himself to death after the rampage on Monday night, Jim Tarasca, special agent in charge of the FBI's Detroit office, said at a briefing. McRae had no known affiliation to the university in East Lansing, about 90 miles (145 km) northwest of Detroit.
Police have "no idea why he came to campus to do this tonight," said Chris Rozman, interim deputy chief of the Michigan State University police force.
Article continues after advertisement
Police found a note in the gunman's pocket that "indicated a threat" to two public schools in Ewing, New Jersey, authorities there said in a statement on Facebook.
The "investigation revealed that McRae had a history of mental health issues," police in the Township of Ewing said, noting that he had ties to that community and that "out of an abundance of caution," schools in that area were closed for the day.
An 85-year-old neighbor of McRae's in Lansing, Michigan, described him to Reuters as "a real hell-raiser" who often fired his gun at home.
Sophomore Claire Papoulias was sitting in her Cuban history class when the gunman entered her classroom. She said she dropped to the floor when she started hearing gunshots directly behind her head.
"I will never forget the screams of my classmates because they were screaming in pain for help," Papoulias said on NBC's Today show. "Someone was yelling that there was a shooter and everybody needed to get down on the ground, and at that moment I thought that I was going to die. I was so scared."
The five wounded students were in critical condition at E.W. Sparrow Hospital where surgery was performed on four of them, Dr. Denny Martin, the hospital's interim president and chief medical officer, said during the briefing as he struggled to keep his composure.
"I am filled with rage that we have to have another press conference to talk about our children being killed in our schools," Congresswoman Elissa Slotkin, who represents the area, said. "If this is not a wake-up call to do something, then I don't know what is."
The shooting took place about 30 miles south of Oxford, Michigan, where a teenaged gunman in 2021 used a rifle his father bought as a Christmas present to kill four students at the local high school.
Monday's shooting came a day before the five-year anniversary of the Valentine's Day massacre at Marjory Stoneman Douglas High School in Parkland, Florida, which left 17 students and teachers dead.
"Another place that is supposed to be about community and togetherness is shattered by bullets and bloodshed. We know that this is a uniquely American problem," Michigan Governor Gretchen Whitmer said during the briefing, noting that she spoke to President Joe Biden about the incident.
Among those killed in the shooting were junior Alexandria Verner of Clawson, Michigan, and sophomore Brian Fraser of Grosse Pointe, Michigan, university police said in a statement.
Verner was a 2020 graduate of Clawson High School, near Detroit, local ABC affiliate WXYZ-TV reported, citing a letter from the district's superintendent.
"She was a tremendous student, athlete, leader and exemplified kindness every day of her life!" Superintendent Billy Shellenbarger wrote to families, WXYZ-TV reported. "If you knew her, you loved her."
At the request of the family, officials declined to provide details about the third student who was killed.