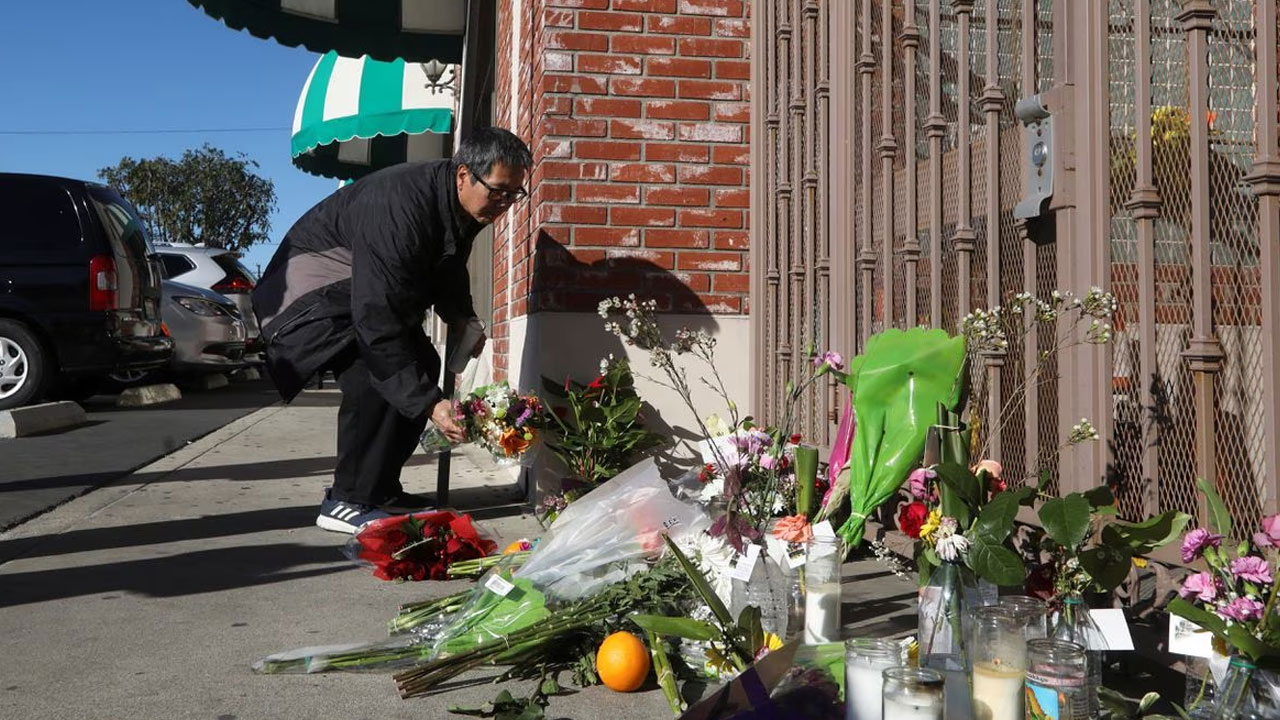 A man lights a candle at the entrance of the Star Ballroom Dance Studio after a mass shooting during Chinese Lunar New Year celebrations in Monterey Park, California, U.S. [Source: Reuters]
An 11th victim died on Monday from injuries suffered in a weekend shooting rampage at a Los Angeles-area dance hall, as investigators searched for a motive behind one of California's bloodiest outbursts of mass gun violence.
Police identified Huu Can Tran, 72 as the lone suspect in a massacre that unfolded Saturday night in the midst of a Lunar New Year celebration in Monterey Park, just east of Los Angeles. He drove to another dance hall where a second attack was thwarted and later killed himself as police closed in to make an arrest hours after the shooting.
Authorities said 10 people were killed and 10 wounded when Tran opened fire at the Star Ballroom Dance Studio, a venue popular with older patrons of Asian descent. One of the victims hospitalized in critical condition died of his wounds on Monday, Monterey Park Police Chief Scott Wiese told reporters.
Article continues after advertisement
All of the deceased were between the ages of 50 and 80.
Los Angeles County Sheriff Robert Luna said investigators recovered 42 shell casings from the studio and a large-capacity ammunition magazine.
He said the search of the suspect's mobile home in a gated senior-living community in the town of Hemet, about 80 miles east of Los Angeles, turned up a rifle, various electronic devices and items "that lead us to believe the suspect was manufacturing homemade" weapons silencers.
Police also seized hundreds of rounds of ammunition from the dwelling, Luna said.
According to police, Tran barged into another dance hall about 20 minutes later in the neighboring community of Alhambra, where he was disarmed by an employee and fled that scene, triggering an overnight manhunt. Luna credited the owner of the dance hall with disarming the would-be shooter.
The search for the gunman ended on Sunday morning when the suspect shot himself as a police officer surrounded his cargo van in a parking lot in Torrance, south of Los Angeles.
Authorities on Sunday said a motive for the shooting remained to be determined.
On Sunday, Luna said "everything is on the table" in terms of identifying the reasons for the shooting.
Officers in Hemet, about 80 miles east of Los Angeles, were assisting the county Sheriff's Department in a search of Tran's mobile home in a gated senior living community, said Alan Reyes, spokesperson for the Hemet Police Department.
Luna told a news briefing on Monday that Tran had a "limited" past criminal history, including a 1990 arrest for unlawful possession of a firearm.
Hemet police said in a statement on Monday that Tran had come to the department twice in early January alleging "past fraud, theft and poisoning allegations involving his family" dating back 10 to 20 years. Tran had said he would return with documentation regarding his claims but never did, the police statement said.
Tran had an active trucking license and had owned a company called Tran's Trucking Inc with a post office box address in Monterey Park, according to online records. He had lived in the Los Angeles area since at least the 1990s and moved to the mobile home in Hemet in 2020, address records showed. A neighbour in his gated community described him as "meek" in an interview Monday.
But Adam Hood, a longtime tenant of the alleged gunman at a property in the Los Angeles area, told Reuters he had known Tran to be an aggressive and suspicious person with few friends. Tran had liked ballroom dancing, largely his only social activity, Hood said.
Hood said Tran complained that people at the Star Ballroom studio were talking behind his back.
"He was a good dancer in my opinion," Hood said. "But he was distrustful of the people at the studio, angry and distrustful. I think he just had enough."