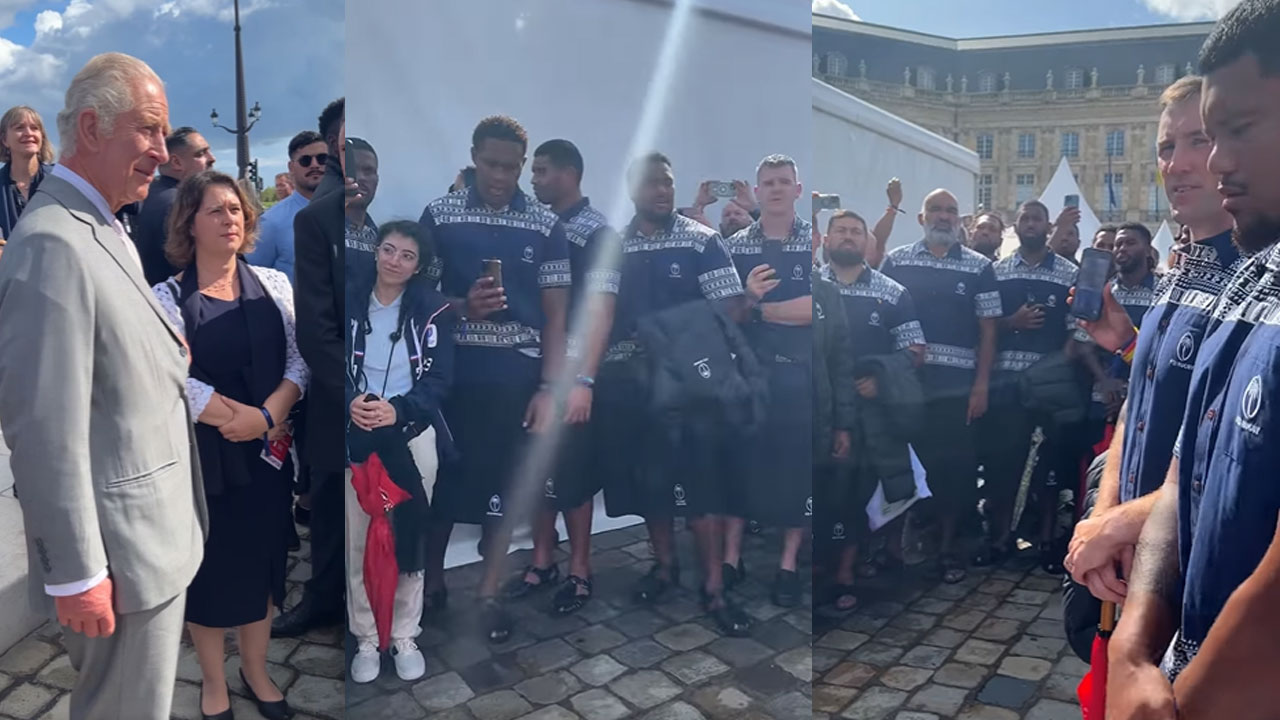 [Source: Screenshot from Fiji Rugby video]
It was a great experience for Fiji Water Flying Fijians Strength and Conditioning coach Nacani Cawanibuka after meeting King Charles III in Bordeaux, France this morning.
The Kadavu man was one of the few from the team that shook the King's hand.
King Charles and Queen Camilla are in Bordeaux for an official engagement.
Article continues after advertisement
The 73-year-old who he became the oldest person to accede to the British throne wished the team well in their next game.
Cawanibuka says the players performed their traditional roles as they would have done to their chiefs.
"He walked through, we actually formed a walkway for him I would say and then we escorted him out, and the boys sang 'Oqo Na Noqu Masu', basically what the boys did is what the 'bati leka', the warriors in our villages back home would do to protect their chief, it's quite special, I mean we never dreamt as rugby players to experience things like that but I guess that's the blessing of the talent that these boys have had, opportunity to work in this environment, i thought it was a cool experience."
The King is the second member of the royal family in two weeks to meet the Flying Fijians.
Prince William met the team in their change room after the loss to Wales in Bordeaux.
Cawanibuka adds the players enjoyed their brief moment with King Charles.
"Before he boarded his car the boys all stood there and they sang a prayer song, they sang 'Au Rai Vei Kemuni', I'm not sure if King Charles would've understood the words but the boys are singing the song and that's one thing special about our Fijian culture, we sing a prayer hymn you know that obviously has a lot of deep meaning, he quite enjoyed it, he went off and we came back, the boys really enjoyed that experience."
The Flying Fijians will have a rest day tomorrow before resuming their training on Monday.
Fiji's next match is against Georgia next Sunday in Bordeaux.