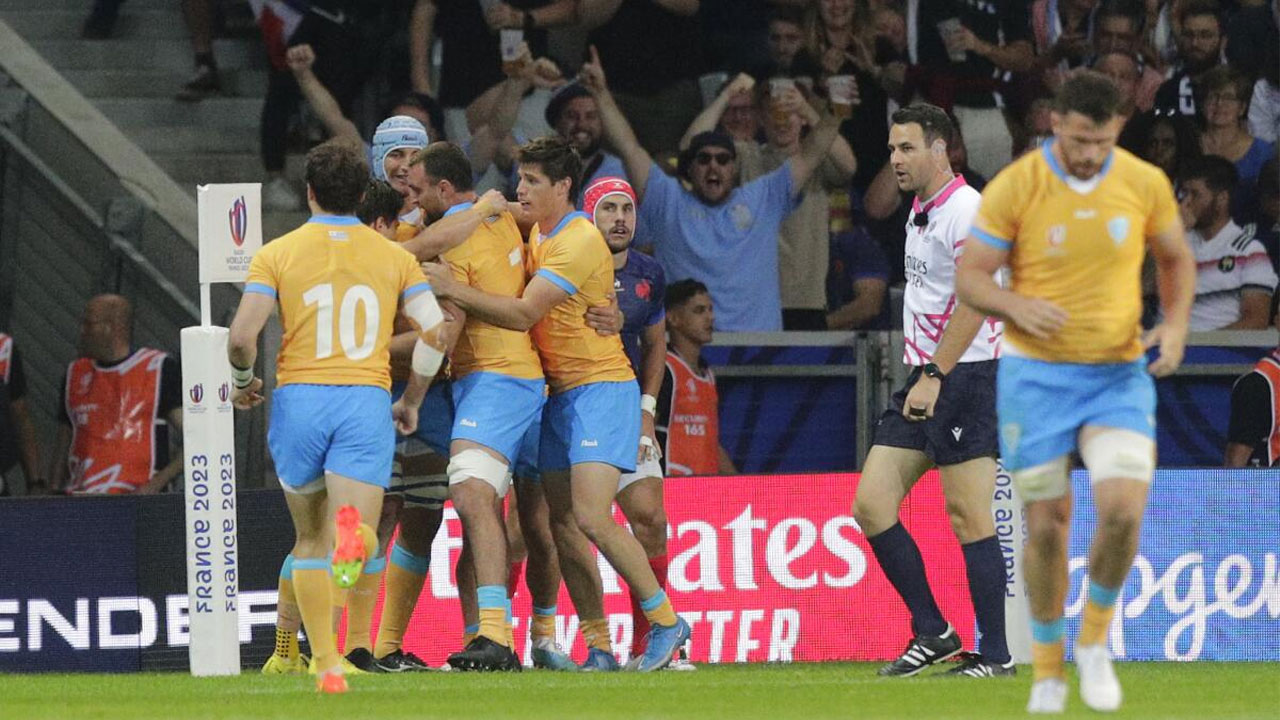 [Source: Reuters]
Uruguay have made two changes to their side for their second Rugby World Cup Pool A clash against Italy in Nice on Wednesday, largely sticking to the team that won praise following a brave performance in their opener against France.
Uruguay lost that game 27-12 but gave the World Cup hosts a ragged time and with a bit more quality in their opponents' 22, might have given France a real scare.
Coach Esteban Meneses has brought in hooker German Kessler to replace Guillermo Pujadas, who drops to the bench, and wing Gaston Mieres comes into the starting XV for Bautista Basso, also now among the replacements.
Article continues after advertisement
The experienced Mieres will play at a third World Cup and returns to the side for the first time since the warm-up game against an Argentina XV in August.
Scrumhalf Santiago Arata was a stand-out performer against France as he beat eight defenders and will be central to Uruguay's attacking play again.
Felipe Etcheverry maintains his place at flyhalf, with centres Andres Vilaseca and Tomas Inciarte, and a back three that includes Mieres, fellow wing Nicolas Freitas and fullback Baltazar Amaya.
Kessler will pack down with props Mateo Sanguinetti and Ignacio Peculo, while Felipe Aliaga and Manuel Leindekar are the lock pairing.
Manuel Diana is at number eight, with Manuel Ardao and Santiago Civetta completing the loose-forward combination.
Meneses has reverted to a 5-3 split on the bench between forwards and backs, a switch from the 6-2 he had selected against France.
Team: 1-Mateo Sanguinetti, 2-German Kessler, 3-Ignacio Peculo, 4- Felipe Aliaga, 5-Manuel Leindekar, 6-Manuel Ardao, 7-Santiago Civetta, 8-Manuel Diana, 9-Santiago Arata, 10-Felipe Etcheverry, 11-Nicolas Freitas, 12-Andres Vilaseca (c), 13-Tomas Inciarte, 14-Gaston Mieres, 15-Baltazar Amaya
Replacements: 16-Guillermo Pujadas, 17-Faccundo Gattas, 18-Diego Arbelo, 19-Ignacio Dotti, 20-Carlos Deus, 21-Agustin Ormaechea, 22-Felipe Berchesi, 23-Bautista Basso.