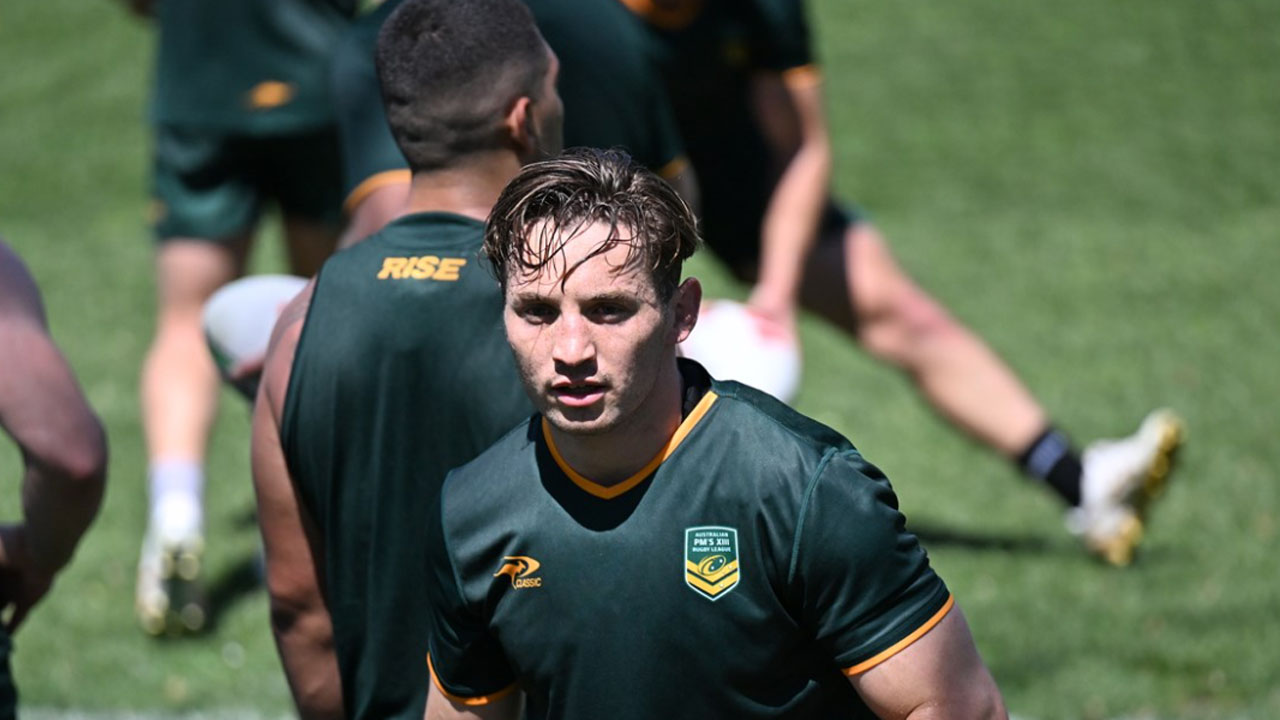 [Source: NRL]
The last time Cam Murray was in Papua New Guinea he was an emerging teenage star visiting the tourist province of Rabaul as part of the touring NSW Academy Young Achievers team.
This week he's back as the captain of the Australian Prime Minister's XIII, ready to take on their PNG counterparts on Saturday at Santos National Football Stadium.
The visiting men's and women's teams touched down on Thursday and were met with a passionate welcome from fans in Port Moresby hoping to catch a glimpse of the players.
Article continues after advertisement
"It's my first time in Port Moresby, I came up here as a young fella, 16-year-old and went to one of the islands … it was a pretty crazy experience back then, but just the airport scenes probably topped that already," Murray said.
"I think most of the boys are pretty speechless and they all had a pretty big smile on their face [after the welcome]. They knew it was gonna be pretty crazy, but I don't think they could have expected what actually happened.
"They love the Foxx (Josh Addo-Carr), they love Hammer (Hamiso Tabuai-Fidow) too, so it's hopefully a nice little taste of what's to come on Saturday.
"I am really excited to be here, really keen to go out and represent the Australian jersey again.
"I got a really good taste of it in the World Cup last year and I created some great memories, so I'm keen to do the same."
Murray headlines a strong Australian line-up named by coach Mal Meninga, who said he was using the game as a way to help settle on a squad for next month's Pacific Championships, which will also see games staged in PNG.
"It's an important part of our process in selecting the Kangaroo side to go into the Pacific Championship," Meninga said.
"It's a great opportunity for the players to get a bit of match fitness leading into that as well."
New PNG Kumuls coach Justin Holbrook said he was excited for his first campaign and was also looking forward to seeing some home-grown talent shine alongside the more experienced NRL, Super League and state cup players.
"It's a great opportunity for myself to get the opportunity to coach the national side. I hadn't been here before, so I came up two weeks ago to watch the Digicel Cup grand final which was great and I really enjoyed that," Holbrook said.
"For a lot of our boys to have not played here in front of their home fans since 2018, it's a great occasion and one that the boys are really looking forward to.
"We've got some guys in really good form over in Super League with Edwin (Ipape) and Lachy Lam, there's a handful of others and obviously a few other guys in the NRL that will join for the Pacific Championships.
"It's a good opportunity for the younger guys and not so well established guys to try and push their claims."