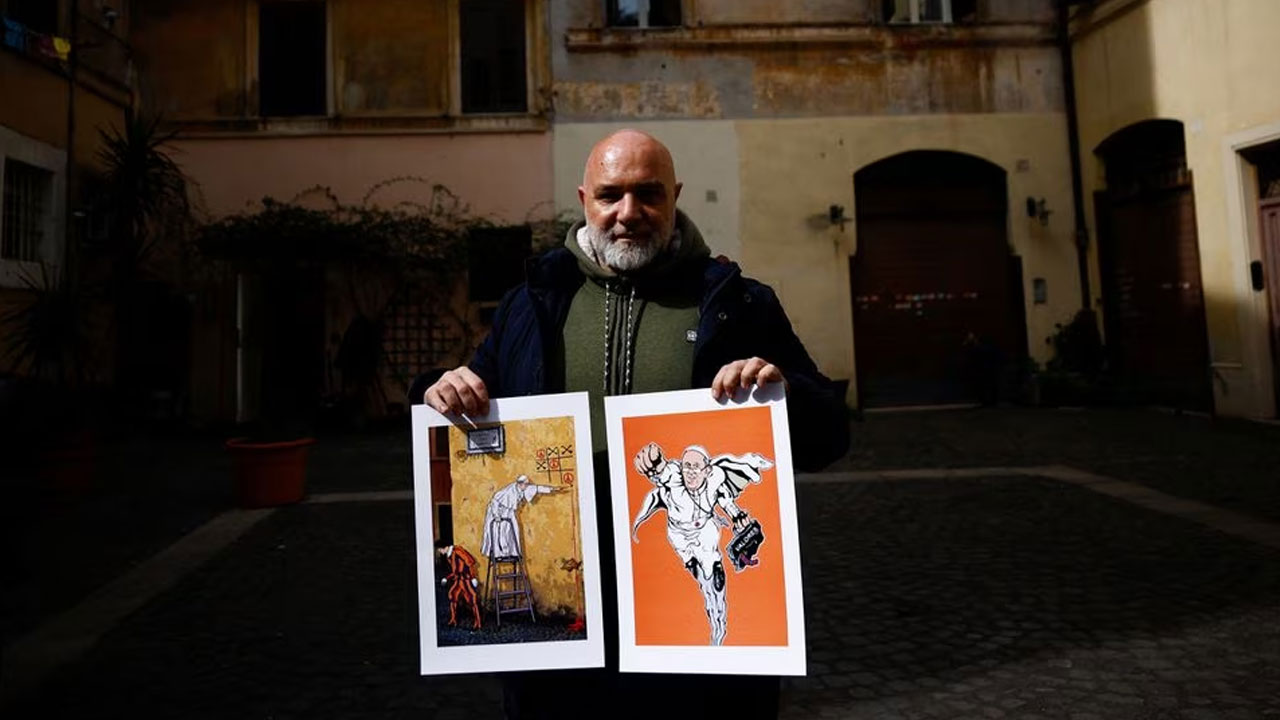 [Source: Reuters]
For Italian street artist Maurizio Pallotta, Pope Francis, who marked his 10th anniversary as pontiff on Monday, is a superhero.
Pallotta, 50, who signs his work Maupal, shot to fame 10 years ago when he painted the pope as a flying superman on a wall in Rome's Borgo neighbourhood across the street from the Vatican.
After a few hours city workers removed the larger-than-life mural, but television crews and photographers had immortalised it. The clean-up bestowed Pallotta with the image of an underdog and rebel that only boosted his popularity.
Article continues after advertisement
"It was a bit of a gamble for me to portray him as a potential superhero but at the same time very human, with a bit of a belly and the scarf of his favourite football team coming out of the bag in which he carries all his Christian values, with glasses … so a very human and very humble superhero," Pallotta said in his studio.
The evening Pope Francis was elected on March 13, 2013 Pallotta heard cheering in nearby St. Peter's Square – meaning white smoke had emerged from the chimney of the Sistine Chapel indicating that cardinals inside had chosen a new pope.
He rushed to join the crowd.
"The thing that struck me immediately was the fact that he wanted to call himself Francis – I loved that – the name of someone able to restore the Church," Pallotta said, referring to St. Francis of Assisi.
"Then his greeting, his 'good evening', which may seem banal, but simplicity is sometimes complicated. He was so simple that he immediately became extremely empathetic with everyone present," Pallotta said.
He said he had no particular passion for painting religious subjects before but was moved by the "humility he showed from the very beginning, that I thought he could become one of the few powerful people in the world who could really change a negative path, or at least improve it".
Another of his murals depicts the pope as a street artist painting peace signs on a wall while a Swiss Guard is watching out for the police.
Pallotta has met the pope three times and said Francis appreciates his work, so much so that he gave him permission to paint a mural showing the pope and a sick boy in separate wheelchairs on a wall of Rome's children's hospital.
Pallotta has given the 86-year-old pope a collection of all his works.
Francis laughed when he saw one which depicts the pope as an agile window washer wiping away atmospheric pollution in a big city.
"I am a bit too fat to be able to do stuff like that," Pallotta quoted the pope as saying.