News
New Zealand Gun laws to change: Ardern
March 16, 2019 12:19 pm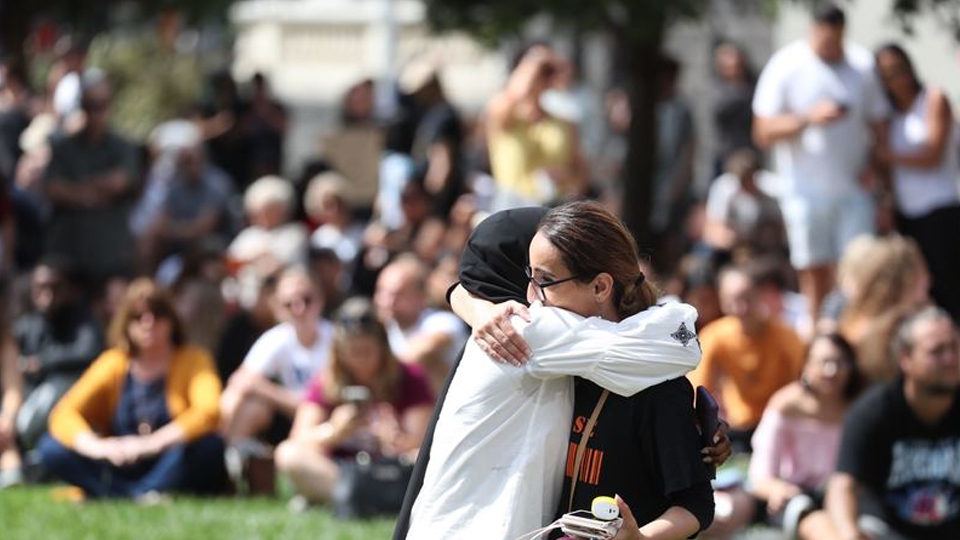 Two women embrace at the-peace vigil at Aotea Square in Auckland. [Source: Jason Oxenham]
New Zealand Prime Minister, Jacinda Ardern says gun laws will change in the wake of the mosque massacre in Christchurch.
In the most recent update, the Prime Minister is also urging Christchurch residents to stay home where possible and be safe.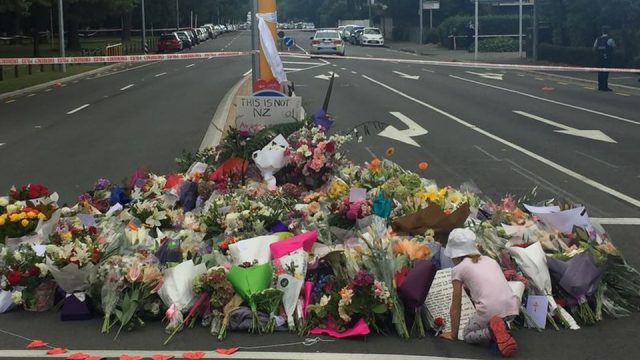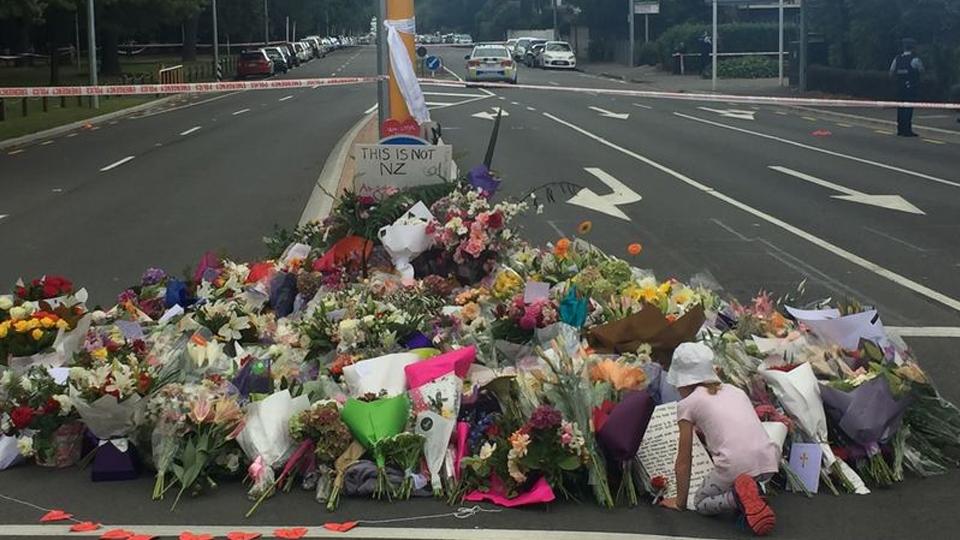 Flowers laid near Al Noor mosque. [Source: Kurt Bayer]
She has further advised that they need to monitor the police website and social media for further information and to call police immediately if they see something suspicious.
Article continues after advertisement
The terrorist attack at the two mosques in New Zealand has now claimed more than 40 lives with as many injured and a number in critical condition.
"49 people have been killed, work is underway to confirm their identities as quickly as possible. 41 people died at Deans Avenue mosque, 7 at the Linwood Avenue mosque and one person has since died in hospital."
Prime Minister Ardern also notes that more than 40 are injured and are being treated at the Christchurch Hospital.
Among those injured, a five year old child has been airlifted to Auckland for further treatment.
The New Zealand Prime Minister also noting that the man now charged with alleged murder in relation to the mosque massacre, Brenton Tarrant was not on any watch list.
"I want to be very clear that our intelligence community and police are focused on the extremism of every kind.
Given global indicators around far-right extremism, our intelligence community has been stepping up their investigations in this area."
The individual charged with murder had not come to the attention of the intelligence community nor the police for extremism.
In solidarity with the victims of the mass murder yesterday in Christchurch, NZ, our concert scheduled for Sunday at Hagley Park will not go ahead. Tickets will be refunded in full to the card that they were purchased with. [email protected] for more info.

— Bryan Adams (@bryanadams) March 15, 2019
My ❤️ goes out to all the families of the victims of today's horrific mass shooting in Christchurch, New Zealand. #christchurchshooting

— Bryan Adams (@bryanadams) March 15, 2019
The national threat level in New Zealand has been revised from low to high and more police and security personnel has been deployed to Christchurch.
Meanwhile, Prime Minister Ardern will also travel this hour to Christchurch to assess the situation on the ground first hand.
My heart is broken. My country is weeping and so am I. I am dying knowing that this kind of hatred can happen in my homeland. All my love goes out to Christchurch, the victims, the families, the Muslim community, and all who have chosen our islands as their home. This is not us.

— Taika Waititi (@TaikaWaititi) March 15, 2019
My warmest sympathy and best wishes goes out to the people of New Zealand after the horrible massacre in the Mosques. 49 innocent people have so senselessly died, with so many more seriously injured. The U.S. stands by New Zealand for anything we can do. God bless all!

— Donald J. Trump (@realDonaldTrump) March 15, 2019
My heart goes out to the people of New Zealand. There are not enough prayers for such a senseless act of violence. Please know that I am here for you all while you grieve. ????

— Reese Witherspoon (@RWitherspoon) March 15, 2019
The killings in New Zealand are so horrific and heartbreaking. This white supremacist terrorist movement is so destructive here and abroad. We need to unite against it.

— John Legend (@johnlegend) March 15, 2019
It's impossible to speak sense about this terror attack on the Mosque in New Zealand, because it is so senseless. I can't get my head around it. I can't fathom the hate it takes. I faced abusive islamophobia as a child and can't believe it's getting even worse 20 years on. ?

— Jameela Jamil (@jameelajamil) March 15, 2019
40 dead in NZ.
Senseless, pointless, cruel deaths.
My heart breaks for all the families involved, and for the beautiful people of New Zealand to whose hearts this pain will attach, for a long time.
Kia Kaha.

— Russell Crowe (@russellcrowe) March 15, 2019
More heartbreaking and enraging news, my deepest sympathy to those lost in another racist bigoted killing in New Zealand

— Mark Ruffalo (@MarkRuffalo) March 15, 2019
The news about what happened in New Zealand is devastating….heartbreaking—
To the Muslim community at Christchurch & around the world, we are with you….we will keep fighting back with love.

— Christina Aguilera (@xtina) March 15, 2019
?? My heart goes out to New Zealand. And to the Muslim community everywhere. Another terrorist attack in a sacred place of worship. Horrifying. Heartbreaking. We must work to end these acts of hatred AND the destructive rhetoric that incites them!

— kerry washington (@kerrywashington) March 15, 2019
White supremacists are terrorists. Sending love and prayers to New Zealand and to the Muslim community.??

— Wanda Sykes (@iamwandasykes) March 15, 2019
Keep Connected With The Latest News, Weather, And Sports on Fiji's Best Radio stations.