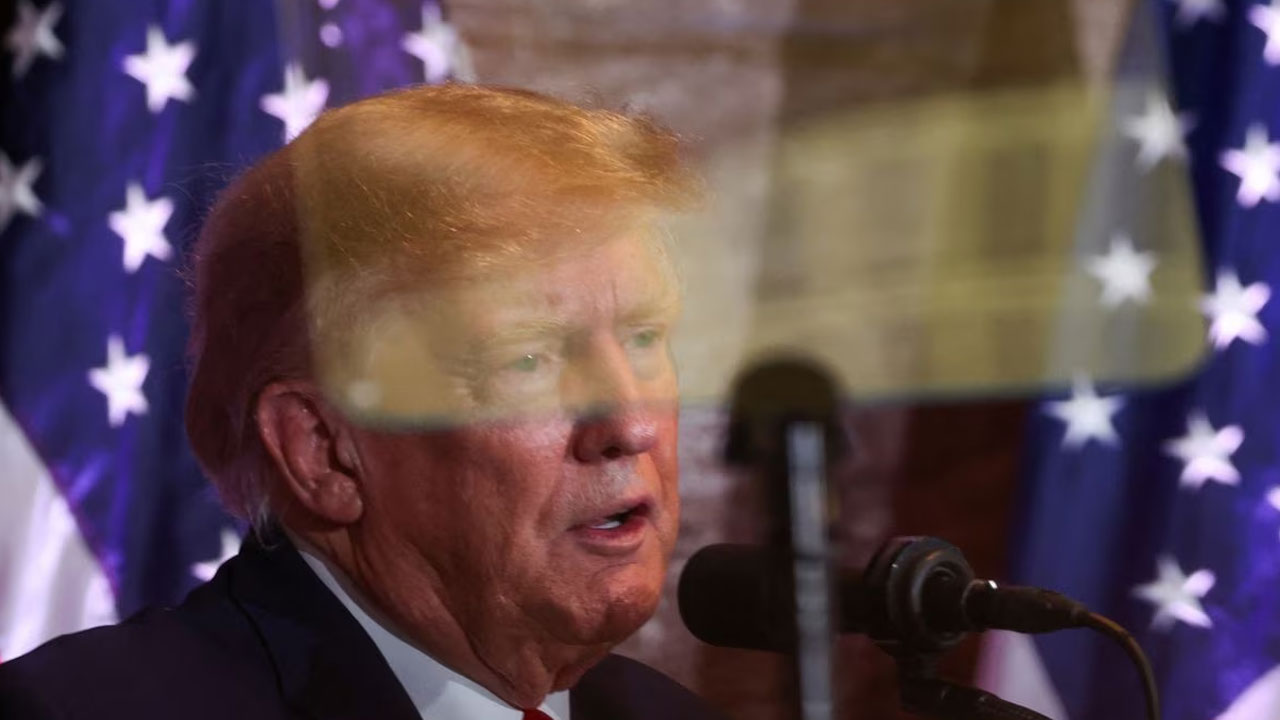 Former U.S. President Donald Trump speaks during a campaign stop to unveil his leadership team, at the South Carolina State House in Columbia, South Carolina, U.S.
Folders marked classified and found at Donald Trump's Florida home after he left the White House did not contain any documents, the former U.S. president said on Tuesday after a report that his team received a subpoena for one such folder.
Trump's legal team in December and January turned over the empty folder marked classified, as well as other material with classified markings, an aide's laptop and a thumb drive to U.S. prosecutors, CNN reported, citing multiple sources.
The Guardian separately reported that prosecutors subpoenaed the empty folder in January after it was seen by investigators Trump hired to search his Florida property for any remaining White House documents not turned over when he left office in 2021 and not uncovered by an FBI search last year. One document with classification markings was also turned over last month, ABC News also reported. Both outlets cited sources familiar with the matter.
Article continues after advertisement
In a post on his Truth Social platform, Trump said he kept folders with classified markings at his resort but they were empty. His lawyer Timothy Parlatore on CNN over the weekend cited a lack of White House procedures and said Trump's legal team "immediately" turned over any additional found materials.
Trump used the now-returned empty manila folder to block blue light from a landline phone in his bedroom "that keeps him up at night," Parlatore added.
The reported subpoena and newly turned-over material comes amid scrutiny over the handling of presidential and vice presidential materials — particularly classified records — that has made Trump the subject of a federal criminal investigation.
Former Vice President Mike Pence and President Joe Biden have also reported finding classified documents in their possession but have voluntarily allowed FBI searches for any remaining material that should have been given to the National Archives. Biden's documents date to his time as former President Barack Obama's vice president.
Trump resisted efforts to have documents in his possession returned, and the FBI in August conducted a court-approved search of Trump's Florida resort. A federal judge later directed Trump's attorneys to look for any other classified material still in his possession, a task given to an outside firm, according to the Washington Post.
The U.S. Department of Justice had asked a federal judge to hold Trump's office in contempt of court for not fully complying with their initial subpoena last year to return all classified materials, the Post and ABC have reported.
U.S. Special Counsel Jack Smith is investigating whether Trump or his associates obstructed the Justice Department's probe into his retention of thousands of government records, about 300 of which were marked classified.
Trump said empty folders found at his Florida estate "were merely inexpensive and very common folders with … 'Presidential Reading,' 'Confidential,' 'Classified,' or other words stamped on the front cover."
"I would put them in a pile and keep them as momentous. Nothing wrong with that," wrote Trump, who is running for president again in 2024. It was not clear whether he meant to write "mementos," meaning they were souvenirs.
Smith's office declined to comment. The special counsel is also investigating efforts to overturn Trump's 2020 election loss that culminated in the deadly Jan. 6, 2021, attack on the U.S. Capitol.
U.S. Attorney General Merrick Garland has appointed a separate special counsel to investigate document handling by Biden, who is weighing a run for a second term in 2024.