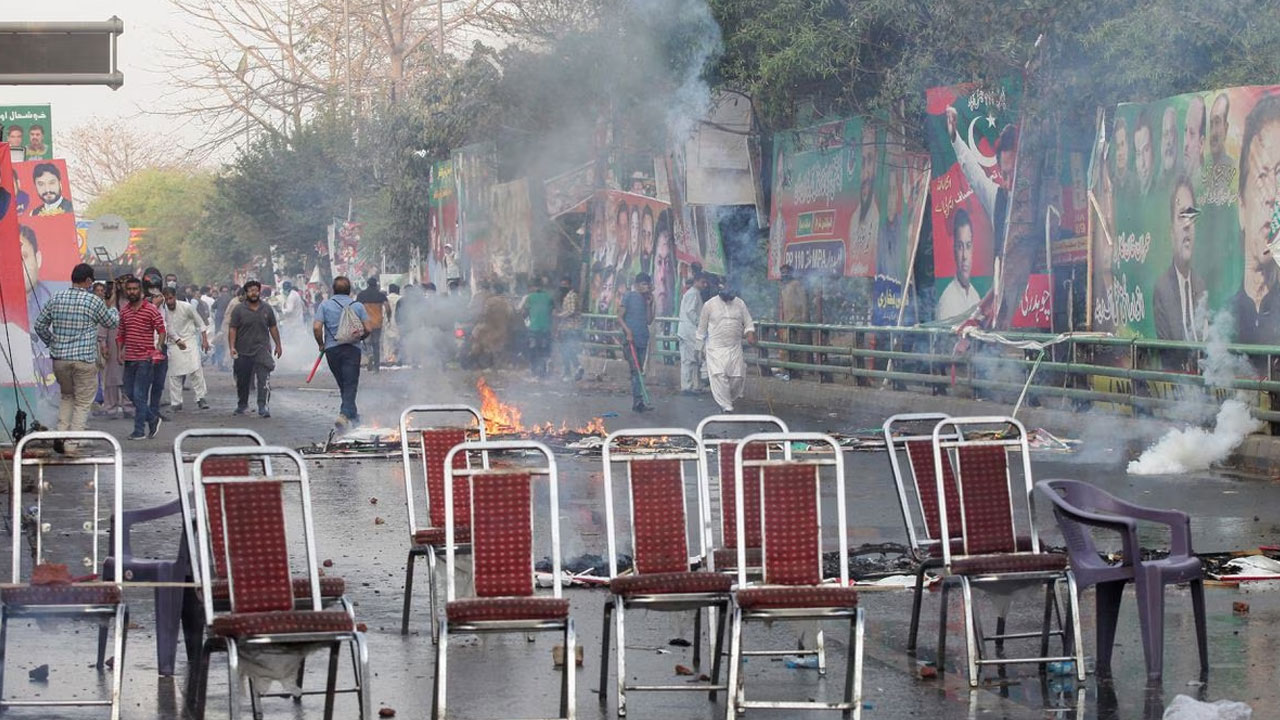 Supporters of former Pakistani Prime Minister Imran Khan set fire and block road during clashes with police, ahead of Khan's possible arrest outside his home, in Lahore, Pakistan March 14, 2023. [Source: Reuters]
Pakistani police and supporters of Imran Khan fought pitched battles outside the former prime minister's home in Lahore, wounding several on both sides, ahead of his expected arrest, a government spokesman and witnesses said.
Police hit Khan supporters in baton charges and lobbed tear gas canisters, some of which landed on the lawns of Khan's house, according to video images released by his party.
Local Geo TV showed a helicopter hovering over the house, adding that internet connection had been cut in the area.
Article continues after advertisement
A lower trial court in the capital Islamabad had issued the arrest warrant for Khan for unlawfully selling state gifts while in power from 2018 to 2022, his aide Fawad Chaudhry told Reuters.
Khan aide Shah Mehmood Qureshi told reporters the former prime minister had secured "protective bail" from a court.
Khan has been demanding a snap election in protest rallies across the country since his ouster from office in a parliamentary vote early last year. That demand was rejected by his successor, Shehbaz Sharif, who has said the vote would be held as scheduled later this year.
Khan was shot and wounded in one of these rallies.
Khan's Pakistan Tehreek-e-Insaf (PTI) workers started the violence, government spokesman Amir Mir told Reuters.
Khan called on his supporters to stand up for the supremacy of the law.
Mir said the government had called out paramilitary forces to help control the situation. Similar clashes took places last week.
Khan's supporters started pelting police with stones and bricks, and in response police directed a water cannon at them and in some cases baton charged them, he said.
Live TV footage showed Khan supporters also using sling-shots and attacking the police with bricks and sticks.
Khan has been embroiled in several court cases since his ouster.
A small number of his supporters also blocked roads in protest against Khan's possible arrest in other cities.