New Zealand
NZ PM visits Muslim community in Christchurch
March 16, 2019 4:57 pm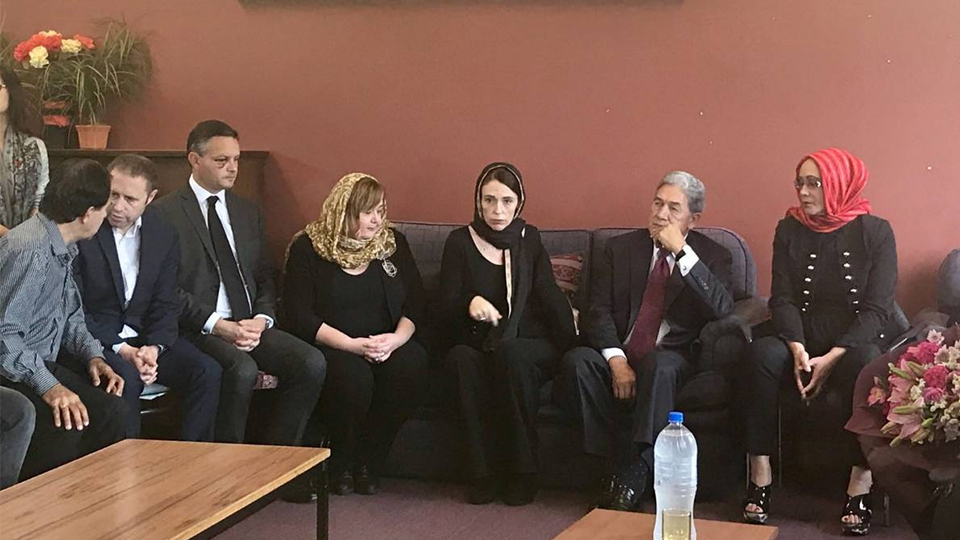 New Zealand Prime Minster Jacinda Ardern [3rd from right] at a refugee centre in Christchurch. [Source: stuff.co.nz]
New Zealand Prime Minster Jacinda Ardern visited the Muslim community at the Canterbury Refugee Centre in Christchurch this afternoon.

[Source: stuff.co.nz]
She paid tribute to the dead by wearing a black scarf over her head as she consoled those present at the Refugee Centre.
Arden says she is feeling the exact same emotions that every New Zealander is facing.
Article continues after advertisement
Speaking about the killer's plans, Ardern revealed that it "was absolutely his intention to continue the attacks" and that police discovered two more guns in his vehicle, which was also fitted with explosives.
Sarah Ahmed, who had family members who survived the shootings, said she was touched by Adern's decision to wear the headscarf.

NZ PM Jacinda Ardern during her visit to the Muslim community at the Canterbury Refugee Centre in Christchurch. [SOurce: stuff.co.nz]
Ardern will visit the victims in hospital this afternoon and says police are working very hard to form a picture of the activities of the Australian gunman.
New Zealand Police Commissioner Mike Bush has reminded people to stay vigilant in the wake of the mass shootings, but praised the emergency service response to yesterday's massacre.
Details are emerging about those who lost their lives as well as the people who remain in hospital with a variety of injuries.
The 48 people admitted to hospital yesterday varied in ages.
Four people died in ambulances before reaching medical care. Seven of those treated have now been discharged.
Of the 39 survivors who remain, some are in a stable condition and some are not.
11 are in intensive care.
[Source: Stuff.co.nz]
Keep Connected With The Latest News, Weather, And Sports on Fiji's Best Radio stations.