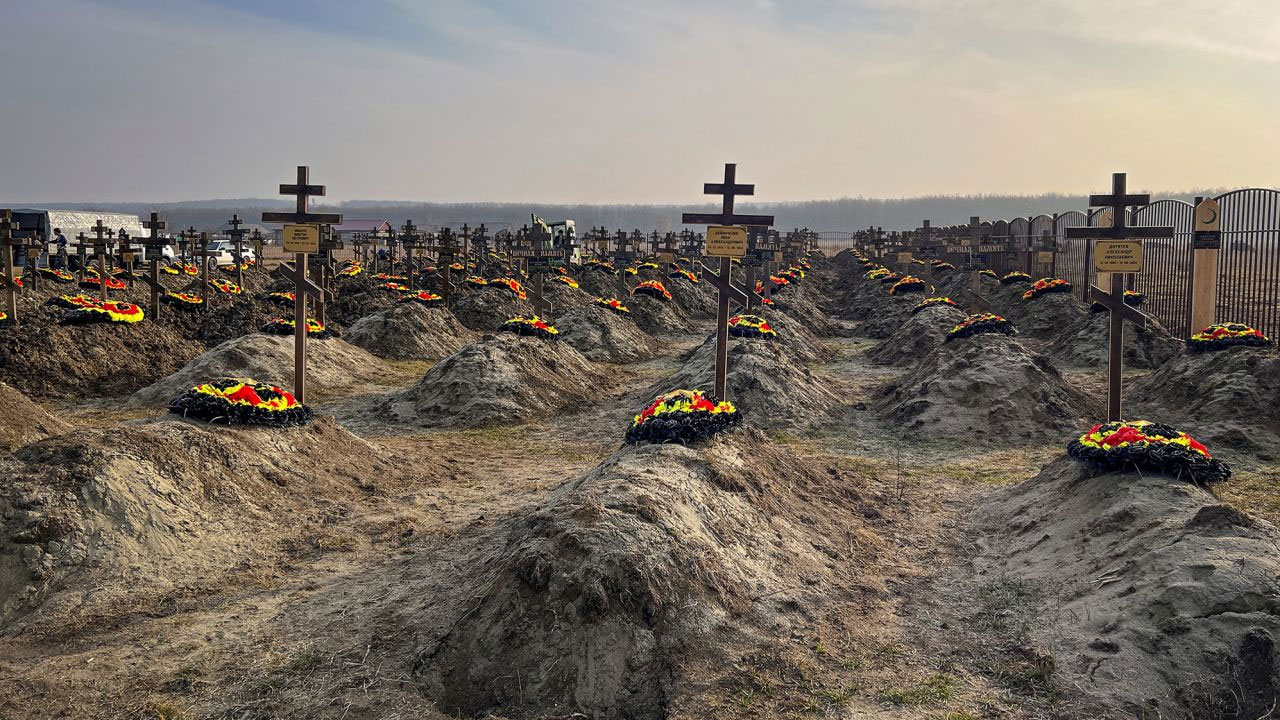 Graves of Russian Wagner mercenary group fighters are seen in a cemetery near the village of Bakinskaya in Krasnodar region, Russia, January 22, 2023.
Two former fighters of the Russian private military company Wagner have told CNN of their horrific experiences on the battlefield in eastern Ukraine, and how anyone who faltered was immediately shot by their own commanders.
The two fighters were captured by Ukrainian forces late last year. CNN is not disclosing their identities for their own safety. Both are married with children and were recruited while in prison. One was serving a 20-year sentence for manslaughter.
For security reasons, the Ukrainians kept a presence in the room where the interview took place. CNN told the fighters that they could end the interview at any time they wished. But they spoke in detail for more than an hour.
Article continues after advertisement
The two fighters told of hideous losses in "first wave" assaults reminiscent of World War I charges.
"There were 90 of us. Sixty died in that first assault, killed by mortar fire. A handful remained wounded," said one, recalling his first assault near the village of Bilohorivka. "If one group is unsuccessful, another is sent right away. If the second one is unsuccessful, they send another group."
The other fighter was involved in an assault lasting five days, through a forest near the city of Lysychansk on the Luhansk-Donetsk border in eastern Ukraine.
"The first steps into the forest were difficult because of all the landmines spread out. Out of 10 guys, seven were killed immediately," he said.
"You can't help the wounded. The Ukrainians were firing heavily on us, so even if their wounds were minor, you've got to keep going, otherwise you're the one getting hit by the fire.
"You are at it for five days, people dying right next to me, praying to God, begging for water. You think that you can put down your weapon and nothing else will happen. And then the fight starts again 10 minutes later, and [the Ukrainians] keep coming after you. There is no feeling attached to it. Just wave after wave."
"Four hundred [Wagner fighters] were brought there, and then more and more, all the time."
The prisoner said a self-preservation instinct had kicked in for him, but others froze. "Some stop right there in the forest and drop their weapons. But to drop your weapons is to come under sniper fire and die."
There was no evacuation of the wounded, he added. "If you're wounded, you roll away on your own at first, any way you can, somewhere neutral where there's no fire, and if there's no one around, you administer first aid to yourself," he said.
Casualties piled up by the dozen, the men said. "When the casualties arrive, you get orders to load them, and you don't really think who's dead and who's wounded," one of the fighters said.
Throughout their several weeks on the front lines, the two men said they had only one instinct.
"Just to survive. I just had the desire to survive, no matter what the cost," said the prisoner involved in the forest attack.
They became numb to the casualties and the killing of the Ukrainian soldiers they faced. "You'd think you'd feel something [after killing someone], but no, you just keep going."
The alternative to walking through minefields towards Ukrainian artillery was just as lethal, according to the men's accounts.
"We couldn't retreat without orders because if we don't comply with the order, we will be killed," said one of the prisoners.
"One man stayed at a position, he was really scared, it was his first assault. We received an order to run forward. But the man hid under a tree and refused. This was reported to the command and that was it. He was taken 50 meters away from the base. He was digging his own grave and then was shot."
The other fighter reported a similar situation: "Our commander was told that if anyone gets cold feet, he would have to be eliminated. And if we failed to eliminate him, we would be eliminated for failing to eliminate him."