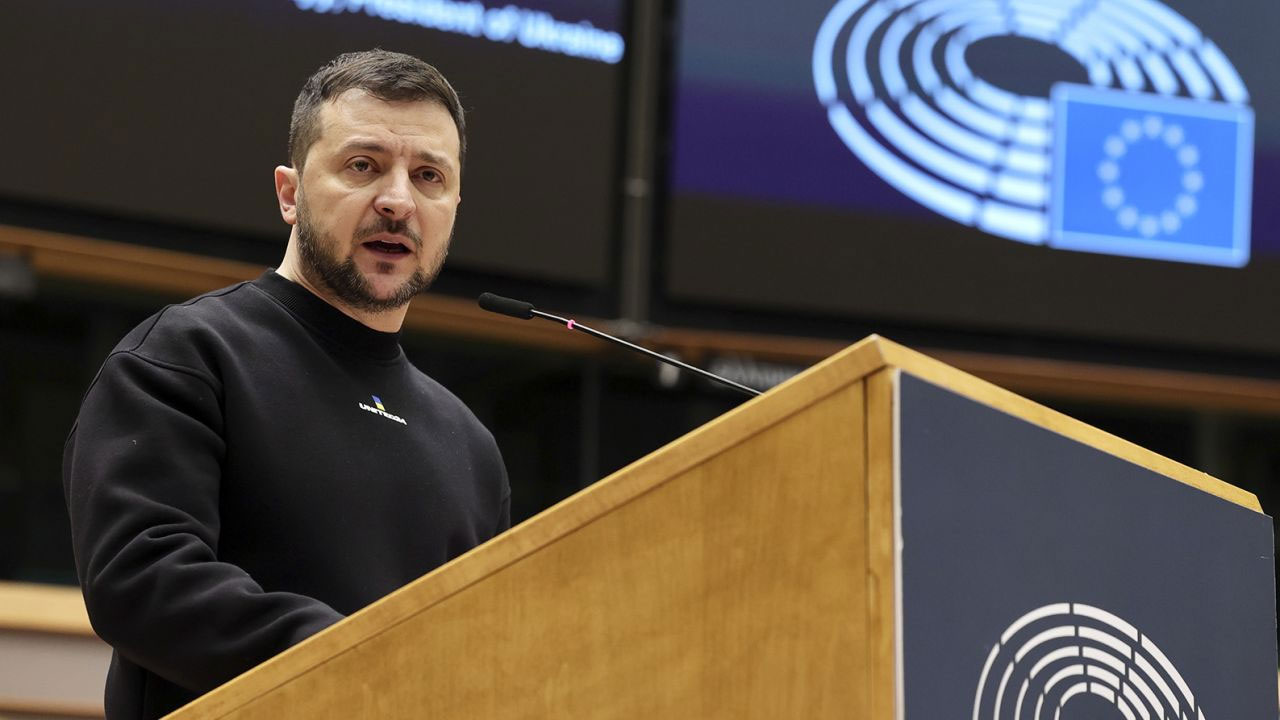 Ukraine's President Volodymyr Zelensky delivers his speech at the European Parliament in Brussels, Belgium, on Thursday.
Ukrainian President Volodymyr Zelensky made a heartfelt appeal to lawmakers in Brussels on Thursday to allow his country to become part of the European Union, insisting that Europe is Ukraine's "home."
During an address to the European Parliament, Zelensky said his country and the EU share the same values, and that the "European standard of life" and the "European rules of life" are "when the law rules."
"This is our Europe, these are our rules, this is our way of life. And for Ukraine, it's a way home, a way to its home," Zelensky said, referencing Ukraine's aim to join the European Union.
Article continues after advertisement
"I am here in order to defend our people's way home," he added.
Zelensky's emotional message was designed to try to connect with EU parliamentarians as he continues to push for Ukraine to join the bloc.
He underlined that Ukraine shares values with Europe, rather than with Russia, which he said is trying to take his country back in time.
The president warned European lawmakers that Russia wants to return Europe to the xenophobia of the 1930s and 1940s. "The answer for us to that is no," he said. "We are defending ourselves. We must defend ourselves."
Zelensky thanked all the countries that have provided weapons and military assistance to Ukraine, while stressing that his country still needs modern tanks, long-range missiles and modern fighter jets to protect its security, which he said is also Europe's security.
"We need artillery guns, ammunitions, modern tanks, the long-range missiles and modern fighter jets," Zelensky said. "We have to enhance the dynamic of our cooperation" and act "faster than the aggressor," he added.
European Parliament President Roberta Metsola introduced Zelensky ahead of his address, telling him: "Ukraine is Europe and your nation's future is in the European Union.
"We have your back. Freedom will prevail."
Zelensky also said Thursday he would have several bilateral meetings in Brussels to discuss the issue of providing fighter jets to Ukraine and that the discussions he has had so far in the Belgian capital have been "very concrete, very precise."
"I am very inspired by your statements that Europe will be with us until our victory. I have heard it from a number of European leaders and I am very grateful to them for this," Zelensky said during a press conference following the European Council meeting.
"I've heard about the readiness to give us the necessary weapons and support, including the aircrafts. And I'll have a number of bilaterals now and we are doing to raise the issue of the fighter jets and other aircrafts," he said. "So we are working and will continue working in Brussels."