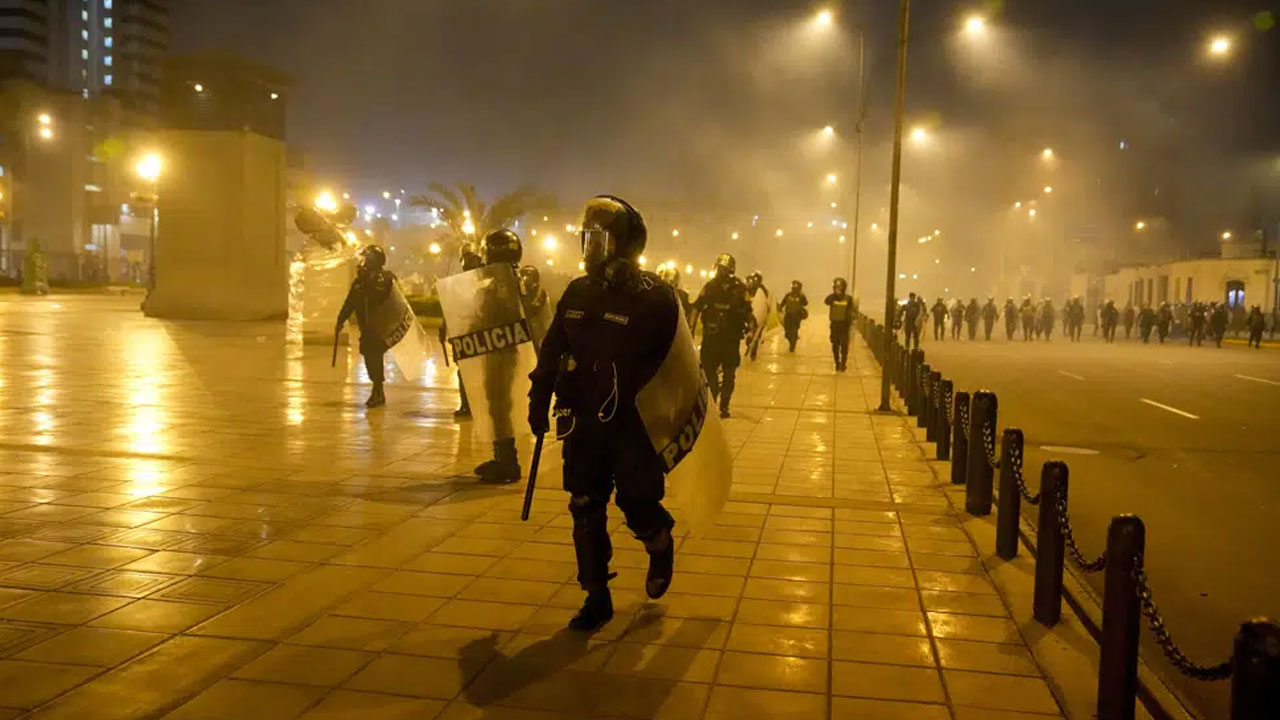 [Source: AP News]
Thousands of protesters took to the streets of Peru's capital Friday and were met with volleys of tear gas for the second straight day, as demonstrators made clear they will keep up their mobilizations to demand the resignation of President Dina Boluarte.
Many of the protesters in Lima had arrived from remote Andean regions, where dozens have died amid unrest that has engulfed large portions of the country since Pedro Castillo, Peru's first leader from a rural Andean background, was impeached and imprisoned after he tried to dissolve Congress last month.
Until recently, the protests had been mainly in Peru's southern region, with a total of 55 people killed and 700 injured in the unrest, largely in clashes with security forces.
Article continues after advertisement
Protesters now want Lima, home to around one-third of Peru's population of 34 million, to be the focal point of the demonstrations that began when Boluarte, who was then vice president, was sworn into office on Dec. 7 to replace Castillo. The protests sparked the worst political violence in the country has seen in more than two decades.
At the beginning of Friday's protests, the demonstrators seemed more organized than the previous day and they took over key roads in downtown Lima waving flags while chanting, "The spilled blood will never be forgotten," "The people don't give up," and other slogans.
Police appeared more combative than the day before and after standing watch over protesters that had been blocked into downtown streets they started firing volleys of tear gas.
The firing of tear gas also appeared more indiscriminate. A group of protesters who were sitting in a plaza in front of the Supreme Court without causing a disturbance suddenly had to start running as approaching police fired round after round of tear gas that filled the area with smoke and a pungent smell permeated the air.
Pardo came to Lima to protest against Boluarte from the central province of Chanchamayo and vowed to stay in the capital until the president agrees to resign.
Anger at law enforcement was a constant throughout the march as demonstrators yelled "murderers" when they passed rows of police officers wearing helmets and holding up shields.
A few blocks away, Doris Pacori, 56, stood between police officers and protesters who had been blocked from reaching Congress.
As night fell, protesters got locked into running battles with police while some demonstrators threw water bottles filled with rocks at officers.
Late Friday, Interior Minister Vicente Romero praised police action during the protests, saying that it "has been very professional."
Protesters were particularly angry at Boluarte for a defiant speech she gave Thursday night in which she accused protesters of fomenting violence, vowed to prosecute demonstrators and questioned where they received their financing.
Boluarte has said she supports a plan to hold fresh elections in 2024, two years ahead of schedule, but protesters unanimously say that isn't fast enough, particularly considering all the deaths in recent weeks.
Protests and clashes with law enforcement also took place in other parts of the country.
In Arequipa, Peru's second city, police clashed with protesters that tried to storm the airport.
Also in southern Peru, multinational firm Glencore decided to temporarily shut down its Antapaccay copper mine after protesters attacked the site.
Castillo, a political novice who lived in a two-story adobe home in the Andean highlands, eked out a narrow victory in elections in 2021 that rocked Peru's political establishment and laid bare the deep divisions between residents of the capital and the long-neglected countryside.