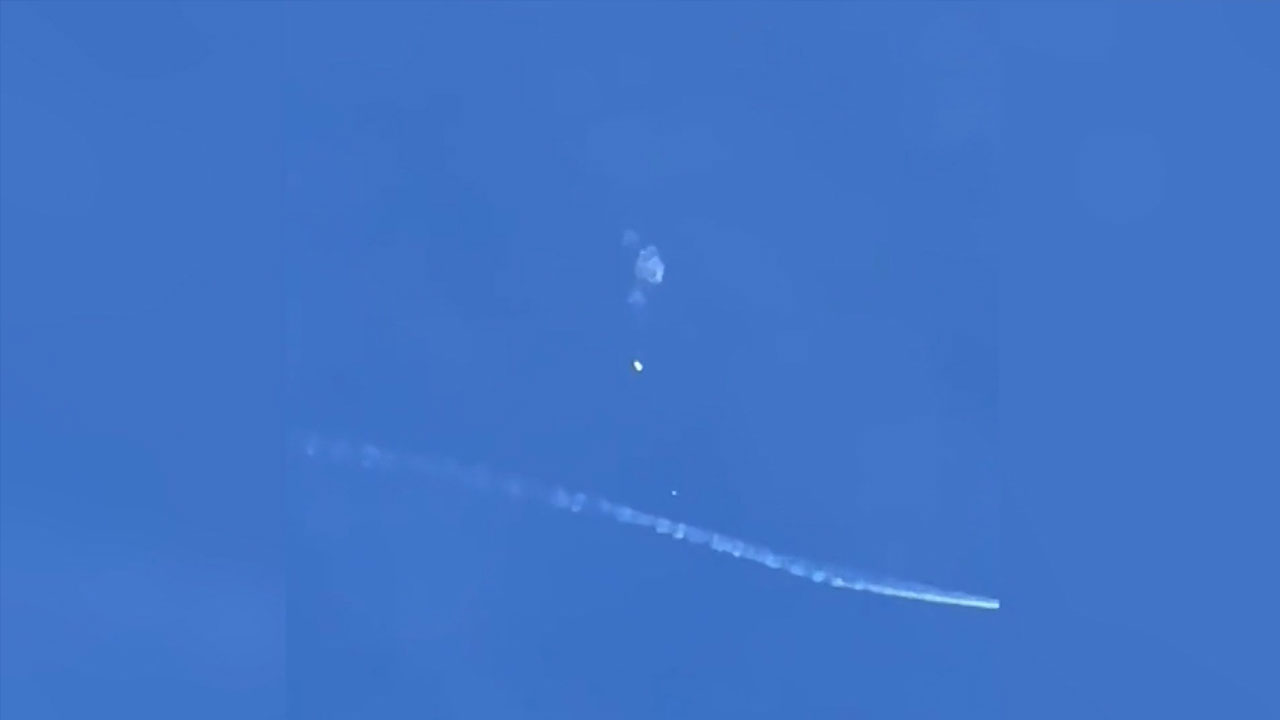 China has expressed its "strong dissatisfaction and protest" against Washington's decision to shoot down its balloon, accusing it of "overreacting" and "seriously violating international practice."
US military fighter jets on Saturday shot down the balloon over the Atlantic Ocean in a mission President Joe Biden hailed as a success.
The United States believes the balloon was involved in espionage, but China has refuted this, insisting it was a civilian research vessel blown off course.
Article continues after advertisement
Shortly after the downing of the balloon, China's Foreign Ministry issued a statement on Sunday morning local time expressing its "strong dissatisfaction and protest against the US's use of force to attack a civilian unmanned aircraft."
"The Chinese side has repeatedly informed the US side after verification that the airship is for civilian use and entered the US due to force majeure – it was completely an accident," the Foreign Ministry said.
"Force Majeure" is a legal term which means "greater force". It excuses a party from liability if an unforeseen event, such as a natural catastrophe, prevents it from performing its obligations under the contract.
"China clearly asked the US to handle it properly in a calm, professional and restrained manner. A spokesman for the US Department of Defense also stated that the balloon will not pose a military or personal threat to ground personnel," the statement continued.
"China will resolutely safeguard the legitimate rights and interests of relevant companies, while reserving the right to make further necessary reaction," the ministry added.
US officials have pushed back on China's repeated claims the downed balloon was simply for civilian use and had made its way into American airspace by "accident."
"This was a PRC (People's Republic of China) surveillance balloon. This surveillance balloon purposely traversed the United States and Canada and we are confident it was seeking to monitor sensitive military sites," a senior US administration official said.
The official said a second balloon, spotted over Central and South America, was "another PRC surveillance balloon" and bore similar technical characteristics to the one that flew over the US.
"Both balloons also carry surveillance equipment not usually associated with standard meteorological activities or civilian research," the official said. "Collection pod equipment and solar panels located on the metal truss suspended below the balloon are a prominent feature of both balloons."
Pentagon officials earlier this week said the balloon posed no "military or physical" threat. The US decided against shooting down the balloon while it remained over land due to the risk of falling debris hurting a civilian and instead waited until it was over the ocean.
The US military will now focus on debris recovery efforts.
The incident is the latest in a series of spying cases and has fueled a diplomatic crisis between Beijing and Washington.