Parliament
Tikoduadua lays manhandle claims, FijiFirst denies allegation
August 9, 2019 4:44 pm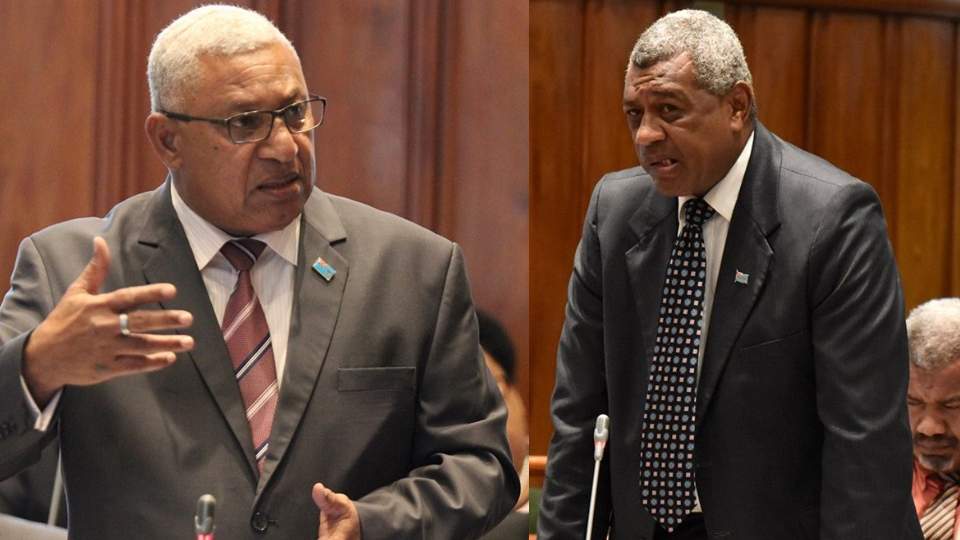 Prime Minister Voreqe Bainimarama [left] and NFP MP Pio Tikoduadua
Opposition MP Pio Tikoduadua has claimed in parliament that he has been manhandled and threatened by the PM outside the parliamentary chambers.
FijiFirst says the claims are a blatant lie by the National Federation Party president.
This episode transpired after Voreqe Bainimarama had lambasted Tikoduadua for a personal attack related to the Mosese Bulitavu debate yesterday.
Article continues after advertisement
Tikoduadua this morning launched a tirade of attack on Bainimarama, saying the PM should not be talking on violence against women.
Bainimarama last night condemned violence against women and hitting out against Bulitavu for his comments against the Indo-Fijian community and women.
This is related to Bulitavu having called the Indo-Fiji community vulagi's and also that their way of handling disputes by killing and stabbing has been picked up by the iTaukei community.
He had also called certain Indo-Fijian women unfaithful and that iTaukei assaults on women were common, given their built.
However, while Tikoduadua, who did not speak on the motion last night, today made a deploring attack on the PM.
"Honorable Prime Minister should be the last person talking about violence against women in this house. He should know what is happening in your own house and it is hypocritical for this matter. We deplore this act."
The Prime Minister clearly upset with the actions of the former Fiji First MP.
"I don't know why he is doing a personal attack on me. I made a statement here yesterday condemning what Bulitavu said, you didn't say anything but why the personal attack on me. That is what I want to know."
Tikoduadua later claiming it was not a personal attack.
NFP Leader Professor Biman Prasad has denied claims of personal attack by his party president and MP, Tikoduadua on the Prime Minister today.
"As far as I am concerned, he meant the Government side when he said that the Prime Minister should look at his own home, he meant, he pointed to the Government side and he meant the Government. That was my understanding of what Honorable Pio Tikoduadua said in parliament."
Tikoduadua has reported the matter at Totogo Police Station this afternoon.
Keep Connected With The Latest News, Weather, And Sports on Fiji's Best Radio stations.