News
Fiji Pine and Tropik staff to get $3k bonus across the board
December 6, 2018 5:39 pm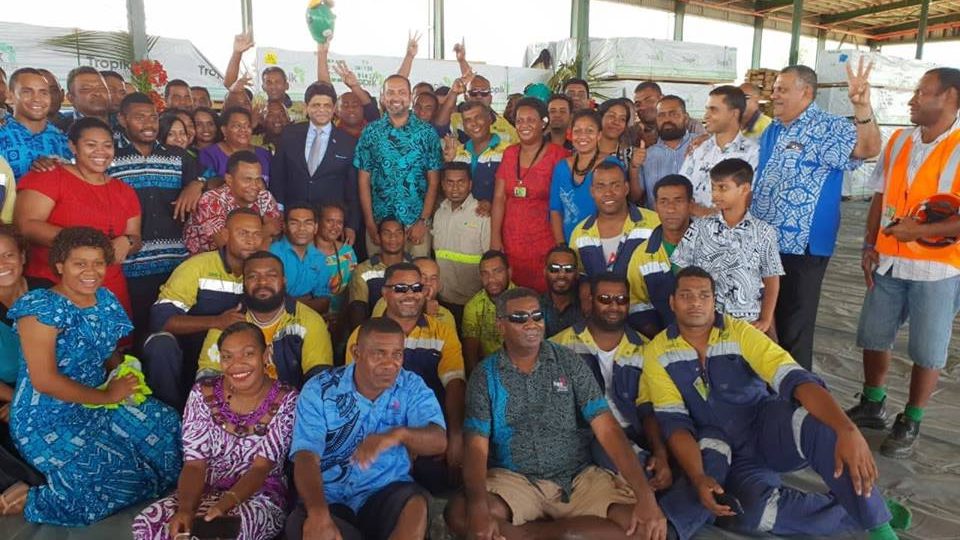 Acting Prime Minister, Aiyaz Sayed-Khaiyum with the staff of Fiji Pine and Tropik Wood Industries after a $1.3 million bonus pay-out
Christmas came early for the staff of Fiji Pine and Tropik Wood Industries after a $1.3 million bonus pay-out today.
Acting Prime Minister, Aiyaz Sayed-Khaiyum praised the management and staff for the hard work in achieving a fantastic 2018.
Sayed-Khaiyum says that all staff across the board will receive a significant amount, much higher than last year's bonus pay-out.
"Fundamentally across the board, all of you will receive $3,000 whether you are a forklift driver or you doing something else everyone will get $3,000. This is a fantastic achievement. Also you will get your FNPF paid on top of that."
Executive Chair, Faiz Khan also highlighted the criticism they copped earlier this year and reminded staff that false news circulating, should not hinder their positive spirits.
"2018 has also been a year of fake news over social media, and Fiji Pine was not spared from it. In April this year when we announced the record breaking $7 million bonus payout to our landowners, a remarkable achievement for Fiji Pine, social media was questioning how Fiji Pine could pay such a large sum to our landowners, incorrectly claiming that our accounts were not audited for over a decade."
A total of 594 staff will receive the bonus pay-out.
<iframe src="https://www.facebook.com/plugins/video.php?href=https%3A%2F%2Fwww.facebook.com%2FFijianGovernment%2Fvideos%2F264165317546606%2F&show_text=0&width=560″ width="560″ height="315″ style="border:none;overflow:hidden" scrolling="no" frameborder="0″ allowTransparency="true" allowFullScreen="true"></iframe>