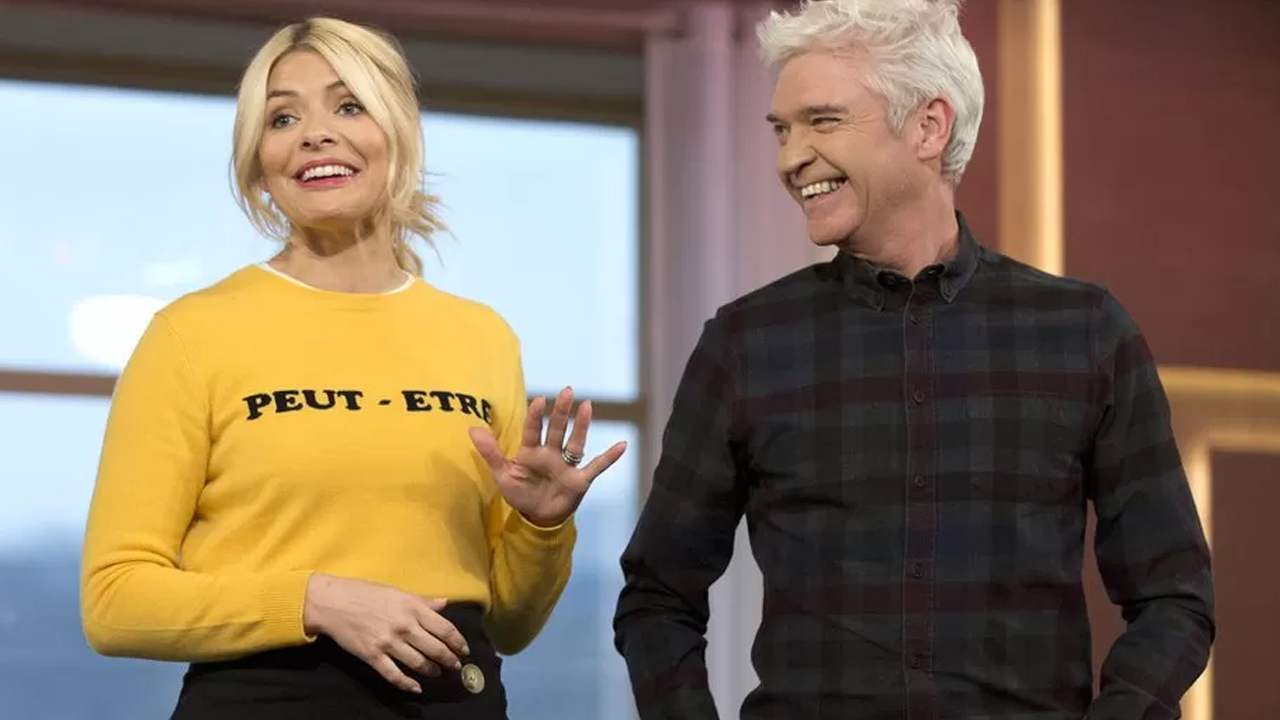 [Source: Reuters]
ITV's This Morning appears to have addressed claims of "toxicity", as the show aired for the first time since news of Phillip Schofield's affair.
One guest called it a "happy place" while host Dermot O'Leary said "we love making this show for all of you".
Ahead of the programme, ex-presenter Schofield said there was "no toxicity" while he was there and hit out at his critics.
Article continues after advertisement
He quit ITV on Friday after admitting his affair with a younger colleague.
Schofield, 61, apologised for lying repeatedly to hide the relationship with the male employee, calling it "unwise but not illegal".
Posting on Instagram on Monday, he said: "Now I no longer work on @thismorning I am free to say this. I hope you have noticed that it's the same handful of people with a grudge against me or the show who seem to have the loudest voice.
"This Morning IS the best show to work on, with the best people. In all the years I worked there there was no toxicity."
Former presenter Eamonn Holmes tweeted that the statement was "delusional".
He said: "Like Holly he puts it on Insta Stories so if it goes wrong there is no record after 24 hrs. I'm reluctant to give the liar any more publicity but believe me Pip if u r looking for a fight, u have picked on the wrong person!"
Over the weekend ITV said it had no plans to axe the show.
What next for ITV, Holly and This Morning?
Opening Monday's programme with Alison Hammond, O'Leary said: "We all know we happen to be in the news at the moment… but the whole team here… we love making this show for all of you,"
Hammond added they were "going to continue to do that".
Gyles Brandreth, in the studio to review the news stories of the day, said: "We are very happy to be here. Can I say that as well?"
He continued: "It's actually a happy place to work. I enjoy coming in and have done since I began," while columnist Sonia Sodha, sitting next to him on the sofa, agreed.
But questions about what happens behind the scenes on the programme show no sign of going away.
Dr Ranj Singh, who worked on This Morning for a decade, criticised the "toxic" culture at the programme, saying the issues "go far beyond" Schofield.
He said he last worked on This Morning two years ago, having found himself being used "less and less" after raising concerns about how people were treated there.
Writing on Twitter, Dr Singh said he "did not know the truth about what was going on with Phillip", but added: "It takes more than one person to create a culture."
On Sunday evening, ITV responded saying it was sorry to read the post. It added that after a complaint from Dr Ranj there had been an external review which "found no evidence of bullying or discrimination".
It did not respond to the BBC when asked about a report in the Sunday People that some daytime staff were planning to go to HR to threaten a mass walkout over a series of "ignored complaints".
The broadcaster also said it had investigated rumours of Schofield's affair in 2020 but found no evidence beyond "hearsay".
Both Schofield and the junior colleague had at the time "categorically and repeatedly denied the rumours", ITV added.
On Sunday, lawyers representing Schofield confirmed to the BBC that the pair had met when the younger colleague was a 15-year-old boy.
They stressed there was no sexual relationship of any nature between Schofield and the individual until after he had started working at This Morning.
He was 18 by the time he joined the programme.
The Mail on Sunday first reported the pair had met when the presenter was giving a talk at a theatre school which the 15-year-old attended.
Schofield later arranged an interview for him at ITV before he started there, and "some time afterwards" the affair began, the paper said.Before his shock departure from ITV, Schofield had already announced on 20 May he was quitting This Morning, following reports of a rift with co-star Holly Willoughby.
Schofield has insisted this was unrelated to news of the affair.
Willoughby said on Saturday it was "very hurtful" to discover her former co-host had lied to her about his relationship with the younger colleague.
"When reports of this relationship first surfaced, I asked Phil directly if this was true and was told it was not," she said.
Willoughby is on an "extended half-term break" until 5 June.