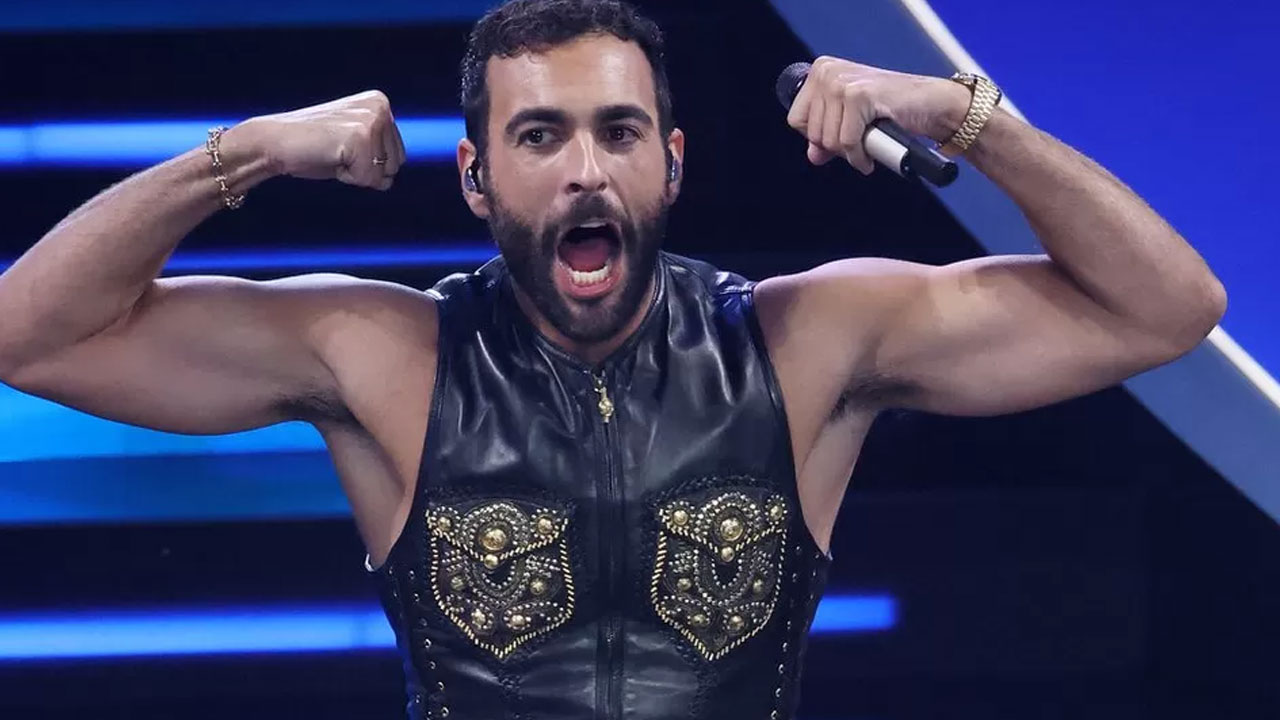 If Marco Mengoni wins Sanremo on Saturday night he'll get first refusal to represent Italy in Liverpool. [Source: BBC Entertainment]
If you're a sports fan, imagine having to choose between watching the FA Cup final, a Wimbledon single final, or the final Test match in The Ashes.
In the Eurovision world that's sort of what fans are having to contend with, on what's been dubbed Super Saturday, as seven countries air huge TV programmes to pick a representative for the song contest in May.
While there are 13 weeks until the song contest's grand final, 20-year-old Ethan Wilshaw from Plymouth will be sitting down with his parents to spin through performances from Italy, Estonia, Denmark, Malta, Latvia, Croatia and Romania.
Article continues after advertisement
"It's quite stressful but I think that sort of chaos and overwhelming nature is inherent to Eurovision," he tells BBC News. "I don't know how I'm going to prioritise them but the good thing is the different time zones because you can dip in and out."
He first watched the national final season in 2019 and one of his favourite things he's learnt is "how important it is for other countries" with these finals being the biggest night on TV in parts of Europe.
There are typically two ways a Eurovision entry is chosen: an internal selection – an act chosen behind the scenes – or a national selection – a TV show with the winner getting to fly their country's flag in Liverpool.
In its 73rd year, Italy's five-night iconic Festival di Sanremo, which has become essential streaming for Eurovision fans, will see a winner chosen from the 28 competing acts. There are also special guests like Black Eyed Peas, Depeche Mode and Rage Against The Machine's Tom Morello.
I watched the second night on Wednesday with Italian friends who helped me with translation, told me the back story of the contestants, and didn't kick me out for bringing a Hawaiian pizza (grazie).
The show really is a unique event and, after pizza (and tiramisu), I still couldn't think of a comparable cultural show that unites a nation the way Sanremo does – but I ended up with a cross between the Royal Variety Performance, the Super Bowl halftime show and the New Year's Eve countdown.
The country's president, Sergio Mattarella, attended the opening night while other politicians and celebrities filled the seats for the rest of the week in black tie, with a huge chunk of the population watching at home, peaking at more than 16 million and a 62% share of TV viewers.
Måneskin, who've just released a new album and was nominated for the best new act at last week's Grammy Awards, still describe winning the festival as "one of the top three achievements" in their career.
Speaking to BBC News, frontman Damiano David says: "Eurovision somehow makes sense that we won because we had cool outfits, had a powerful song and were very different from all the other contestants. It makes sense in my mind.
Italy by far has the biggest national final on Saturday, but Estonia's Eesti Laul and Denmark's Melodi Grand Prix also command big domestic audiences, as well as fans abroad streaming them.
The conversation dominates the fandom on Twitter and in WhatsApp group chats, which can be "a chaotic mess" for fans who live and breathe Eurovision all year.
Italy's 28 acts is dwarfed by Denmark's eight artists in Dansk Melodi Grand Prix taking place in Næstved arena, about an hour outside of Copenhagen. Last year's Eurovision winners Kalush Orchestra will be the interval act.
Most of his fans are in South Korea after a previous song went viral there, but he says "it's awesome" fans outside of Denmark will be watching him compete on Saturday night.
This year the BBC is using an internal selection for the United Kingdom, working with the same management company that approached Sam Ryder last year.
A Eurovisioncast listener called Ben asked as these shows across Europe are so big now if I thought the BBC would revisit that format in the future?
The success of Sam Ryder – chosen internally – and the pressure for the UK to continue its success makes me think it would be a risk but Ethan in Plymouth disagrees.
All the build-up, insights and analysis is explored each week on a new BBC podcast called Eurovisioncast.
Eurovisioncast is available on BBC Sounds, or search wherever you get your podcasts from.