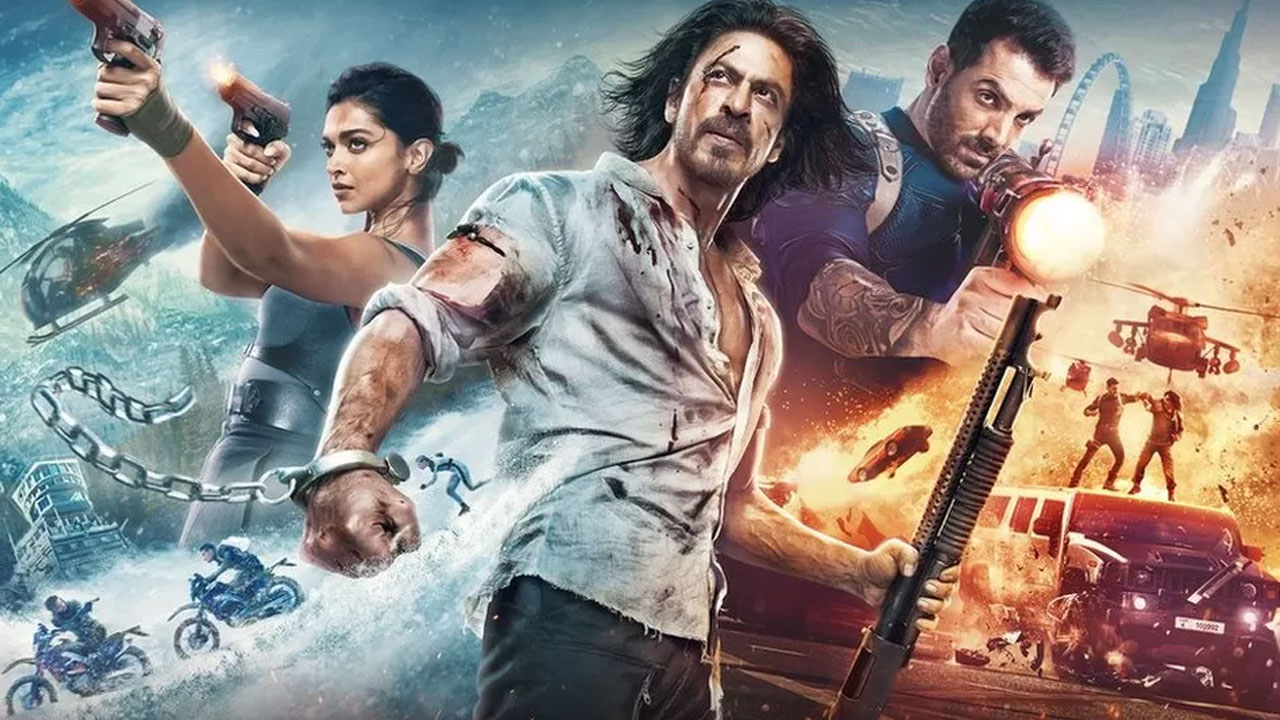 Pathaan stars Shah Rukh Khan, Deepika Padukone and John Abraham. [Source: BBC]
Bollywood superstar Shah Rukh Khan's latest film Pathaan, which releases next week, has been hitting the headlines in India for the past several weeks.
The interest is hardly surprising – Khan is among India's biggest and most-loved stars. Charming, funny and with millions of fans at home and abroad, the actor is often described as Bollywood's "most important cultural export", whose popularity travels beyond his films. His fans endearingly refer to him as King Khan or the King of Bollywood.
And Pathaan is his first film after a four-year hiatus.
Article continues after advertisement
The 57-year-old is making a comeback on the big screen after a series of setbacks in his personal and professional life, including the arrest of his son Aryan Khan last year on fake charges of drug possession – the charges were eventually dropped – and a number of films that didn't do well.
The gap has peaked interest in Khan and also led to a heightened scrutiny of the film, which also stars Deepika Padukone, one of India's most popular stars, and John Abraham.
Starting in December when the filmmakers began releasing promotional videos of Pathaan's songs, the film has been the subject of incessant chatter on social media.
And since its trailer dropped last week, the fan frenzy has peaked.
It has been watched more than 49 million times on YouTube. Khan's tweet of the Hindi trailer has had 3.9 million views and an additional half a million each for the Telugu and Tamil versions.
Reports say there has been "exceptional response" to advanced ticket sales in the US, UAE, Germany and Australia.
The plot, described by fans as a crossover between James Bond and Mission Impossible films, is rather predictable.
A terrorist group is seeking to destroy India with "an attack they could not have imagined". The authorities scramble to fight them, but time is running out. At stake is the country's future. So, they put their best man to work.
"If you dare to party at Pathaan's house, then I will have to come to greet you – with fireworks," an unmistakable voice sneers at us, as Khan makes an appearance.
A suave spy with tousled hair and chiselled biceps and abs, Khan effortlessly takes down enemies, hops on moving vehicles, rappels down skyscrapers and seduces women while trying to save his nation from evil forces, led by Abraham. A pulsing music track accompanies the shots.
The two-and-half-minute trailer has excited fans and critics alike, who've been gushing over the scale of the project. A fan called it a "paisa vasool [value for money] experience", adding that he would try to catch the film as soon as it released.
But right from the start, Pathaan has been mired in controversies.
Khan has had a fair share of troubles with the press and critics in the past. But ever since his comments about growing religious intolerance in India a few years back, the barrage of attacks from Hindu right-wing groups have become more personal and concerted.
"It has acquired a distinctly communal twinge, as they seek to anchor the actor's image around his religious identity," says author and film critic Saibal Chatterjee.
Until a few years back, he says, Bollywood was seen as a place that existed beyond religious and political differences and "entertainment was the only thing that mattered". But, he adds, the industry has now become increasingly polarised.
"Khan is one of the remaining few actors who represents that past which some sections want to be obliterated completely. That's why they cannot stand him."
Already riled by the film's name Pathaan – a Muslim title – the hardline Hindu groups raked up a controversy over one of its songs after Padukone was seen in a saffron-coloured bikini in the song Besharam Rang – which translates from Hindi to shameless colour.
They accused Khan of insulting Hindus as saffron is a colour associated with their religion, even though Padukone changes costumes several times during the song.