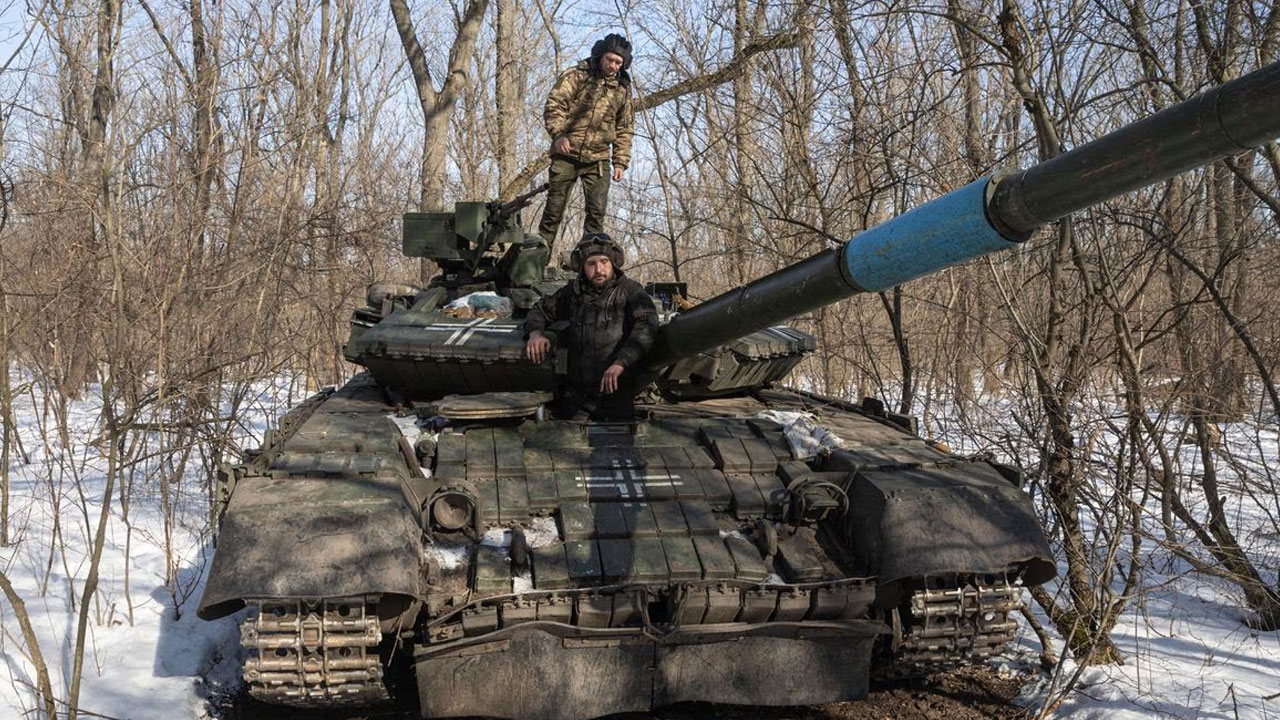 Ukrainian servicemen of the 17th Independent Tanks Brigade are seen atop of a T-64 tank, as Russia's attack on Ukraine continues, near the frontline town of Bakhmut, Donetsk region, Ukraine February 23, 2023. [Source: Reuters]
The war in Ukraine dragged into its second year on Friday, with no end in sight to a conflict launched by Russia that has killed tens of thousands of people, flattened cities and towns, forced millions to flee and brought a Cold War chill to global ties.
Russian President Vladimir Putin ordered a full-scale invasion of his neighbour on Feb. 24 last year aiming to seize the capital Kyiv quickly and topple the pro-European government, but those hopes were dashed by a fierce defence as well as military blunders that embarrassed Moscow.
Ukraine had success with counter-offensives in late 2022 to grab back much of the territory it lost early on, and the war, which Moscow calls a "special military operation", has settled into one of attritional trench warfare and rising losses on both sides. Russia controls around a fifth of Ukraine a year on.
Article continues after advertisement
With Putin signalling a desire to double down on a conflict that prompted tough Western sanctions against his country and Ukrainian President Volodymyr Zelenskiy maintaining a hard line on any potential talks, the prospects of peace appear bleak.
The United Nations General Assembly overwhelmingly adopted a resolution marking the war's first anniversary and demanding Moscow withdraw its troops and stop fighting. There were 141 votes in favor and 32 abstentions. Six countries joined Russia to vote no – Belarus, North Korea, Eritrea, Mali, Nicaragua and Syria.
China abstained on the vote, just a day after Beijing's top diplomat visited Moscow and pledged a deeper relationship.
Russia's Deputy U.N. Ambassador Dmitry Polyanskiy dismissed the action at the United Nations as "useless".
Zelenskiy posted on Twitter: "This resolution is a powerful signal of unflagging global support for Ukraine".
Meanwhile, Paris lit up the Eiffel Tower in the Ukrainian flag colours of blue and yellow and people draped in Ukrainian flags gathered at a vigil in London. In Brussels, European Union buildings were similarly lit up in those colours.
Reflecting the Kremlin's increasingly hawkish narrative on what became the worst conflict in Europe since World War Two, Russian Defence Minister Sergei Shoigu on Thursday cast it as an existential fight against a hostile West.
Ukraine and its allies led by the United States and Europe dismiss such arguments, casting the invasion as an unjustified land grab aimed at subjugating a sovereign state that has tried to break free from Moscow.
U.S. President Joe Biden will meet virtually on Friday with G7 leaders and Zelenskiy to mark the anniversary and announce new sanctions against those aiding Russia's war effort, the White House said.
While Europe has tried to wean itself off Russian hydrocarbon exports, Moscow has found willing buyers in China and India, cushioning the blow of sanctions.
Further ratcheting up tensions, Putin announced plans on Thursday to deploy new Sarmat multi-warhead intercontinental ballistic missiles this year. Earlier this week he suspended Russia's participation with the United States in the New START (Strategic Arms Reduction Treaty) on nuclear arms control.
Some of the heaviest fighting in recent months has been in and around the eastern city of Bakhmut and, more recently, Vuhledar further south.
Hundreds if not thousands of soldiers have died there, even though independent military experts have questioned the strategic value of the locations. Both sides, though, appear determined not to take a step backwards.
Close to a Ukrainian tank park near Bakhmut, which has become Russia's main target, constant explosions could be heard echoing in the distance on Thursday.
A daily evening statement by the General Staff of the Ukrainian Armed Forces reported increased Russian activity in the east and south as the anniversary approached. Russian forces also trained fire on at least 25 towns and villages in three northern regions along the Russian border – Chernihiv, Sumy and Kharkiv, the statement said.
Reuters was not able to verify battlefield reports.
Some U.S. and Western officials estimate Russia's military casualties at nearly 200,000 dead or wounded, while in November the top U.S. general said more than 100,000 troops on each side had been killed or wounded.
Battlefield losses are impossible to verify independently, but soldiers fighting on the frontline and military officials have conceded that the death toll has spiked in recent weeks.
Thousands of civilians have been killed and Ukrainian prosecutors have reported thousands of allegations of war crimes. Moscow denies targeting civilians and carrying out atrocities.
Ukraine has managed to hold its own in the war despite a far smaller army in large part because tens of billions of dollars' worth of increasingly sophisticated military hardware have been shipped in from the United States, Europe and beyond.
Zelenskiy has been instrumental in keeping the weapons flowing, hosting Biden in Kyiv on Monday and addressing leaders around the world in person and online.
Fears of more Russian missile and drone attacks on Kyiv on Friday to mark the anniversary have kept the capital on edge in recent days, with some schools switching to online learning this week as a precaution.
The United States is concerned by greater alignment between China and Russia, after Putin on Thursday hailed "new frontiers" in ties with Beijing and signalled China's leader Xi Jinping would visit.
Washington has said China is considering providing weapons for Russia's war in Ukraine, a move that could intensify the conflict into a confrontation between Russia and China on one side and Ukraine and the U.S.-led NATO military alliance on the other.
But Xi is also expected to deliver a "peace speech" on Friday, though some analysts have cast doubt on whether Beijing's efforts to act as a peacemaker will go beyond rhetoric.