Attorney-General Siromi Turaga yesterday highlighted that a total of 341 civil servants were terminated for refusing to receive the COVID-19 vaccine.
During the press conference, Turaga also announced that the "No Jab, No Job" mandate has been revoked, as the 2021 Amendment Regulations had achieved its intended purpose and can now be subject to review.
According to the regulation, all employers and workers were required to receive their first COVID-19 vaccine dose by August 1st, 2021 and their second dose before November 1st, 2021 to maintain access to their workplaces.
Article continues after advertisement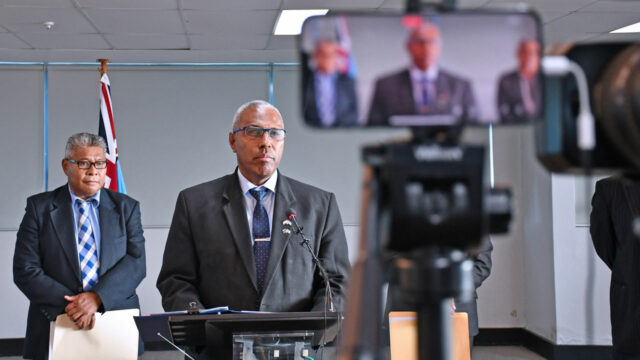 Attorney-General Siromi Turaga. [Source: Fiji Government/ Facebook]
Turaga states that out of the total civil service workforce of 26,595, 98.30 percent have been fully vaccinated, while 450 civil servants remained unvaccinated, accounting for 1.70 percent of the workforce.
Additionally, 109 civil servants were exempted from the vaccine, accounting for 0.41 percent of the civil service workforce and 24.3 percent of the total number of unvaccinated civil servants.
Turaga highlighted that the Health Ministry provided serological and epidemiological data that indicate Fiji has attained widespread protection against severe outcomes.
Transmission reduction has also been demonstrated within fully vaccinated divisional hospital settings.
Turaga also highlighted that most countries with COVID-19 vaccine mandates have either revoked or reviewed their laws after successfully managing the transmission of the virus.
To implement the regulations, the Ministry of Employment, Productivity, and Industrial Relations conducted a workplace audit, which showed that 99.92 percent of employers and 99.84 percent of workers received their second vaccine dose.
As a proactive measure, Turaga states that the Health Ministry will continue to push for the booster dose.