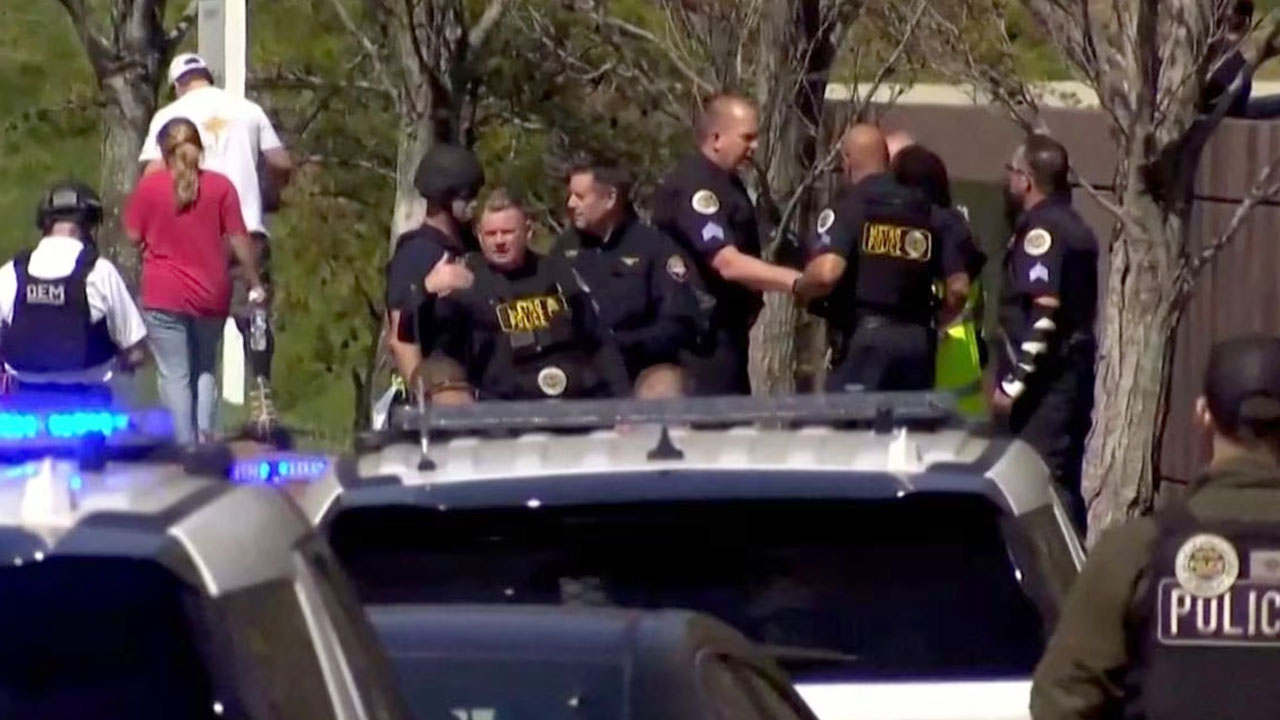 Law enforcement officers assemble near the Covenant School after a shooting in Nashville, Tennessee, U.S. March 27, 2023 in a still image from video. [Source: Reuters]
A 28-year-old woman armed with several guns opened fire at a private Christian school she once attended, killing three children and three adults before police killed her, authorities said.
The woman was carrying at least two semi-automatic rifles and a handgun, police said.
The Metropolitan Nashville Police Department began receiving calls at 10:13 a.m. of a shooter at The Covenant School, which teaches elementary school-age children. Officers arriving on the scene reported hearing gunfire coming from the school's second floor, police spokesperson Don Aaron told reporters.
Article continues after advertisement
Two officers from a five-member team shot the assailant in a lobby area, and she was pronounced dead by 10:27 a.m.
Deadly mass shootings have become commonplace in the United States in recent years, but a female attacker is highly unusual. Only four of 191 mass shootings catalogued since 1966 by The Violence Project, a nonprofit research centre, were carried out by a female attacker.
Reacting to the shooting in Washington, U.S. President Joe Biden urged Congress again to pass more gun reform legislation.
Three students were pronounced dead after arriving at Monroe Carell Jr. Children's Hospital at Vanderbilt with gunshot wounds, John Howser, a hospital spokesperson, said in a statement. Three adult staff members were killed by the shooter, police said.
Besides the deceased, no one else was shot, Aaron said.
The student's parents were told to gather at a nearby church.
The Covenant School, founded in 2001, is a ministry of Covenant Presbyterian Church in the Green Hills neighbourhood of Nashville with about 200 students, according to the school's website. The school serves preschool through sixth graders and held an active shooter training program in 2022, WTVF-TV reported.
Nashville Mayor John Cooper expressed sympathy for the victims and wrote on social media that his city "joined the dreaded, long list of communities to experience a school shooting."
There have been 89 school shootings – defined as anytime a gun is discharged on school property – in the U.S. so far in 2023, according to the K-12 School Shooting Database, a website founded by researcher David Riedman. Last year saw 303 such incidents, the highest of any year in the database, which goes back to 1970.