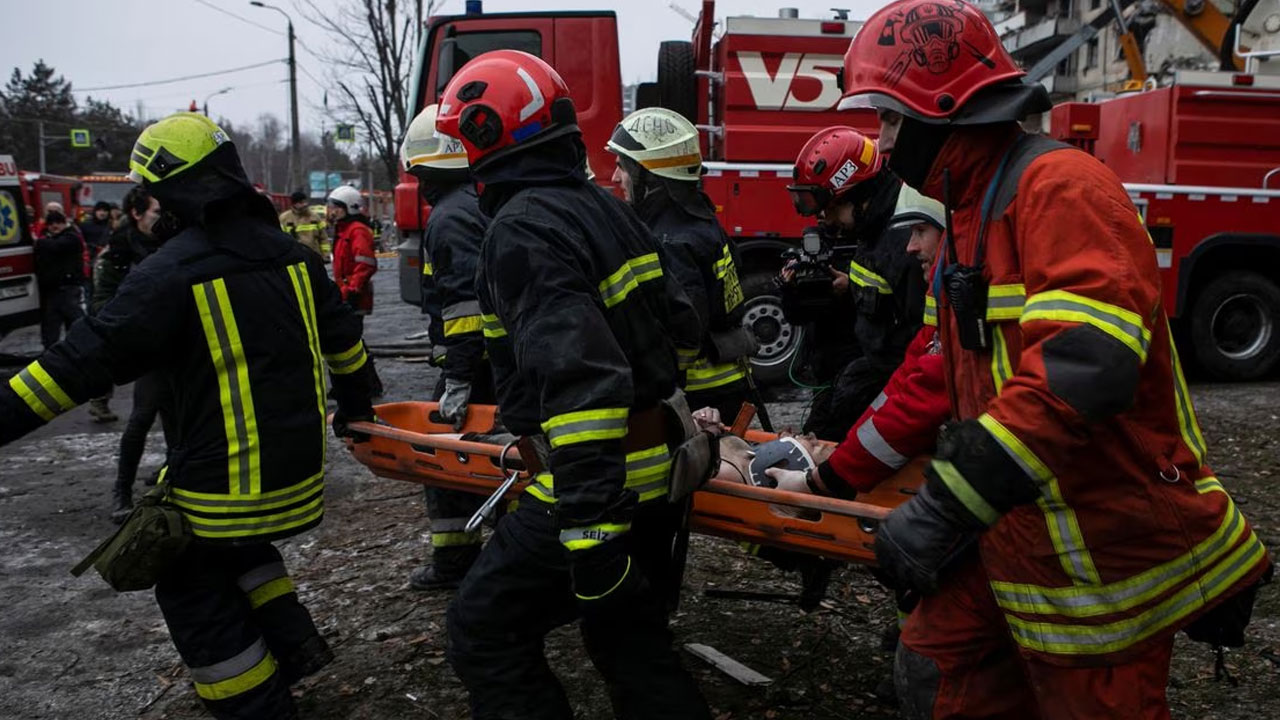 Ukraine saw little hope of pulling any more survivors from the rubble of an apartment block in the city of Dnipro on Sunday, a day after the building was hit during a major Russian missile attack, with dozens of people expected to have died.
The regional governor's adviser, Natalia Babachenko, said 30 people were confirmed dead so far and more than 30 were in hospital, including 12 in a serious condition. Between 30 to 40 people could still be trapped under debris, she said.
Emergency workers said they had heard people screaming for help from underneath piles of debris from the nine-storey apartment block in the east-central city and were using moments of silence to help direct their efforts. Freezing temperatures added to rescuers' concerns.
Article continues after advertisement
A group of firefighters found a lightly-dressed woman still alive more than 18 hours after the attack. They carried her to safety in their arms. Dozens of grim-faced residents, both young and old, watched in horror from the street.
A body was retrieved by firefighters and lifted from the ruins on a stretcher using a crane.
"The chances of saving people now are minimal," Dnipro's Mayor Borys Filatov told Reuters. I think the number of dead will be in the dozens."
The attack on Dnipro was one of the deadliest strikes of the war against civilians, and was noted for the use of a Soviet-era Kh-22 missile, which is known to be inaccurate and against which Ukraine lacks the air defences to shoot down.
Filatov said two stairwells including dozens of flats were destroyed.
Russia fired two waves of missiles at Ukraine on Saturday, striking targets across the country as fighting raged on the battlefield in the eastern towns of Soledar and Bakhmut.
Moscow, which invaded last February, has been pounding Ukraine's energy infrastructure with missiles and drones since October, causing sweeping blackouts and disruptions to central heating and running water.
In a statement on Sunday about its previous day of strikes, the Russian defence ministry did not mention Dnipro as a specific target.
"All assigned objects were hit. The targets of the strike have been achieved," it said.
Rescuers toiled through the night searching for survivors. On Sunday morning, they could be seen punching and kicking through heaped mounds of smashed concrete and twisted metal.
"Two rooms on the second floor remain practically intact but buried," Oleh Kushniruk, a deputy director of the regional branch of Ukraine's State Emergency Service, said on television.
A spokesperson for Ukraine's southern command said Russia had fired only half of the cruise missiles it had deployed to the Black Sea during Saturday's attacks.
"This indicates that they still have certain plans," said the spokesperson, Natalia Humeniuk. "We must understand that they can still be used."