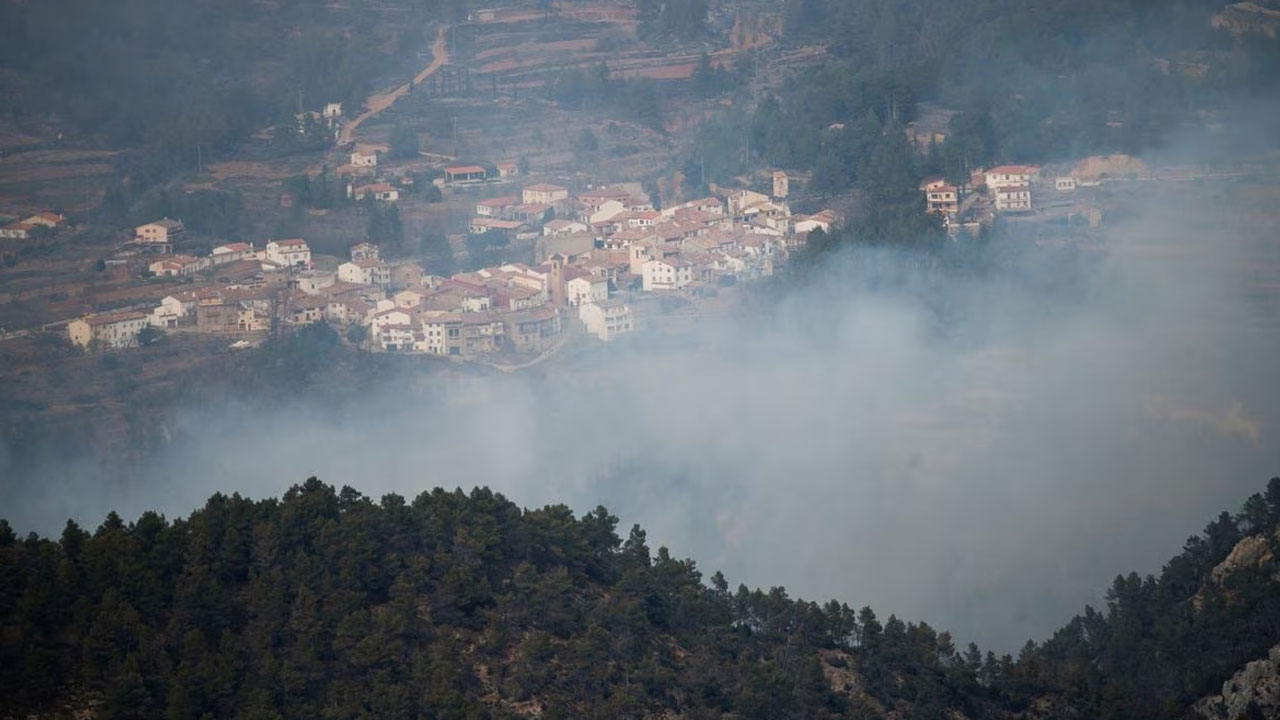 Smoke rises during a wildfire in Los Calpes, Spain. [Source: Reuters]
Spain's first major wildfire of the year raged in the eastern Valencia region, destroying more than 3,000 hectares (7,413 acres) of forest and forcing 1,500 residents to abandon their homes, authorities said.
An unusually dry winter across parts of the south of the European continent has reduced moisture in the soil and raised fears of a repeat of 2022, when 785,000 hectares were destroyed in Europe – more than double the annual average for the past 16 years, according to European Commission (EC) statistics.
In Spain, 493 fires destroyed a record 307,000 hectares of land last year, according to the Commission's European Forest Fire Information System.
Article continues after advertisement
More than 500 firefighters supported by 18 planes and helicopters worked throughout the night and on Friday to tackle the blaze near the village of Villanueva de Viver, in the Valencia region.
Emergency services evacuated eight communities, said Gabriela Bravo, the regional head of interior affairs.
While firefighters believed they were managing to control the spread of the flames, strong winds and "practically summertime temperatures" could reactivate it, Bravo said.
Spain is experiencing a long-term drought after three years of below-average rainfall.
The weather will be drier and hotter than usual this spring along Spain's northeastern Mediterranean coast, increasing the risk of wildfires, meteorological agency AEMET told Reuters last week.
Environment Minister Teresa Ribera said "out-of-season fires" were becoming increasingly common.
A European Commission report this month observed a lack of rain and warmer-than-normal temperatures during the winter, raising drought warnings for southern Spain, France, Ireland, Britain, northern Italy, Greece and parts of eastern Europe.
Winter in Greece was the warmest for its northern regions in more than a decade, according to the National Observatory of Athens.
A lack of rain and a decline in land humidity will help the spread of wildfires if there are heatwaves, said Christos Zerefos, head of the Athens Academy Research Centre for Atmospheric Physics and Climatology.
The Commission report warned that low levels of water could affect strategic sectors including agriculture, hydropower and energy production.
Olive oil production in the European Union for 2022-23 will fall by half compared to the previous season, according to official estimates, largely due to a drop in output from Spain caused by the drought.
Dry spells have also stricken production in Portugal and Italy.