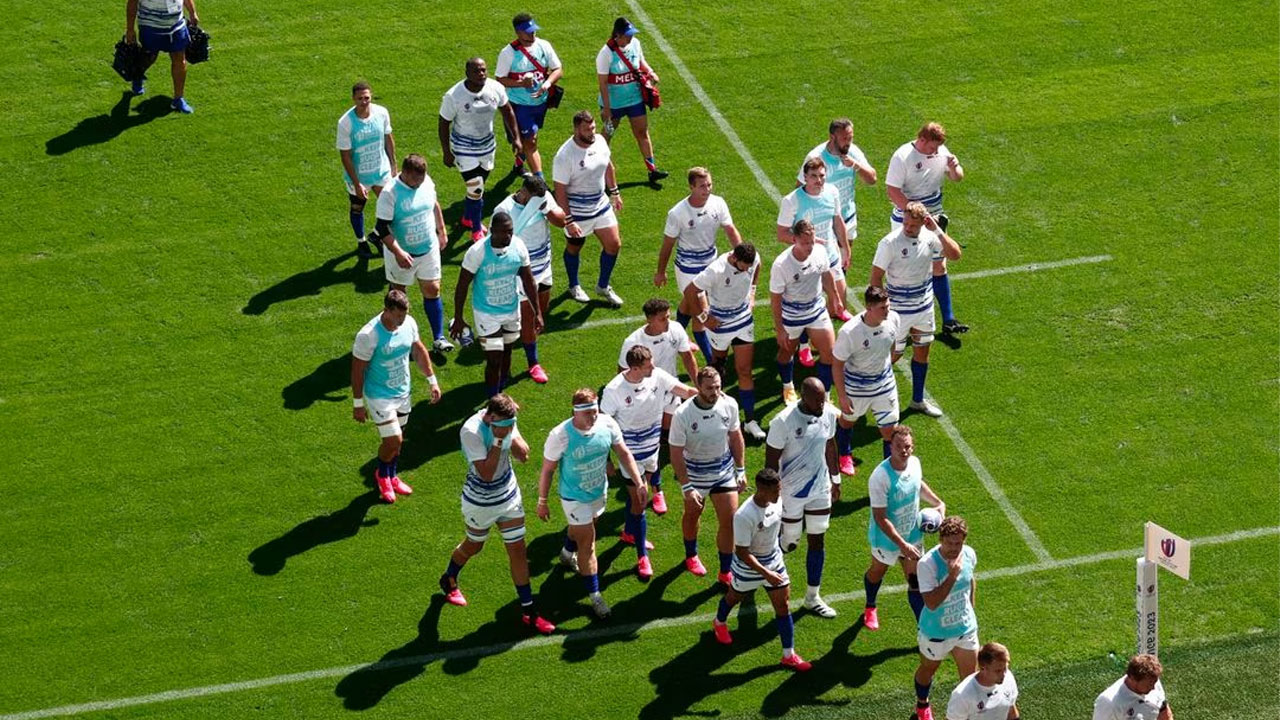 [Source: Reuters]
Namibia have made nine changes to their starting XV for the Rugby World Cup Pool A clash with hosts France in Marseille on Thursday as coach Allister Coetzee looks to give his wider squad a taste of the tournament in this "special occasion".
One of those changes is enforced by the horrific ankle injury sustained by centre Le Roux Malan in the 71-3 loss to New Zealand on Friday. Danco Burger comes into the side as his replacement.
Prop Desiderius Sethie and hooker Louis van der Westhuizen come into the front row of the scrum and there are also two changes at lock where Mahepisa Tjeriko takes over from Johan Retief, who moves to flanker, and France-based Adriaan Ludick comes into the team.
Article continues after advertisement
Max Katjijeko, Retief and number eight Prince Gaoseb make up the back row.
Jacques Theron gets his first start for Namibia at scrumhalf, while Cliven Loubser moves from fullback to flyhalf. Andre van den Berg comes into the number 15 jersey.
"It's important to give every player coming to a World Cup an opportunity to play," Coetzee told reporters. "Our mindset is building towards the last game (against Uruguay) and to see what these players can offer to get the best team possible for that final match.
"It is a great experience for a lot of youngsters playing in their first World Cup. One of our objectives is to grow depth in our squad, especially against tier one nations who we don't get to play often."
France have gone with their big guns for the contest after a lacklustre display against Uruguay in their last outing, but Coetzee sees this as an opportunity for his team rather than a daunting challenge.
"They have selected a very strong side against us. Someone like (scrumhalf) Antoine Dupont, we see him playing on television a lot, for so Jacques Theron to get his first start for Namibia against him is a special occasion."
Team: 15-Andre van den Berg, 14-Gerswin Mouton, 13-Johan Deysel (capt.), 12-Danco Burger, 11-JC Greyling, 10-Cliven Loubser, 9-Jacques Theron, 8-Prince Gaoseb, 7-Johan Retief, 6-Max Katjijeko, 5-Adriaan Ludick, 4-Mahepisa Tjeriko, 3-Aranos Coetzee, 2-Louis van der Westhuizen, 1-Desiderius Sethie.
Replacements: 16-Obert Nortje, 17-Jason Benade, 18-Haitembu Shikufa, 19-Pieter-Jan van Lil, 20-Richard Hardwick, 21-Oela Blaauw, 22-Alcino Izaacs, 23-Divan Rossouw.