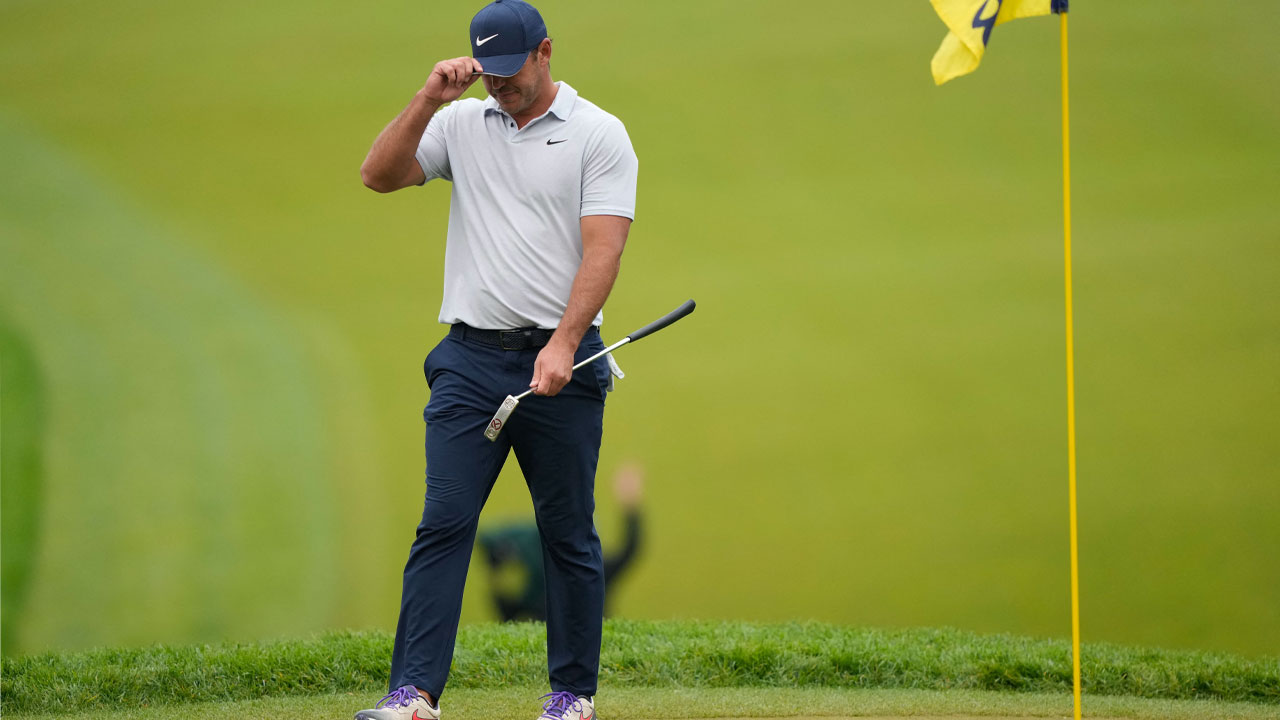 [Source: Reuters]
After a week of frost, wind and torrential rain the sun returned to the PGA Championship.
And so have the low scores, setting the stage for a final round shootout as overnight leader Brooks Koepka launched his bid for a Wanamaker Trophy hat-trick.
Winner of four majors including back-to-back PGA Championships in 2018 and 2019, Koepka sparkled in tough, rainy conditions on Saturday to climb atop the leaderboard one clear of Norway's Viktor Hovland and Canada's Corey Conners.
Article continues after advertisement
Par was considered a good score during the opening three rounds, that saw just seven golfers reach red figures.
But pars will not be enough to get the job done on Sunday at Oak Hill as the early starters piled up the birdies signalling the winner will need to go low to win the year's second major.
Koepka teed off with his one-shot lead over playing partner Hovland and Conners intact but behind them the pack was charging up the leaderboard.
Victor Perez, who had not been a presence on the leaderboard, offered a glimpse of what the day could look like, powering into contention behind four consecutive birdies from the second to get to three under.
Suddenly the Frenchman finds himself just three off the lead alongside Briton Justin Rose and Bryson DeChambeau.
The day could be remembered as watershed moment for LIV Golf with two of its standard bearers Koepka and DeChambeau in position to deliver the controversial Saudi-bankrolled circuit some major validation.
Critics of LIV Golf have branded the big-money venture as uncompetitive and little more than a sportswashing enterprise by a country eager to polish its human rights record.
A victory by Koepka or DeChambeau would not end the human rights questions but would give the tour a bit of the credibility and legitimacy it seeks.
Right behind the two leading pairs are some of golf's biggest names, including world number two Scottie Scheffler and number three Rory McIlroy, who are on the fringe of contention.
Scheffler, who can reclaim the number one world ranking from Jon Rahm with a win, started four back and was holding steady with two pars to start his day.
McIlroy, an honorary member at Oak Hill, has looked out of sorts all week but the battling Northern Irishman has managed stay in the hunt at five back.
One of golf's marquee names McIlroy is partnered with one of the big unknowns, teaching professional Michael Block.
Block, who has "Why Not" written on his golf balls, has become the every-man blue-collar hero and gallery darling at Oak Hill by carrying the hopes and dreams of every player who has picked up a club.
The 46-year-old teed off to massive cheers and chants of "Block, Block, Block" but got off to a nervy start with a bogey at the first.