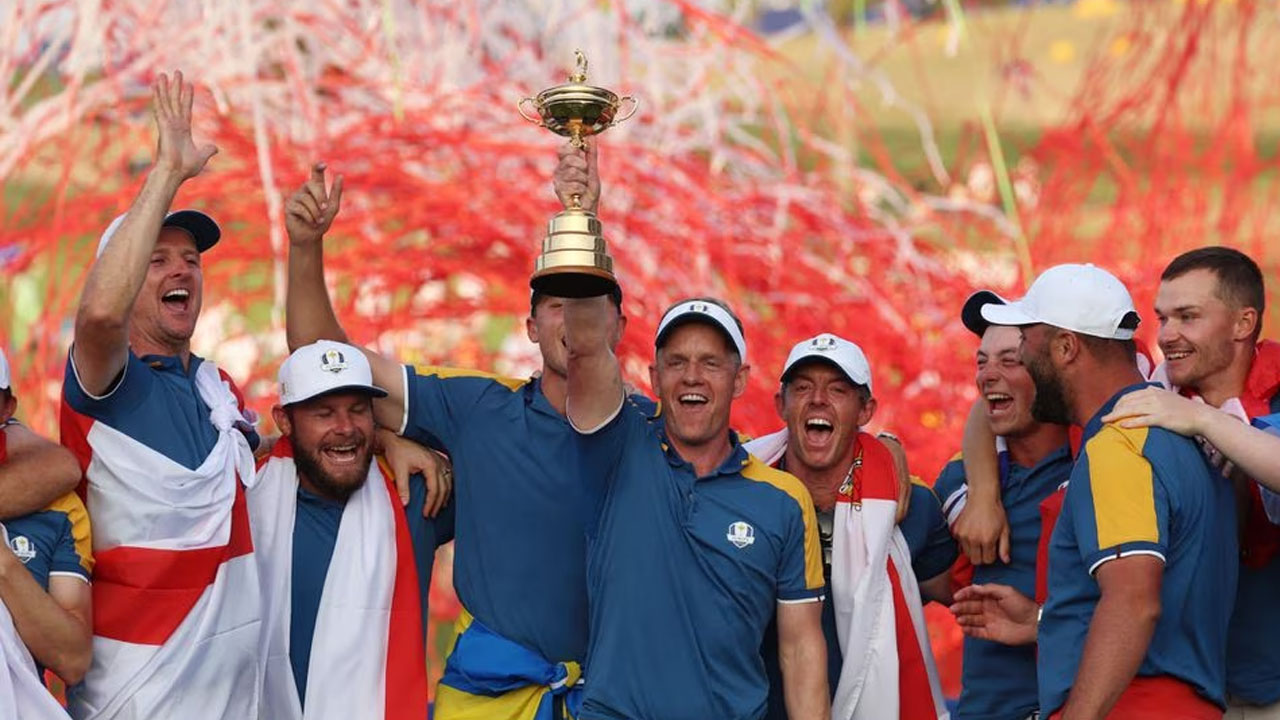 [Source: Reuters]
Europe resisted a fierce American fightback to secure the four points required to reclaim the Ryder Cup with England's Tommy Fleetwood sealing the deal in a nerve-jangling climax on Sunday.
The Americans, attempting the biggest final-day comeback ever in the biennial event, found their mojo after being outplayed and outfought for two days at the Marco Simone course.
Hauling back a daunting five-point deficit proved beyond them, however, and Fleetwood made sure the trophy returned to Europe when his opponent Rickie Fowler conceded the 16th hole to leave the Briton two up with two to play and a guaranteed half.
Article continues after advertisement
Fleetwood duly completed a 3&1 victory but the celebrations had already started as Europe extended their 30-year unbeaten home record against the Americans and avenged the record 19-9 thrashing they endured at Whistling Straits in 2021.
Although the final score was a comfortable-looking 16-1/2- 11-1/2 with the gap the same as at the start of the day, there were moments when a U.S. win looked possible.
"It was stressful as the Americans put up a fight today so hats off to them. But I am so proud of my 12 guys," said Europe skipper Luke Donald, whose team seized control of the 44th Ryder Cup on Friday with a 4-0 sweep of the morning foursomes.
"We started off great, which was what we needed. Then a few matches changed to red. We kept looking at the board and thinking, where will we find 14 and a half points?
"But we always had some guys at the back that looked good."
The 32-year-old Fleetwood, who picked up three points from his four matches, had not expected to be centre of attention.
"I'd have rather not been in that situation," he said. "I didn't want it to come down to one of us at the back.
"I was feeling pretty sick taking the tee shot on 16. It is never nice to watch somebody's ball sail into the water but I still had to set up and hit a shot.
"It is an amazing feeling after an amazing pressure."
Ultimately, the Americans paid for a woeful start in which they failed to win a match on the opening day.
But they left with pride restored.
"My competitive juices are flowing too much to function right now," said American captain Zach Johnson. "We'll analyse it. I'm not making excuses. Europe outplayed us."
Donald top-loaded his singles order to try to get the job done early with world number three Jon Rahm, number four Viktor Hovland and number two Rory McIlroy, who was involved in unsavoury scenes the night before, in the opening four matches.